Democrats Bet on Public Pressure as Senate Shelves Police Bill
Bloomberg Government subscribers get the stories like this first. Act now and gain unlimited access to everything you need to know. Learn more.
Democrats are betting that public pressure will push Republicans closer to a comprehensive police overhaul, a move that could risk losing momentum as the Senate shelves its police bill and moves on to other matters.
"This isn't going away. People walking in the streets aren't going away. The abuses aren't going away, the videos of abuses aren't going away," Senate Minority Leader Charles Schumer (D-N.Y.) told a news conference Tuesday.
Senate Democrats blocked Republicans' police legislation from floor consideration in a procedural vote of 45 to 55; it needed 60 votes to advance.
Schumer led Senate Democrats Wednesday to vote against a motion to proceed on the JUSTICE Act (S 3985), the Republican bill in response to protests and calls for changes to the American system of policing. The proposal by Sen. Tim Scott(R-S.C.) was too incremental and lacked critical mandates on banning chokeholds or reporting police misconduct, Democrats in both chambers argued.
BGOV Bill Summary: S. 3985, Republicans' Policing Policy Bill
Once the House passes its bill (HR 7120) and the Senate is left without passing legislation, that will force Republicans to negotiate in a more bipartisan fashion, Schumer said.
BGOV Bill Summary: H.R. 7120, Democrats' Policing Policy Bill
"They will come to the table. The sooner, the better," Schumer said.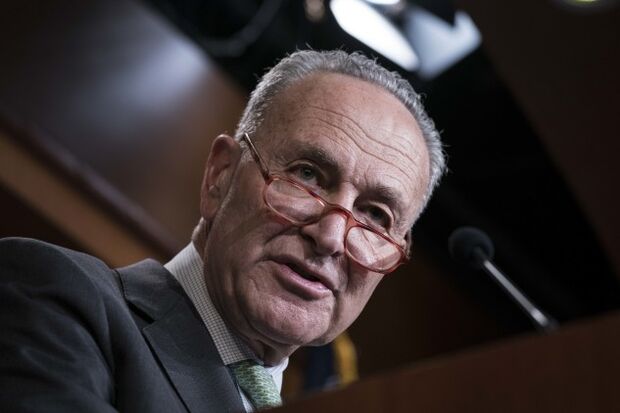 Public outrage over policing practices erupted after the death last month of an unarmed Black man, George Floyd, while in police custody in Minneapolis. Protests across the nation have put lawmakers on notice to enact changes, and time is running short in Congress before the November elections.
Voting No to Get to Yes
House Speaker Nancy Pelosi (D-Calif.) last week told reporters she'd like to get to conference with the Senate, but she added that she and Schumer don't tell one another what to do.
Schumer took to the Senate floor and held a news conference with Democratic bill sponsors Kamala Harris (Calif.) and Cory Booker (N.J.) to criticize the Republican bill. They also faulted Senate Majority Leader Mitch McConnell (R-Ky.) for bringing the legislation to the floor without first going through the Judiciary Committee.
"He has set up a process that he knows is flawed and that will fail and he's missing a historic moment where this body should be working together in a bipartisan way to move something forward," Booker told reporters.
Booker, Harris and Senate Minority Whip Dick Durbin (D-Ill.) met privately Tuesday with Republican Sens. Scott, Lindsey Graham (S.C.), and Marco Rubio (Fla.). Booker wouldn't tell reporters the substance of their discussion or call it a formal gang of six that could potentially negotiate toward some sort of compromise.
"If he was serious, he would do something like appoint it to committee or appoint a gang of eight and or six or 10," Booker said about McConnell.
McConnell and senior Republican leaders faulted the Democrats' logic—both sides would be able to offer amendments and debate the merits of the bill in the open on the Senate floor, they argued.
Democrats voted no in the hopes that McConnell and other Senate Republicans will have to come around to a more sweeping piece of legislation, more akin to the version the House is set to pass Thursday.
But the move risks losing Republicans who believe the process was set up for honest debate and that a no vote is more about politics than policy.
"This doesn't finish until they say it's over. But if they won't even start it, that tells me this is already over," Scott said.
Under Pressure
A group of 138 human and civil rights organizations, including the American Civil Liberties Union and the NAACP, called on lawmakers to vote against the Senate GOP police bill in a June 23 letter to senators.
"It is deeply problematic to meet this moment with a menial incremental approach that offers more funding to police, and few policies to effectively address the constant loss of Black lives at the hands of police," the groups wrote.
The Congressional Black Caucus, led by Rep. Karen Bass (D-Calif.), also called on senators to vote down the GOP bill, calling it a "completely watered-down fake reform bill," in a statement.
Police unions have also been involved in discussions and lobbying, though much more privately than civil rights groups. Open Secrets reports that 55 police union and law enforcement political action committees donated to congressional campaigns to the tune of $1.1 million since 1994.
The Los Angeles Police Protective League hired a new lobbying firm June 13, days after Democrats unveiled their policing legislation.
The Fraternal Order of Police has been in contact with House and Senate lawmakers as well as the administration as each has drafted bills or executive orders, FOP President Patrick Yoes said in a statement June 15.
"We are at the beginning of this process—recriminations and obstructions do not help," Yoes said.
McConnell on Wednesday before the Senate vote called on Democrats to change their minds and allow the Senate to act.
"The next time another appalling incident makes our nation sick to its stomach with grief and anger yet again, Senate Democrats can explain to the nation why they made sure the Senate did nothing," McConnell said.
To contact the reporter on this story: Shaun Courtney in Washington at scourtney@bgov.com
To contact the editors responsible for this story: Paul Hendrie at phendrie@bgov.com; Robin Meszoly at rmeszoly@bgov.com
Stay informed with more news like this – from the largest team of reporters on Capitol Hill – subscribe to Bloomberg Government today. Learn more.