Democrats' $547 Billion Highway Bill Advances in House Panel (2)
Panel votes largely along party lines to approve bill
Authorizes highways, bridges, rail, transit over 5 years
(Adds timing of House floor vote in third paragraph. A previous version corrected the number of Republicans who voted for the bill.)
Bloomberg Government subscribers get the stories like this first. Act now and gain unlimited access to everything you need to know. Learn more.
Legislation authorizing roughly $547 billion for highways and other surface transportation over five years advanced in a House panel, despite opposition from Republicans who objected to what they called Green New Deal climate initiatives.
The legislation (H.R. 3684) would authorize $343 billion for roads, bridges, and safety, $95 billion for passenger and freight rail, and $109 billion for transit. It aligns with many of President Joe Biden's infrastructure priorities.
Working into the wee hours on amendments, the House Transportation and Infrastructure Committee adjourned early Thursday after approving the measure on a 38-26 vote. Only Republicans Brian Fitzpatrick (Pa.) and Jenniffer Gonzalez-Colon (Puerto Rico) voted with Democrats in support of the bill. The House is set to vote on the measure the week of June 28, House Majority Leader Steny Hoyer (D-Md.) said in a letter sent Thursday to the Democratic caucus.
The measure would address climate change, transit deserts, and bring back manufacturing to the U.S., committee Chair Peter DeFazio (D-Ore.) said.
"A number of states are saying 'no, we like the status quo.' You've been doing the status quo for decades, and it's just getting worse," DeFazio said at the start of the markup. "People are afraid to change, I get that. But it's time."
House Democrats Seek $547 Billion for Highways, Transit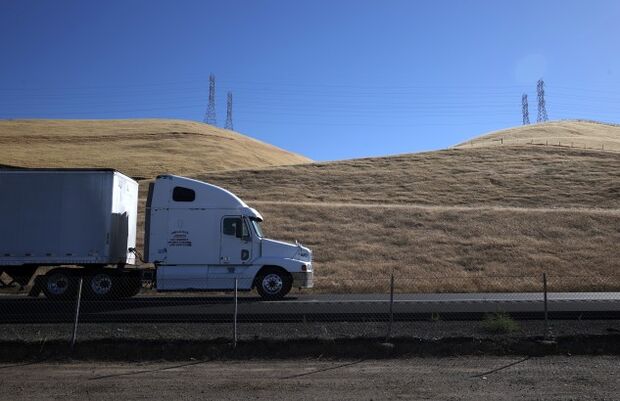 Republicans pointed to partisan divisions that scuttled last year's effort to move a House-passed infrastructure bill through the Senate. A compromise could have bridged Democratic and GOP priorities but Republicans were given no chance, Sam Graves (R-Mo.), the House panel's ranking member, said, calling the bill "my way or the highway."
With Democrats holding a smaller House majority this year, Graves said he had hoped Speaker Nancy Pelosi "had learned that successful legislating depends on partnership—not partisanship," but "I was wrong."
Highway Bill Boasts Nearly $5.7 Billion in Earmarks in House
Multiple Panels
The legislation covers just part of the five-year policy bill, as the transportation panel's portion omits a proposal to fund costs. That's up to the Ways and Means Committee, which has yet to take up a bill.
Four Senate authorizing panels play a role in surface transportation legislation. The Senate Environment and Public Works Committee advanced a bipartisan $303.5 billion measure (S. 1953) to reauthorize highway programs for the next five years in a unanimous vote on May 26.
Highway Bill Advances, Stirring Optimism on Biden Plan
DeFazio said he hopes the Senate Commerce, Science, and Transportation, and the Banking, Housing, and Urban Affairs committees will complete their portions next week, and members from both sides of the aisle will work out a compromise.
Sen. Sherrod Brown (D-Ohio), chair of the Senate Banking panel, said in an interview Wednesday that his panel is "trying" to move a transit title. "It has got to be now," Brown said.
DeFazio drew a distinction between the bill and the infrastructure package the Biden administration is negotiating with Republicans.
"I have told my leadership this is a surface reauthorization, this is not the American Jobs Plan," DeFazio said during the markup. "I have told them I want this moved through regular order in the House."
More High-Speed Rail Needed in Highway Bill, State Officials Say
Slew of Amendments
The panel adopted a few Democratic amendments by voice vote. One from Conor Lamb (D-Pa.) would establish a University Rail Climate Innovation Institute. A manager's amendment from DeFazio added provisions including creation of a transportation equity committee and enhancing bus service to community colleges and Historically Black Colleges and Universities.
An amendment with several electric vehicle proposals from Rep. Pete Stauber (R-Minn.) was adopted after being narrowed to only establish a task force to promote domestic EV production.
Rep. Stephen Lynch (D-Mass.) withdrew an amendment that would have authorized $8 billion for the U.S. Postal Service to acquire electric vehicles. Democratic lawmakers have been pushing to fully electrify the postal fleet after USPS awarded a new contract for new vehicles with primarily traditional engines. DeFazio said President Joe Biden "is totally on board" with the $8 billion proposal, but that the amendment was outside the committee's jurisdiction.
Republicans sought in vain to add amendments barring federal traffic enforcement funds to jurisdictions that "defund the police" and removing language that prevents transporting horses in double-decker vehicles.
Republicans also supported a push to streamline infrastructure project reviews. Rep. Rodney Davis (R-Ill.) wanted to limit the reviews for major projects to two years; his amendment failed 33-35.
Some trucking groups, including the Owner-Operator Independent Drivers Association, are dug in against the bill's proposed increase to the minimum insurance requirements for motor carriers. The committee rejected, 30-38, an amendment from Rep. Mike Bost (R-Ill.) to strike that provision.
The deadline to reauthorize surface transportation programs is Sept. 30.
To contact the reporter on this story: Lillianna Byington in Washington at lbyington@bloombergindustry.com
To contact the editors responsible for this story: Sarah Babbage at sbabbage@bgov.com; Robin Meszoly at rmeszoly@bgov.com
Stay informed with more news like this – from the largest team of reporters on Capitol Hill – subscribe to Bloomberg Government today. Learn more.