Democratic Plans Stall in Senate as Party Confronts Power Limits
Gun control, policing, immigration unable to pass
Pileup of failed bills amid bumpy reconciliation push
Key elements of the Democratic agenda are in danger of being buried in the Senate as lawmakers wrangle over the social spending package and with Congress scheduled to be in session for only some 30 more days this year.
A broad swath of party priorities leaders say will prove popular are included in that massive piece of legislation they're rushing to finalize and in the bipartisan Senate-passed infrastructure bill. But Senate Majority Leader Chuck Schumer and House Speaker Nancy Pelosi are likely to put off work on immigration, policing, gun control, and other issues of great interest to the Democratic base.
Democrats are confronting the reality that their minuscule majorities and internal fissures aren't conducive to legislating. Failure to deliver on the big plans they announced upon seizing control of the White House and Congress at the beginning of the year holds risks for President Joe Biden and congressional leaders as they try to energize supporters ahead of the midterm elections.
Senate Budget Committee Chairman Bernie Sanders (I-Vt.), a leading liberal voice, said the power-sharing agreement between Schumer and Minority Leader Mitch McConnell (R-Ky.) is one of several factors contributing to inaction.
"You have a 50-50 Senate and you have zero Republicans who are prepared to address the major crises facing this country," Sanders said in a brief interview. "And you have some conservative Democrats who are not prepared to do what has to be done. Add that up and there is no majority to address the crisis facing the country."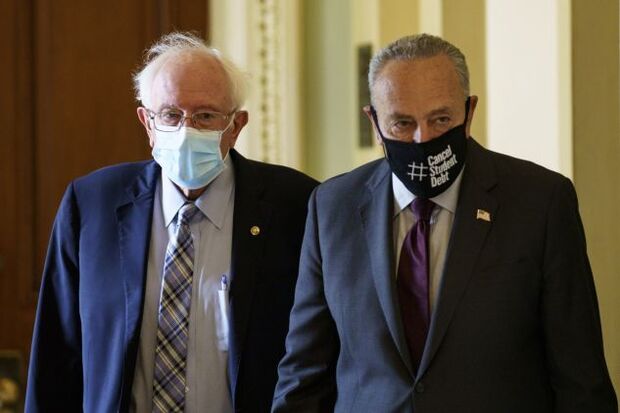 Among languishing House-passed priorities are measures to help young undocumented immigrants avoid deportation (H.R. 6), require gun background checks (H.R. 8), reauthorize the Violence Against Women Act (H.R. 1620), and overhaul policing laws (H.R. 1280).
Traditional must-dos are also piling up, particularly the 12 regular appropriations bills, which remain unresolved without a larger deal on spending targets. And Democrats have faced Republican opposition to raising the federal debt ceiling.
"Doing big things in the Congress is hard," Schumer told members in a Dear Colleague letter Monday. "Doing really big things all at once is really, really hard."
Schumer said aside from social spending and infrastructure he's reserving floor time for only one other priority: legislation that would require federal approval before changes to voting practices can be implemented in states with a history of voter discrimination. But the House-passed voting rights legislation (H.R. 4) is unlikely to get enough support to pass, and a broader elections bill (S. 2747) also isn't expected to attract GOP backing.
Filibuster Obstacle
A major obstacle is the need for 60 votes to pass most legislation and the opposition of some Democrats to eliminating the filibuster rule to allow for simple majority votes. In interviews, several Democratic senators discussed the difficulties of achieving some of their priorities.
"We have Republican support, we just don't have 60 votes for universal background checks," Sen. Chris Murphy (D-Conn.) said about the stalemate over gun control. "Similarly on immigration, I think there are Republican votes, but not enough to overcome the filibuster."
Murphy said bipartisan talks on gun control ran aground some time ago.
"I think a lot of our attention right now is focused on the president's domestic agenda, which leaves not as much oxygen as you'd like for background checks," Murphy said. He said Democrats still will force a vote on background checks "between now and the election."
Wendy Schiller, a Brown University political scientist, said Democrats must be selective and emphasize items aligning most closely with what's important to their base.
"I think some are strategically not worth the energy," Schiller said. "I think they feel like they get much more bang for the buck from transportation and infrastructure. People driving over potholes are not going to vote for re-election for you."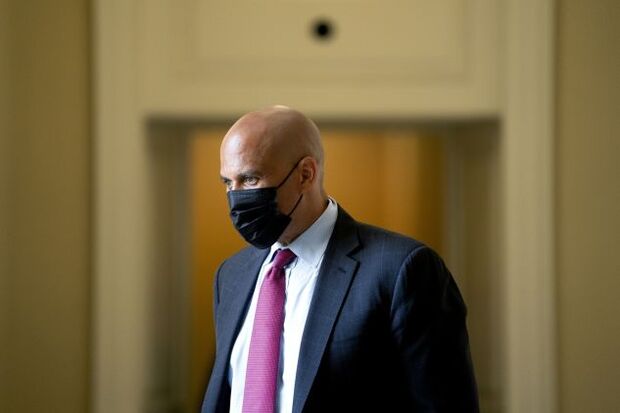 Sen. Cory Booker (D-N.J.) said he's disappointed that after nine months of talks he failed to reach agreement with Sen. Tim Scott (R-S.C.) on a plan to improve policing in the aftermath of George Floyd's death.
"As much as we didn't get a bill out, the reality is a bill did pass the House of Representatives," said Booker, who added that getting support from the Fraternal Order of Police "was a big step in the right direction."
Senate Majority Whip Dick Durbin (D-Ill.) said he's optimistic about the chances for legislation to reauthorize VAWA, a 1994 law championed by Biden. While the matter stalled in the last Congress, Durbin said Tuesday during a Judiciary Committee hearing there is now bipartisan interest in the Senate passing a new bill. He said there aren't 60 votes for it, but it could be added to another piece of legislation.
Final Quarter
Democrats will turn in a historically productive year if Biden's physical and social infrastructure plans are enacted on top of the $1.2 trillion pandemic stimulus package (Public Law 117-2), said Steven Smith, a Washington University professor who's written books on congressional politics.
Democrats made tactical errors and exhibited poor messaging as they argued over the size and details of the twin packages, but the outcome still could be a "remarkably successful period" for the party, Smith said. "They're awfully close to having passed more domestic legislation than really any president, maybe going back to the Great Society programs."
To contact the reporter on this story: Nancy Ognanovich in Washington at nognanov@bgov.com
To contact the editors responsible for this story: Bennett Roth at broth@bgov.com; Kyle Trygstad at ktrygstad@bloombergindustry.com