Democratic Health Fights Intensify as Committee Debate Begins
Debates over Medicare benefits, Medicaid not yet resolved
Markups lay groundwork for massive health-care agenda
Bloomberg Government subscribers get the stories like this first. Act now and gain unlimited access to everything you need to know. Learn more.
The fissures in Democrats' ambitious health agenda are growing starker as congressional committees begin voting on bills that will make up the party's $3.5 trillion social spending and tax package.
Leaders have started to whittle down their more than $1 trillion list of health priorities but face the daunting task of unifying around thorny issues such as how to get health coverage to millions of Americans in Republican-controlled states that refused to expand their Medicaid programs.
They also face industry groups demanding changes and pharmaceutical companies working to halt policies that will cut into their bottom lines.
"Our goal is to have a joint proposal that the president, House Dems and Senate Dems can all pass and support," Senate Majority Leader Chuck Schumer (D-N.Y.) told reporters Wednesday. "We're working towards that goal."
House Democrats Push Ahead on Medicare Expansion, Family Leave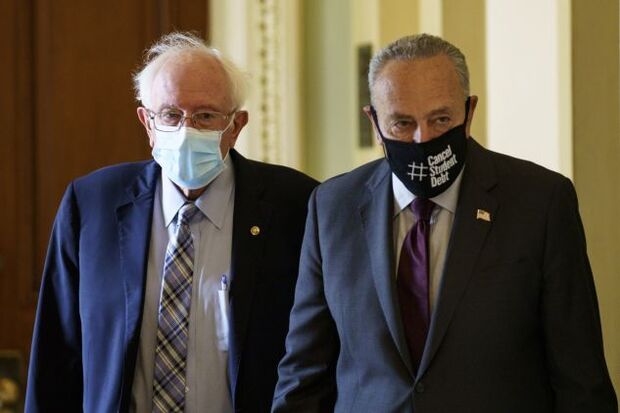 Those fights will be on stage starting Thursday when the House Ways and Means Committee begins considering legislation to expand Medicare to include vision, hearing, and dental benefits, as well as to improve oversight of nursing homes. The panel is slated to vote on other health legislation next week.
The House Energy and Commerce Committee will follow suit next week, marking up their legislation to lower drug prices and extend a temporary expansion of Obamacare.
House leaders will then package the measures together with proposals from other committees into a massive domestic policy bill set to pass along party lines.
Policy Fights Ahead
Less than a day before the first health markup starts, Rep. Brendan Boyle (D-Pa.) told Bloomberg Television's David Westin that the House is "not there yet" on a specific approach to key issues.
"There are a diversity of views within the caucus of whether we should lean into expanding Medicare, lowering the age to 60, immediately putting in benefits for dental or vision," Boyle said.
Progressives in the House are still pushing to lower Medicare's eligibility age to 60, from 65, but Senate aides say that's unlikely to be included.
Sen. Bernie Sanders (I-Vt.), chairman of the Senate Budget Committee, told reporters Wednesday he wants the new dental benefits for Medicare to start earlier than proposed by Rep. Richard Neal (D-Mass.), head of the Ways and Means Committee.
Medicare Dental Benefit Pushed to 2028 Under Democrats' Bill
"I don't want to see it as drawn out as far as the House has proposed," Sanders said.
Neal's bill would start the benefits in 2028, pushing off the most-expensive new coverage area to reduce the cost of the overall package and make room for other priorities.
A senior Senate aide familiar with the discussion said Democrats in that chamber are mulling a stopgap, such as a voucher program or subsidies for supplemental coverage, to give seniors some kind of dental coverage earlier than 2028. The aide cautioned these discussions are ongoing.
Drug Pricing Uncertain
Democratic aides and lobbyists say House Democrats will unveil a major part of their health agenda as soon as Friday: their plan for empowering the government to negotiate for better prices with drugmakers. This policy would help offset the cost of expanding programs such as Medicare and Obamacare, likely dictating how far Democrats can take those policy goals.
House leaders will hew closely to their signature drug pricing bill (H.R. 3), altered slightly to navigate Senate budget rules, said Shawn Gremminger, the Purchaser Business Group on Health's director of health policy.
"The majority of the House has already voted on this bill once and it passed," Gremminger said.
Employer groups like PBGH have pushed to ensure that employer-sponsored insurance plans can take advantage of government-negotiated drug prices and caps on price increases for medicines.
Senate Finance Chairman Ron Wyden (D-Ore.), however, has signaled he's interested in designing his own drug pricing bill that includes giving the government the power to negotiate with drugmakers. Schumer said senators will meet next week to begin policy discussions.
Drugmakers are vocally opposing H.R. 3 and its excise tax on drugmakers that won't negotiate with the government.
David Ricks, chairman and CEO at Eli Lilly & Co., warned the bill is a "smoke screen for new price controls" that if extended to employer plans would cost the pharmaceutical industry $1.5 trillion over the next decade, citing an internal analysis.
Ramona Sequeira of Takeda Pharmaceutical Co. said the H.R. 3 approach "would pose risks to patient access to new medicines and actually make it harder for companies like ours to invest in long-term research."
Medicaid Gap
House Democratic leaders have made expanding the Affordable Care Act a priority, from extending the larger premium subsidies set to expire in 2022 to giving coverage to Americans caught in the "Medicaid gap."
That gap exists in the dozen states that haven't expanded their Medicaid programs, leaving millions of people in a space where they make too much money to qualify for Medicaid but not enough to afford an ACA plan.
Rep. Lloyd Doggett (D-Texas), who hails from the largest state that hasn't expanded Medicaid, called closing this gap "a top priority" that has a number of possible solutions.
The House Ways and Means and Energy and Commerce committees are debating creating a free Obamacare plan for people in the Medicaid gap that would exist until the government can create a federally run Medicaid program for them, according to a committee aide and a health-care lobbyist familiar with the discussions.
Democrats appear open to a variety of ways to tackle this issue but want something that's long-lasting to ensure they don't have to keep fighting to preserve Obamacare in years to come.
"Whatever the approach, it is most important that coverage be permanent so that patients can count on it," Doggett said.
With assistance from Erik Wasson
To contact the reporter on this story: Alex Ruoff in Washington at aruoff@bgov.com
To contact the editors responsible for this story: Sarah Babbage at sbabbage@bgov.com; Kyle Trygstad at ktrygstad@bloombergindustry.com
Stay informed with more news like this – from the largest team of reporters on Capitol Hill – subscribe to Bloomberg Government today. Learn more.