Democratic Challengers Dominate Fundraising in Key Senate Races
Bloomberg Government subscribers get the stories like this first. Act now and gain unlimited access to everything you need to know. Learn more.
Democratic Senate candidates raised more money than Republicans in eight of the 10 most competitive races during the first three months of 2020, another sign that the chamber's majority is in play.
The fundraising dominance included contests in which Democratic challengers raised more than Republican incumbents in the quarter ending on March 31, according to reports due Wednesday to the Federal Election Commission: Arizona, Colorado, Georgia, Maine, Montana and North Carolina.
A Democrat also led in the open-seat race in Kansas and in Alabama, where Sen. Doug Jones (D) faces a difficult race for a full term.
"Unprecedented grassroots support" from small-dollar donors is fueling Democrats' campaigns, Stewart Boss, spokesman for the Democratic Senatorial Campaign Committee, said in an email. "Our path to flipping the Senate continues to expand," he said. To win control, Democrats need a net gain of three or four seats depending on which party controls the White House.
One bright spot for the GOP: Republican Senate candidates still held cash-on-hand leads in six of the 10 most competitive races, as rated by the Cook Political Report. But Democrats have been gaining ground.
"Democrat candidates are relying on the same liberal donors that have been fueling the dark money groups spending big against Republican incumbents," Jesse Hunt, spokesman for the National Republican Senatorial Committee, said in an email.
Candidate fundraising will be just part of the campaign finance picture in key races, which are also being targeted with massive spending by political party committees and outside groups aligned with party leaders.
Read more: Coming This Fall to TVs in Iowa and Maine: Lots of Political Ads
One race that has drawn substantial attention is Arizona, where former astronaut Mark Kelly (D) raised $11 million over the last three months and opened up a nearly 2-to-1 cash lead over Republican Sen. Martha McSally — $19.7 million to $10.3 million. Kelly led McSally by 9 percentage points in a poll conducted April 7-8 by OH Predictive Insights.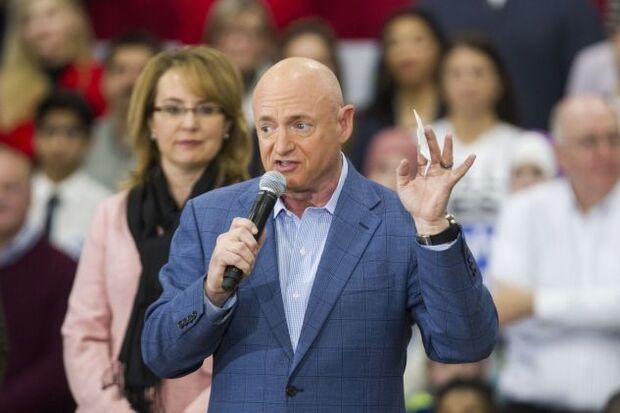 In Maine, state House Speaker Sara Gideon (D) outraised Sen. Susan Collins (R) in the latest quarter, $7.1 million to $2.4 million. In Colorado, former Gov. John Hickenlooper (D) outraised Sen Cory Gardner (R) $4.1 million to $2.5 million. In North Carolina, former state Sen. Cal Cunningham (D) outraised Sen. Thom Tillis (R) $4.4 million to $2.1 million. All three Republicans still led in cash on hand as of March 31.
In Kansas, former state Sen. Barbara Bollier (D) far outpaced the top-raising Republican, Rep. Roger Marshall, in the open-seat race. Bollier raised $2.4 million, compared to $377,000 for Marshall, and held a lead of $2.4 million to $1.9 million in cash at the end of the quarter. Cook rates the race as Lean Republican, partly because of the possibility that Kris Kobach, who lost the 2018 governor race and raised $242,000 last quarter, wins the nomination.
Dispatches From Elsewhere
Sen. Joni Ernst (R-Iowa) outraised Democrat Theresa Greenfield in another closely watched race. Ernst raised $2.7 million to $2.3 million for Greenfield, and led $6.5 million to $3.8 million in cash on hand.
Montana Gov. Steve Bullock (D) topped Sen. Steve Daines (R) after entering the race in March. And pastor Raphael Warnock (D) outraised appointed Sen. Kelly Loeffler (R-Ga.), though the incumbent loaned her campaign $5 million and has promised more out-of-pocket funds are still to come before the all-party special election in November.
In Alabama, Jones held onto a wide fundraising lead in a contest viewed as the most likely pickup for Republicans. A GOP runoff between former Attorney General Jeff Sessions and former Auburn football coach Tommy Tuberville has been delayed until July 14 because of coronavirus concerns.
In Michigan, 2018 nominee John James was the one Republican challenger to outraise a Democratic incumbent in a key race, collecting $4.8 million to $4.1 million for Sen. Gary Peters (D-Mich.). The two were almost even in cash on hand: $8.8 million for Peters to James' $8.6 million. The Michigan race is rated Lean Democratic by the Cook Report.
The Map's Edge
The Democrats' fundraising dominance in the quarter even expanded to Alaska, Kentucky and South Carolina, where Democrats won a combined one term over the past two decades and are underdogs again in 2020.
In Kentucky, Senate Majority Leader Mitch McConnell's strong first-quarter haul of $7.5 million was far less than the $12.9 million collected by 2018 House contender Amy McGrath (D). McConnell led McGrath slightly in cash on hand, $15 million to $14.8 million.
In South Carolina, three-term incumbent Lindsey Graham was outraised by Jaime Harrison, a former Democratic Party official and congressional staffer for Rep. Jim Clyburn(D-S.C.). Harrison collected $7.4 million in the quarter, compared to $5.7 million for Graham. Graham held a cash lead of $12.8 million to $8 million.
Challengers to nationally known Republicans McConnell and Graham have been drawing donors for months. In a more under-the-radar race in Alaska, Democratic-backed independent Al Gross, also outraised Sen. Dan Sullivan (R).
Gross, a commercial fisherman and doctor, collected just over $1 million, compared to about $740,000 for Sullivan. Sullivan held a $4.5 million to $2 million cash-on-hand edge over Gross, who's provided about $600,000 from his own pocket to fund his campaign. Cook rates it and the South Carolina race Solid Republican.
To contact the reporter on this story: Kenneth P. Doyle in Washington at kdoyle@bgov.com
To contact the editor responsible for this story: Bennett Roth at broth@bgov.com
Stay informed with more news like this – from the largest team of reporters on Capitol Hill – subscribe to Bloomberg Government today. Learn more.