Defiant Covid Skeptic Bets He Can Deny Democrats Senate Pickup
Wisconsin Republican faces tough re-election in swing state
Democrats seize on Covid positions, but focus on economy
Sen. Ron Johnson has stood out among colleagues for his skepticism of public health measures to combat Covid-19, as well as his advocacy for unproven treatments for the virus.
As he braces for one of this year's most competitive Senate races that could determine control of the chamber, the combative Republican isn't backing away from his controversial stands that often diverge from scientific consensus.
"I'm actually pretty proud of what I've done," Johnson (R-Wis.) said in an interview with Bloomberg Government. "And a lot of people support what I've tried to do as well. I know Democrats aren't going to like it. They think this is their U.S. Senate seat. They're going to do everything they can; they're going to distort, they'll lie, and that's unfortunate."
Some Democrats have seized on his positions about the pandemic, believing they will add to the arsenal of attacks on the incumbent running for a third term. The race against Johnson will test whether attacking the senator's unorthodox positions on Covid-19 can make inroads with voters—even as Democrats face political headwinds from President Joe Biden's low popularity and economic troubles including inflation.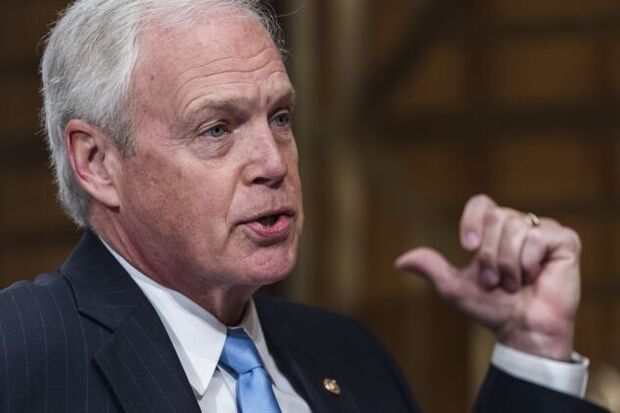 Johnson is the only Republican senator up for re-election in a state that Biden carried in the last election. That makes his seat a top target as Democrats try hold onto or expand their current 50-50 control of the Senate.
Democrats acknowledge that other issues such as the economy will likely loom larger in the campaign, but say Johnson's stance on the pandemic is fair game.
"I think scrutiny of one's record in public office is a must in an election context," said Sen. Tammy Baldwin (D-Wis.). "It includes bringing to light misinformation and disinformation."
Tom Nelson, the county executive of Wisconsin's Outagamie County and a candidate for the Democratic nomination for the Senate seat, said Johnson's attempts to "legitimize quack science and conspiracy theories," and his opposition to last year's $1.9 trillion coronavirus relief package (Public Law 117-2), have made it harder for local officials to like him.
"A lot of people got sick and lot of people died because of Ron Johnson," Nelson said in an interview.
Maddie Twomey, a spokesperson for Democratic-aligned Protect Our Care, says her group is already using press events to highlight Wisconsinites hit by the pandemic, and blame GOP officials in Madison and Washington for shortcomings. She said that message could extend to a bus tour and paid media such as print, digital, radio, and billboards.
"There is not a Covid-19 conspiracy that he's not engaged in, and there's a cost to that," said Joe Zepecki, Wisconsin state director at Protect Our Care.
Political Theatrics
In the interview, Johnson touted his advocacy for unproven treatments for people who contract Covid-19 —namely zinc and ivermectin—and for highlighting people with rare injuries from vaccines for the coronavirus. He dismissed any Democratic complaints as political theatrics.
"Democrats in Wisconsin take umbrage with the fact that I keep breathing," Johnson said.
GOP Senator Opposes District Pick, Setting Up Test of Norm
An October poll from Marquette University Law School found a majority of registered voters in Wisconsin agreed they didn't trust Johnson "at all" or "much" for information about the pandemic.
The survey found that a clear majority of independents—a crucial voting group in the battleground state—also said they distrusted Johnson about the virus.
"He doesn't have the kind of strength in the state, and the GOP doesn't have the kind of strength, that means they can easily write off independents and still win on a base vote unless there's a gigantic difference in turnout," Charles Franklin, the poll's director, said in an interview,
At the same time, the poll found that more than 60% of Republicans said they would trust Johnson "a great deal" or "a fair amount" on the issue.
"Johnson's appeal among Republicans who are very skeptical still on mandates and vaccines is a strength with him within that party," said Franklin. "It's not clear that Democrats really profit from using that as an attack line."
Economic Issues
Democrats are also pivoting to other issues in their campaigns as the number of Covid cases in the state starts to taper after the spike in the omicron variant.
Wisconsin Treasurer Sarah Godlewski, another candidate for the nomination to challenge Johnson, said voters are "sick of the conspiracy theories" and want a senator focused on "kitchen table issues" like shuttered schools and rising gas prices.
"These are the issues that are keeping Wisconsinites up at night, not Ron Johnson, who is perpetuating junk science," Godlewski said.
Shock Gas, Grocery Price Increases Spur States to Pare Taxes
The Democratic Senatorial Campaign Committee's first advertisement of the race accused Johnson of "looking out for himself" in supporting a 2017 overhaul of the tax code.
Senate Democratic candidate and Milwaukee Bucks executive Alex Lasry doesn't "currently plan to spend time on" Johnson's positions on Covid-19, according to his spokesman Thad Nation. Instead, Lasry plans to zero in on wages, the broken supply chain, and boosting domestic manufacturing.
Another leading Democratic challenger, Lt. Gov. Mandela Barnes, has similarly focused on blasting Johnson on economic issues. Barnes last week faulted the Republican for supporting a manufacturer's efforts to award 1,000 jobs to South Carolina instead of Johnson's home town of Oshkosh because, Johnson reportedly said,"It's not like we don't have enough jobs here in Wisconsin."
Even Nelson, who was critical of the Republican's Covid-19 positions, said, "I think when it comes to Senator Johnson, I really believe we're going to do him in on the economic issues."
Johnson, too, has focused on other issues in his pitch to voters, such as rising crime, foreign policy, and the economy. But he continues to criticize the Biden administration's pandemic policy, decrying mainstream scientists and officials as "COVID gods" for their outsize role in the national response to the pandemic.
"I don't ask what the political ramifications are," Johnson said. "I'm doing the right thing."
To contact the reporters on this story: Zach C. Cohen in Washington at mailto:zcohen@bloombergindustry.com; Alex Ruoff in Washington at aruoff@bgov.com
To contact the editors responsible for this story: Bennett Roth at broth@bgov.com; Anna Yukhananov at ayukhananov@bloombergindustry.com