Defense Workers Pressured to Defy Virus and Keep Making Weapons
Bloomberg Government subscribers get the stories like this first. Act now and gain unlimited access to everything you need to know. Learn more.
The Pentagon is confronting some defense workers with a wrenching choice: go to the factory floor to keep building destroyers, fighter aircraft and missiles and risk infecting each other and their communities with the novel coronavirus, or stay home and be faulted for delaying much-touted national security priorities.
The Defense Department and some of the major companies serving it have dug in, continuing work on missile-guided destroyers and the newest fighter aircraft, the F-35 Joint Strike Fighter, even after workers tested positive for Covid-19 at General Dynamics Corp.'s Bath Iron Works in Maine and Lockheed Martin Corp.'s Fort Worth, Texas, plant.
"You have all these people working in a petri dish every night and they can bring it home with them to their families," said Chris Wiers, a welder and president of Local S6, an affiliate of the International Association of Machinists and Aerospace Workers, one of four unions represented at the Bath shipyard. The S6 local has more than 3,500 members.
The plant "can potentially be the biggest reason for the spread of the virus in the state of Maine," Wiers said. Only 60% of Bath's workers have been showing up to work.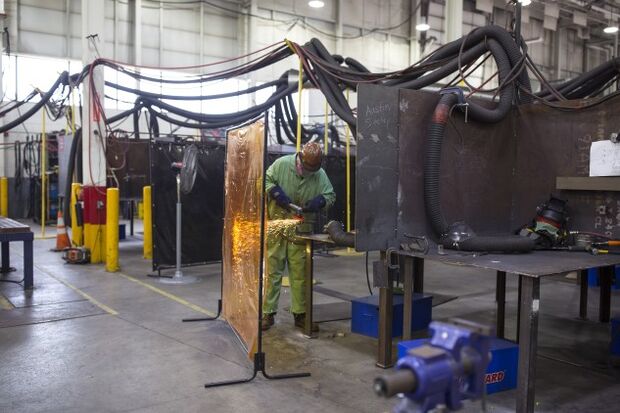 The rising concerns among defense industry workers across the U.S. reflect how the Pentagon has struggled to stay ahead of the expanding coronavirus pandemic which is starting to grip troops, operations and strategy.
What You Need to Know About the Coronavirus Pandemic: QuickTake
BGOV Bill Summary: Senate-Passed H.R. 748, Virus Funding
Unequivocal
The Navy's guidance to contractors was unequivocal: The Navy "continues to emphasize performance, particularly completion of mission essential and emergency tasks by both government and industry," Naval Sea Systems Command wrote in a memo to contractors on March 20. Contractors are supposed to notify the Navy of any "impediments" that are likely to interfere with accomplishing the tasks.
The Pentagon's chief weapons buyer said defense contractors are "expected to maintain their normal work schedules" within recommended guidelines from the Centers for Disease Control and Prevention amid the coronavirus outbreak because they're considered "critical infrastructure."
"If your contract or subcontract supports the development, production, testing or sustainment of our weapons systems/software systems or the infrastructure to support those activities, you are considered Essential Critical Infrastructure," Pentagon acquisition chief Ellen Lord wrote March 20 in a memo to industry.
Those communications were issued before the positive tests at the Bath and Lockheed plants became known.
Within the defense industry, the definition applies to mechanical and software engineers, manufacturing personnel, information technology support and security, aircraft and weapons systems mechanics and engineers, medical suppliers and critical transportation specialists, Lord wrote.
Maine's congressional delegation including Sen. Susan Collins (R), who is in a tough reelection race, is pleading with the Navy to issue guidelines that would protect the workers at private shipyards, such as Bath Iron Works.
"We are dealing with a highly contagious and deadly pandemic unlike anything our country has faced in over a century, and private shipyards are working to simultaneously maintain contractual obligations while complying with critical state and local public health orders," the congressional delegation wrote to acting Navy Secretary Thomas Modly on March 27. "Therefore, we believe the Navy should take aggressive actions to ensure the health of the shipyard industrial base workforce is not put at undue risk as governments at all levels work to halt the spread of COVID-19."
Industry Response
"This policy can have long-felt consequences both to the public health at large and risking the lives of tens of thousands highly trained employees, because many of them are not "essential" right now. What is essential are grocery stores and pharmacies," Steve Ellis, president of Taxpayers for Common Sense, a Washington-based watchdog organization, said in a statement.
Paul Black, president of the machinist union in Fort Worth representing employees at the F-35 Joint Strike Fighter manufacturing plant, confirmed that a worker had tested positive for the virus. It was a person working in the administrative building of the Fort Worth plant.
"As far as I've been told, that's the only confirmed positive test," he said in a telephone interview.
The company has been "responsive" to issues and questions raised, he said, and tests of other employees are in process, including a "couple of people" off the factory floor.
"As a precaution the company did send out some of the co-workers to quarantine just in case until they get a test result back," he said.
Changes could also be seen out on the factory floor during meals. "We've split the workforce," he said. "They have two lunch periods where before everybody went at the same time. They've opened up areas of the factory to eat lunch to be able to separate and keep social distancing in place."
"National security never stops and Lockheed Martin plays an essential role in the national security industrial base, supporting the critical missions of our customers in the United States and abroad. We are working directly with and monitoring in real time the steps taken by federal, state and local officials to minimize the spread of Coronavirus (COVID-19)," according to a statement posted on the Lockheed Martin website alongside questions and answers.
"We continue to use best practices to mitigate risks and protect the health and well-being of our employees and partners, while ensuring we meet our commitments to national security."
Staying Away
Until about a month ago, close to 7,000 skilled tradespeople poured each day into Bath Iron Works. Now, it's closer to 4,000, as workers afraid of catching virus stay home without pay, said Wiers, the union president.
Employees travel from all parts of Maine to work at the plant, Wiers said. If they get infected with the virus, they'll bring it to their families and community, Wiers said.
Union locals want General Dynamics Corp.to shut down the plant, pay employees and push back deadlines for completing the ships they're currently piecing together.
Remote work isn't an option. "We can't take pieces of the ship home and work on it in our garage," Wiers said.
Their worry has become more urgent after a manager collapsed at work and was found to be infected by the coronavirus. About 40 people at the plant were subsequently contacted by medical personnel and told they had potentially been exposed and needed to self-quarantine.
At BIW, "social distancing doesn't apply to the workforce here because we work in confined spaces, people are working shoulder to shoulder," Wiers said. "We're civilians. We build destroyers for the Navy. The only war we're facing right now is the war of the virus."
In response to the union's concerns, the company has said employees can take unpaid time off through April 10 and apply for unemployment.
Critical Infrastructure
"Bath Iron Works is proud that we can continue to fulfill our promises and obligations as part of an industry designated by the President as `critical infrastructure' in America's defense network," David Hench, a company spokesman said in an e-mail.
"At the same time we are committed to supporting the health and safety of our employees and their families during this coronavirus pandemic. We actively encourage our employees to take full use of the range of benefits and options available to them, including paid vacation and sick time to take care of themselves and their families."
Bath Iron Works builds DDG-51 destroyers for the Navy and splits the work with Huntington Ingalls Industries Inc.Huntington's shipyards are open for business as well. Huntington has large operations in Mississippi and Virginia.
"We are taking actions that are designed with the health and safety of our employees at the forefront of our decision making, and this extends across the enterprise. These include but are not limited to extending liberal leave, teleworking where feasible, alternate work schedules," spokeswoman Beci Brenton said in an email.
"We are practicing social distancing, and conducting extensive and continual cleaning of high touch areas. We are absolutely committed to maintaining employee safety and health, and minimizing their risk of exposure. We have provided guidelines and are communicating daily about policies designed with workforce safety in mind."
To contact the reporters on this story: Roxana Tiron in Washington at rtiron@bgov.com; Roxana Tiron in Washington at rtiron@bgov.com; Adrianne Appel in Boston at aappel@bloomberglaw.com; Paul Stinson in Austin, Texas at pstinson@bloomberglaw.com
To contact the editors responsible for this story: Paul Hendrie at phendrie@bgov.com; Robin Meszoly at rmeszoly@bgov.com
Stay informed with more news like this – from the largest team of reporters on Capitol Hill – subscribe to Bloomberg Government today. Learn more.