Defense Chief Mattis Ramps Up Global Travel as Reassuring Voice
Former Marine general outstrips predecessors in air diplomacy
Explaining the fine points behind Trump's tweets
Defense Secretary Jim Mattis crisscrossed three continents in the month of October alone: from Belgium to Vietnam and Mexico to India and Bahrain. He's been to the Indo-Pacific region eight times, and has clocked four visits to Afghanistan since becoming defense chief in January 2017.
Mattis, who tends to carry his own luggage, has taken more trips abroad in his first two years of the Trump administration than his most recent predecessors, according to a Bloomberg Government analysis of digital travel archives.
There are good reasons for the defense chief's logged miles: He's stayed out of the Washington limelight and out of President Donald Trump's way while his foreign outreach has served as reassurance to partners and allies at a time of conflicting messaging on U.S. policy and Twitter-grams from the White House.
Still, Mattis' strategy of working from afar may be put to a test in the coming months as Democrats taking over the House in January are promising more oversight of Pentagon operations. Staying out of the fray, Mattis so far has also managed to ride out speculation that he's on the outs with Trump, who last month told CBS "60 Minutes" that the defense chief was "a good guy" but "sort of a Democrat."
"At a moment where so many of America's core partnerships are under strain and there are questions about long-standing commitments, Mattis is seen as a reassuring figure," said Derek Chollet, an executive vice president at the German Marshall Fund and former senior Pentagon adviser.
"It's more gratifying to be on the road," Chollet added, "than fighting it out inside the Situation Room."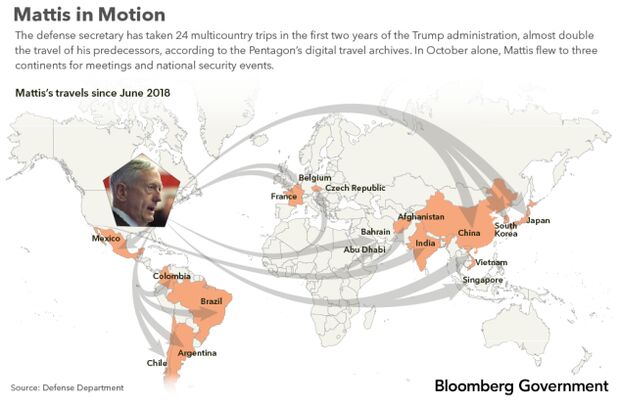 Calming Voice
Trump last year—to his national security team's surprise—struck language from his first NATO speech that would have recommitted the U.S. to the alliance's core principle that an attack on one is an attack on all. It fell to Mattis to later tell allies: "Bear with us. We will still be there, and we will be there for you."
It makes sense that Mattis's travel "would be more in this administration," said Jim Carafano, a national security expert at the Heritage Foundation. "A lot of times, everybody is not talking off the same talking points. You can't essentially understand the totality of U.S. policy just looking at Trump's tweets and statements."
The secretaries of defense and state have to do that kind of travel "because the president can't do it all himself," Carafano added. Adding to the frequency are vacancies at hundreds of State Department diplomatic posts. The secretaries have to step in for "the high-profile engagements because of the lack of ambassadors and people at the senior level," Carafano said.
One of Mattis' top priorities is strengthening alliances and partnerships, according to Pentagon spokesman Thomas Crosson. " The secretary feels that this is best done through face-to-face engagements with our allies and partners," Crosson said in an email. "Alliances and partnerships are key to implementing the national defense strategy. Therefore, you'll see him traveling throughout his tenure."
Air Mattis
Starting with a trip to South Korea and Japan in Feb. 2017, Mattis took 13 multilocation international trips during his first year as secretary. That pace continued in 2018 with another 11 multicountry international trips, according to the archives kept by the Defense Department and travel announcements. The Pentagon did not provide a travel list.
According to one Pentagon release, Mattis has already taken eight trips to the Indo-Pacific area. The frequency may not be a surprise given the denuclearization negotiations with North Korea and tensions in the South China Sea. The trips to that region have been a deliberate allocation of time, said a former Defense Department official who knows Mattis, but who asked not to be quoted by name.
Mattis has been to Afghanistan four times; the president has yet to visit any of the zones where the U.S. military operates. Mattis is also the one who insisted that Trump keep the U.S. military in Afghanistan after 17 years of operations there, and increase its presence. While not abroad, Mattis will be out of town today traveling to McAllen, Texas, to meet with troops deployed to the Southwest border, and heading on to F.E. Warren Air Force Base in Wyoming.
Predecessors
Mattis's predecessor Ashton Carter took seven multicountry trips in 2015, his first year as defense chief in the Obama administration, and 10 more in 2016, his last year. Carter took many more domestic trips as secretary than Mattis has done so far, traveling to Kentucky, Florida, California, Texas, Massachusetts, Colorado, and Illinois. Former defense chief Chuck Hagel took eight trips in 2013, his first year at the helm. In 2014, he took 10, followed by one domestic trip in 2015.
Another predecessor, Leon Panetta, took five international trips in 2011, 11 trips in 2012, and two trips in 2013—his last year, according to the Defense Department archives. Robert Gates before him took nine international trips in 2008 and six in 2007 his first year serving in the Obama administration and the last year available in the Pentagon's digital archives.
To be sure, there are several trips that all secretaries take, such as the Manama Dialog in Bahrain and the Southeast Asian Nations Defense Ministers Meeting, as well as multiple NATO meetings and events. So, some of Mattis travel isn't out of the ordinary even if the frequency is higher.
Mattis also prefers the big meetings where he can interact and meet on the sidelines with as many people as possible, the former defense official said. And when he doesn't travel, Mattis has a slew of foreign ministers and officials come to the Pentagon. While he dislikes public speeches and media appearances, Mattis is known to run great meetings, the former official said. Last week, Mattis hosted China's defense minister at the Pentagon.
America First
"It is very hard to have a foreign policy whose core principle is America First," Chollet said. "Mattis clearly sees his job and as one of the few remaining people in the administration who has a reassuring voice."
In addition, the State Department has been weak particularly under former Secretary Rex Tillerson so there "was a lot of slack for Mattis to pick up," Chollet said.
Mattis' background also predisposes him to travel and nurture partnerships: he's a former combatant commander as the head of U.S. Central Command in charge of operations in the Middle East and Central Asia. That job required him to oversee operations and plan the big picture, which required working with international partners.
"In the military he flourished as a combatant commander," Heritage's Carafano said. In addition, Mattis led the U.S. Joint Forces Command in Norfolk, Va., and served as NATO's Supreme Allied Commander for Transformation. While at Joint Forces, Mattis interacted with lots of NATO representatives, the former Pentagon official said.
To contact the reporter on this story: Roxana Tiron in Washington at rtiron@bgov.com
To contact the editors responsible for this story: Paul Hendrie at phendrie@bgov.com; Robin Meszoly at rmeszoly@bgov.com