Defeated Senators Target Former Colleagues With Leftover Cash
Bloomberg Government subscribers get the stories like this first. Act now and gain unlimited access to everything you need to know. Learn more.
Heidi Heitkamp and Joe Donnelly are tapping their leftover campaign funds to help flip Republican Senate seats.
The former Democratic senators from North Dakota and Indiana founded a super PAC called One Country Fund, which is supporting candidates who will stand up for rural areas.
The political action committee launched its opening salvo over the weekend in Iowa, where it plans to spend $1 million to air for three weeks a TV and radio ad that criticizes Sen. Joni Ernst (R) for backing President Donald Trump rather than looking out for the state. "She's not Iowa anymore," the ad says.
The super PAC will next target other states with Republican senators vulnerable to Democratic challengers. That's where the Senate majority will be decided and outside groups are crowding the airwaves.
"One Country Fund will support Senate candidates who are committed to fighting for accountability in Washington, rejecting the corruption and cronyism that defines Trumpism, and truly serving the unique needs of rural communities," Heitkamp said in an Aug. 7 press release announcing the super PAC.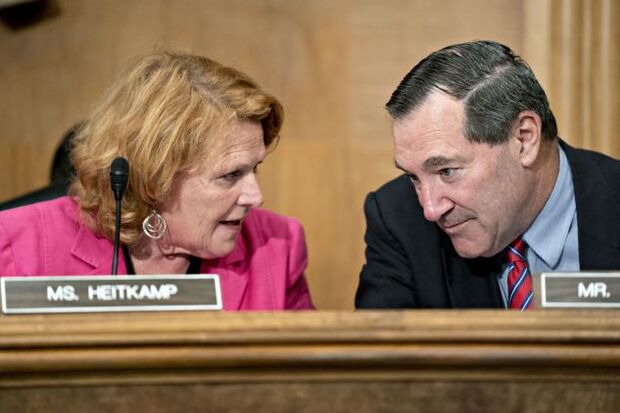 Heitkamp Funding
The only reported funding for One Country Fund so far is a $500,000 contribution from Heitkamp's Senate campaign committee. She had $6.5 million on hand immediately after losing her 2018 re-election and still had $3.7 million as of June 30, according disclosure reports filed with the Federal Election Commission.
Heitkamp "tried to imagine what her donors would want her to do" with the millions of dollars she had left over from her 2018 race, super PAC spokesman Davey McKissick said in an email. "As a candidate, she woke up every morning thinking about rural America. That's the mission her donors supported, and that's the mission we're continuing."
Heitkamp also has given $1.5 million of her leftover campaign money to One Country Project, a nonprofit affiliated with the new super PAC to promote a progressive policy agenda for rural America.
The super PAC also is set to receive money from Donnelly, who had about $210,000 in leftover cash at the end of June. He was also unseated in 2018.
Heitkamp and Donnelly lost their seats after voting against Trump's nomination of Supreme Court Justice Brett Kavanaugh, an issue highlighted by Republicans in states the president won in 2016.
Heitkamp said at the time the vote might cost her re-election. Ernst appeared in a TV interview that aired in North Dakota shortly before the 2018 election calling Heitkamp's vote against Kavanaugh "reprehensible."
Leftovers
Use of leftover campaign funds is restricted by FEC rules, and tapping this money for campaign ads has rarely been done before. The commission approved an advisory opinion request in 2012 allowing a former candidate to contribute leftover money to a super PAC, but the request made a point of saying the candidate wouldn't control how the money was spent.
Last year, the FEC deadlocked over an advisory request from former congressman and HHS Secretary Tom Price, a Georgia Republican, asking to shift $1.7 million in leftover campaign cash to a nonprofit intended to promote his policy ideas on health care.
For more: Price Fails to Win Nod to Tap Campaign Funds to Promote Policy
One Country Fund didn't request an advisory opinion, but the super PAC "has complied, and will continue to comply, with all FEC regulations and requirements," McKissick said. The FEC has been without a quorum of commissioners for most of the past year and is currently unable to vote on advisory opinions or enforcement complaints.
To contact the reporter on this story: Kenneth P. Doyle in Washington at kdoyle@bgov.com
To contact the editors responsible for this story: Kyle Trygstad at ktrygstad@bgov.com; Bennett Roth at broth@bgov.com
Stay informed with more news like this – from the largest team of reporters on Capitol Hill – subscribe to Bloomberg Government today. Learn more.