Debt Limit Deal Starts Eight Week Dash for Dems to Avoid Repeat
GOP presses Democrats to raise debt limit via reconciliation
Process involves numerous votes, but experts see strict limits
Bloomberg Government subscribers get the stories like this first. Act now and gain unlimited access to everything you need to know. Learn more.
Lawmakers are on track to avoid a federal default by agreeing to a short-term raising of the debt limit, but Democrats will still face significant challenges in the coming months if they determine that budget reconciliation is their only path to allow government borrowing for a longer term.
Senators voted Thursday to raise the debt limit by $480 billion, aiming to punt the issue until December. The House will have to pass the measure (S. 1301) before sending it to President Joe Biden ahead of Treasury Secretary Janet Yellen's estimated Oct. 18 deadline. House Majority Leader Steny Hoyer (D-Md.) said Thursday the chamber will vote on the measure Oct. 12.
Leading up to December, Republicans will again push Democrats to raise the debt ceiling on their own through the budget reconciliation process—unless Democrats agree to drop their up-to-$3.5 trillion social tax and spending bill, a cornerstone of Biden's legislative agenda.
Democrats have agreed to push back the deadline to December, but haven't agreed to act the next time through reconciliation.
That gives Democrats roughly eight weeks, if they choose to pursue the complex process they sought to avoid, to push a measure through equally-divided Senate committees and allow a lengthy series of floor votes sought by Republicans. That would require Democrats to raise the debt limit to a specific number greater than $30 trillion, rather than suspending it for a period of time—giving Republicans' a campaign talking point. It would not, however, require Democrats to revisit their main tax and spending bill, which they could still pass through reconciliation in a separate process.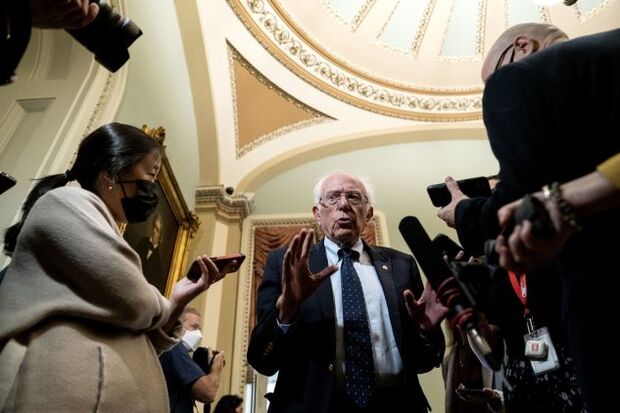 Democratic leaders didn't include reconciliation instructions to raise the debt limit in their original fiscal 2022 budget resolution (S. Con. Res 14), which set the framework for their social tax and spending bill.
Democrats have resisted the effort to use reconciliation to raise the debt limit, citing the lengthy procedural hurdles required to pass legislation using the process. Biden, for example, said Monday the action "would require literally up to hundreds of votes" that have "nothing directly to do with the debt limit."
But that's not entirely true, a former Senate parliamentarian and other specialists on procedure said. If Democrats choose to pursue reconciliation, they'll likely now have time to retroactively amend their reconciliation instructions, kicking off another round of committee work and floor votes.
Still, there are myriad ways lawmakers can speed up or slow down the process of amending reconciliation instructions. It starts with the instructions themselves.
Amended Instructions
Democrats could amend their reconciliation instructions to allow them to raise the debt limit without affecting their main reconciliation bill—the social tax and spending bill.
"If they only address the debt limit as a separate track, that's not going to have any impact on the main reconciliation bill," Peter Robinson, a former senior assistant parliamentarian in the Senate, said in a phone interview Wednesday.
The legislation would also be simple. The last time Congress raised the debt limit through reconciliation, the Balanced Budget Act of 1997, "the section was literally a sentence," said Sarah Binder, professor of political science at George Washington University and a senior fellow at the Brookings Institution.
The key challenge is that the reconciliation process allows lawmakers to raise or lower the debt limit, but not to suspend it. That means Democrats would have to specify an exact figure, a point Republicans would campaign on.
"That's really the fundamental difference here," Sen. John Barrasso (R-Wyo.), chairman of the Senate Republican Conference, told reporters. "If they go the reconciliation route, they have to do a number, and that number's going to put our national debt at above $30 trillion."
The federal debt is projected to hit $30.8 trillion on Dec. 17, 2022, when Democrats have previously proposed ending a suspension of the debt limit, according to the Bipartisan Policy Center, though that doesn't account for future legislation that could add more to the debt.
VIDEO : Our comprehensive guide to how many votes are needed for almost any scenario in Congress.
A Tied Committee Vote
Reconciliation is a two-step process in which both chambers approve reconciliation instructions and then pass legislation that aligns with those instructions. That starts with committees.
To amend the existing instructions, the House and Senate Budget Committees would have to approve changes. Senate committee approval could be challenging because there are an equal number of Democrats and Republicans due to the Senate's 50-50 split. Republicans theoretically could stall progress indefinitely by boycotting a markup, denying the panel a quorum. Before the bipartisan agreement, Senate Budget Committee ranking member Lindsey Graham (R-S.C.) indicated that's unlikely, saying in a hallway interview, "My inclination is to show up."
If the committee vote to advance the instructions is tied, Democrats could fall back on a process outlined in the Senate's 50-50 power-sharing agreement. In the case of a tied committee vote, the chair would transmit a notice to the Senate, which would be printed in the Congressional Record. Then, Majority Leader Chuck Schumer (D-N.Y.) could bring the measure to the floor through a motion to discharge, which would be subject to four hours of debate on the floor.
'Vote-a-Rama' Round One
The House and Senate would both have to vote to adopt the amended language with majority support.
In the Senate, debate is limited to 15 hours, equally divided between the two parties. That doesn't include the time it takes to offer and vote on amendments, and there's no numerical limit on the number of votes senators can insist on. This lengthy process is known as a "vote-a-rama."
Republicans would be allowed to offer numerous amendments on the floor during the "vote-a-rama," but they would likely have to be germane to the debt limit measure, rather than broader measures pertaining to the debt, Alan Frumin, a former Senate parliamentarian, said in a phone interview Tuesday.
While the decision would be made by current Parliamentarian Elizabeth MacDonough or her deputies, "if the revised budget resolution does nothing other than provide instruction to raise the debt, it would be a very, very small field of amendments that would qualify as being germane," Frumin said.
Republicans could aim to get around that limitation by offering out-of-order amendments and insisting on a vote to waive the point of order against them. Graham originally said Republicans may pursue that plan.
"We would be pretty strategic," Graham said.
They'd need 60 votes in favor to waive the point of order, making it easy for Democrats to shoot down. Republicans wouldn't be able to force votes on a substantive issue unrelated to the narrow scope of the debt limit measure, but the votes could burn floor time and potentially serve as more campaign fodder.
'Vote-a-Rama' Round Two
When both chambers have adopted the same set of reconciliation instructions, lawmakers would work on the legislation itself, which would only need a simple majority for passage in the Senate.
In the Senate, debate would be limited to 20 hours, but the legislation would be subject to another "vote-a-rama." Again, the amendments would have to be narrowly focused to be ruled in order, but Republicans would have another opportunity to push for procedural votes on out-of-order amendments.
Because a measure to raise the debt limit is so short and simple, it's unlikely the House and Senate would need to do any more work after the initial votes on passage, Robinson said. There'd be no need for the chambers to pass two different pieces of legislation and then go to conference to match them up, he said. Either the Senate would pass the measure and the House would send it to the president, or vice versa.
Two Weeks of Work
Experts tend to think the whole process to amend the existing reconciliation instructions could take around 10 days, Binder said. Senate Budget Chairman Bernie Sanders (I-Vt.) said in a hallway interview it "could take up to two weeks."
The total time the process takes could vary, particularly depending on how Republicans approach it. But if lawmakers follow through on a deal to punt until December, they'll have enough time for a new reconciliation process covering the debt limit without undermining their work on the broader social tax and spending bill under the reconciliation process kicked off in August.
"If they only address the debt limit as a separate track, that's not going to have any impact on the main reconciliation bill," Robinson said.
To contact the reporter on this story: Jack Fitzpatrick in Washington at jfitzpatrick@bgov.com
To contact the editors responsible for this story: Zachary Sherwood at zsherwood@bgov.com; Michaela Ross at mross@bgov.com
Stay informed with more news like this – from the largest team of reporters on Capitol Hill – subscribe to Bloomberg Government today. Learn more.