'Dads Caucus' Champions Smart Cribs for Troops in Defense Bill
Defense bill calls for 'smart sleeper' availability for military
Combat pilot says Snoo bassinet helps him get rested for duty
Bloomberg Government subscribers get the stories like this first. Act now and gain unlimited access to everything you need to grow your opportunities. Learn more.
The annual US defense policy bill calls for the usual investments in aircraft, nuclear defense, and wages for soldiers, but a couple of lawmakers successfully added support for something else: bassinets.
Rep. Seth Magaziner (D-R.I.) offered an amendment to the National Defense Authorization Act (H.R. 2670) that would direct the secretary of defense to sell or rent out "smart sleeper" bassinets at military exchanges. The provision is included in the House-passed version of the bill.
The bassinet amendment illustrates how businesses or technologies can benefit from language lawmakers tuck into large legislative packages such as the $886 billion defense bill, which is considered must-pass. It also highlights the niche ways companies market commercial technology or lifestyle services to the military.
"Requiring these products to be sold in exchanges can make it easier for bulk purchases to be negotiated," Magaziner said, noting that his proposal requires the Pentagon to offer the baby beds for sale, not pay for them.
The 21st century Snoo crib, designed to simulate the attention of a parent or caregiver, comes with a hefty price tag, retailing for almost $1,700.
Happiest Baby Inc. chief executive officer Harvey Karp, a pediatrician who invented the Snoo bassinet, said the company is working with the Senate to include a demonstration project in its version that would prove the benefit to the military of smart sleepers like Snoos.
Happiest Baby first waded into politics in 2019 when it sought an exemption from a memo signed by then-President Donald Trump to increase import taxes on Chinese goods. A wide range of US firms have said the tariff enforcement harms competitiveness.
The Los Angeles-based company has spent $22,500 on lobbying in 2023 for the defense bill and "issues related to the impacts of smart sleep technologies on military readiness, servicemember morale, and family wellbeing."
FDA Approved
Snoo is the only government-approved baby bed authorized to prevent or reduce the risk of Sudden Infant Death Syndrome—a medical condition that kills almost 3,4000 babies in the US each year, according to the National Institutes of Health. It received the Food and Drug Administration's first approval for this kind of device in March 2023.
The Snoo Smart Sleeper bassinet and the Snoo Sleep Sack are "jointly intended to facilitate a supine position (lying flat on the back) during sleep for infants up to six months of age who are not yet able to roll over consistently," according to the FDA.
The pricey device received breakthrough device status, which meant an expedited review and approval, Karp said.
The device rocks the baby back and forth horizontally, detects the baby's cries and responds with white noise and motion.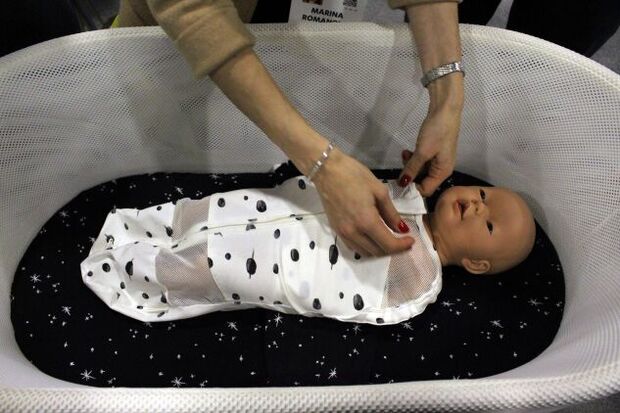 Snoo offers military discounts on its website and has sold cribs to more than 5,000 active-duty and retired military families.
The company surveyed almost 400 service members about life stressors and their thoughts on Snoo. Many said it provided support while they lived away from friends and family and improved sleep quality and productivity.
Happiest Baby is also working to get the Snoo device covered by insurance and Medicaid in a few states, according to Karp.
Snoo is the product that most closely fits the description in the House bill, although a Magaziner spokesperson said the language isn't specific to the Snoo brand.
"There are other beds that have motion and sound, but nothing that has the algorithmic intelligence of this product because we developed this to really imitate what an experienced caregiver would do," Karp said.
Magaziner used a Snoo brand smart sleeper in the first few months for his now one-year-old son. After talking with other members of the House's Dads Caucus, including amendment co-sponsor Rep. Eric Swalwell (D-Calif.), he suggested Snoos could help young service members who are new parents get better rest and less stress.
"As a new parent, any extra hour of sleep you can get a night is precious and makes a big difference in how you're feeling the next day. And when the defense authorization act came up, it just struck me as an opportunity to make this resource more available to service members and their families," Magaziner said in an interview.
Rest, Productivity
Sleep problems among service members have short- and long-term effects on physical health, cognitive functioning, and operational readiness, a RAND National Defense Research Institute study found. The Defense Department should use technology to "monitor and treat sleep disturbances," the study recommended.
Ret. Maj. Justin "Hasard" Lee said the Snoo has given him and his wife back at least three hours, according to data from the Snoo phone app. As a combat pilot, he was legally obligated to get 12 hours of rest or eight hours of uninterrupted sleep before duty periods, Lee said.
"The single best performance enhancer is a good night's rest and I think we all know having a a baby is one of the worst things you can do for your sleep," he said. "When you have better sleep, you can withstand stress better, you can think clearer."
Companies such as JP Morgan Chase, Under Armour, Snapchat, Activision Blizzard, and Hulu have begun offering the Snoo as a benefit for workers, Karp said.
"As employers in the public sphere are learning, you need your team and you need your team to be rested and available and enthusiastic. When you're sleep deprived, everything goes wrong," Karp said.
The smart sleeper "really fits the military mindset in a lot of ways," he added. "It's one thing to do education and other types of training programs, but if you can solve a problem with the tool where you put the baby in and push a button, that actually is pretty adaptable to the military system."
To contact the reporter on this story: Patty Nieberg in Washington at pnieberg@bloombergindustry.com
To contact the editors responsible for this story: Amanda H. Allen at aallen@bloombergindustry.com; Robin Meszoly at rmeszoly@bgov.com
Stay informed with more news like this – the intel you need to win new federal business – subscribe to Bloomberg Government today. Learn more.