DACA Defeat Puts Pressure on Congress to Shield 'Dreamers' (1)
Appeals court says protections contradict immigration law
Legislative prospects hazy as Dreamers retain status for now
(Updates throughout with additional reporting.)
Bloomberg Government subscribers get the stories like this first. Act now and gain unlimited access to everything you need to know. Learn more.
Lawmakers are facing a torrent of calls to protect young immigrants known as Dreamers after a federal court dealt another blow to their legal status. It remains to be seen whether the ruling creates enough urgency to spur action.
The US Court of Appeals for the Fifth Circuit on Wednesday ruled that the Obama-era Deferred Action for Childhood Arrivals program contradicts federal immigration law. Current DACA recipients will retain their status, for now, while litigation continues over the Biden administration's recent rule codifying the program.
More than 600,000 undocumented immigrants who arrived in the US as children rely on their DACA status to work legally and avoid deportation. The Fifth Circuit ruling highlights the precarious nature of Dreamers' protections despite historically bipartisan support for their cause.
"We keep having to live court case to court case," said DACA recipient Juliana Macedo do Nascimento, deputy director of federal advocacy for the nonprofit United We Dream. "We know that ultimately the likelihood that the policy will survive is very low."
Federal Appeals Court DACA Ruling Leaves Dreamers in Limbo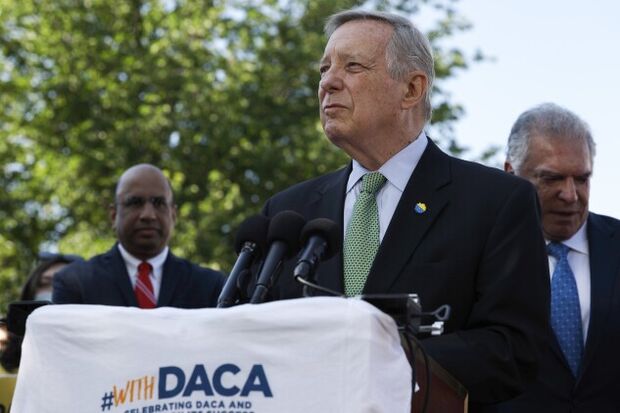 Congress has tried and failed several times to pass legislation providing a pathway to citizenship, and increasingly polarized border politics have only intensified the challenge. Before the decision, DACA supporters pointed to the looming court action as a likely catalyst for legislation to protect Dreamers.
"It could change everything," Sen. Dick Durbin (D-Ill.) said before the ruling came out.
But the fact that DACA recipients won't lose their status at this stage in the legal fight may dampen the urgency that's needed to mobilize sympathetic Republicans, even if the program's long-term prospects are bleak.
"The pressure that Congress would feel to act if things were absolutely dire isn't there," Cris Rámon, an independent consultant who works on immigration policy, said after the ruling.
Immigrant 'Dreamers' Face Severe Disruption If Court Wrecks DACA
Call to Action?
Democrats and immigrants' rights advocates nevertheless seized on the Fifth Circuit ruling as a call to action for Republicans to work out a deal on Dreamers before another adverse court decision from a federal district court reviewing the next stage of the case.
"The program is hanging by a thread and Dreamers' livelihoods are at risk," said Kerri Talbot, the deputy director of the advocacy group Immigration Hub.
The House passed legislation (H.R. 6) last year providing a pathway to citizenship, but bipartisan talks in the Senate have come up short. Majority Leader Chuck Schumer (D-N.Y.) called on Republicans to work with Democrats to provide a path to citizenship.
Sen. Catherine Cortez Masto (D-Nev.) had harsher words: "It's time for my Republican colleagues to show some spine," she said on Twitter.
But this congressional session ends Jan. 3, and the coming month is largely devoted to midterm election campaigns. That leaves little time for a deal that would likely require significant border policy concessions from Democrats to secure the votes of 10 GOP senators needed on DACA.
Senate Republicans, largely mum on the Fifth Circuit ruling Wednesday, didn't indicate any sudden shift in bargaining position. Those involved in slow-moving bipartisan immigration talks have said they want big investments in border security and restrictions on asylum before offering legal status to any undocumented immigrants.
"Until we get the border under control, it's not possible to deal with some of these other issues where there is bipartisan consensus," Sen. John Cornyn (R-Texas) said in a hallway interview last week.
Sen. Lindsey Graham (R-S.C.) had a similar take: "If you could do something to make the border more secure around DACA, count me in," he said before the ruling.
Dealmaking
Cornyn said the likelihood of Republicans working out an immigration deal depends on the midterm results.
If the party wins the majority in both the House and Senate, "we'd probably be unlikely to cut a deal in the lame duck if we could do a better deal once January comes," he said. "Conversely, if the Democrats get the majority, then maybe we'd be more motivated to try to do something."
It's less clear if Republicans would be inclined to negotiate if they win the majority in the House but not the Senate.
A narrower patch for DACA recipients — extending their legal status without providing a citizenship pathway — is the "best-case scenario" for now, given the political impasse on broader immigration measures, said Kristie De Peña, vice president for policy and director of immigration at the libertarian-leaning Niskanen Center.
"We have no idea whether or not the appetite for protecting DACA recipients is going to be better or worse" in the future, she said. "But we also don't have the luxury of waiting to find out."
One bill introduced by Graham and Durbin in previous sessions would provide provisional status to DACA-eligible immigrants for three years. By authorizing the program through Congress, the bill would largely insulate DACA from court challenges, but it wouldn't provide a permanent solution.
On a recent press call, immigrants' rights advocates said they were open to all options for protecting Dreamers but stressed that the legal limbo already surrounding DACA status stems from its temporary nature.
"Another temporary fix is not going to be sufficient," Macedo do Nascimento said Thursday. "There's no reason for us to believe that the political landscape is going to get any better in the next few years."
To contact the reporter on this story: Ellen M. Gilmer in Washington at egilmer@bloombergindustry.com
To contact the editors responsible for this story: Sarah Babbage at sbabbage@bgov.com; Bennett Roth at broth@bgov.com
Stay informed with more news like this – from the largest team of reporters on Capitol Hill – subscribe to Bloomberg Government today. Learn more.