Cyber, Cloud, AI Spur IT Spending Growth in FY 2019: This Is IT
Bloomberg Government subscribers get the stories like this first. Act now and gain unlimited access to everything you need to grow your opportunities. Learn more.
With a surge in spending on cybersecurity, cloud services, and software development, the U.S. federal government obligated $69 billion on unclassified IT contracts in the 2019 fiscal year, a 6% increase from fiscal 2018 IT spending, according to a Bloomberg Government analysis. That growth rate exceeded the Trump administration's budget projections.
The Defense Department accounted for more than half of all federal IT contract spending, $35.9 billion in fiscal 2019, up 5.3%. Federal civilian agencies obligated $33.2 billion, an increase of more than 7% from the $31 billion they spent in fiscal 2018. The top-spending civilian agencies were the departments of Health and Human Services ($5.5 billion), Homeland Security ($5 billion), and Veterans Affairs ($4.6 billion).
Although the 2019 fiscal year ended on Sept. 30, a complete picture of governmentwide spending is typically not available until 90 days later. That's because, for security reasons, the Defense Department reports its spending data to the Federal Procurement Data System on a 90-day lag.
These figures — $69 billion in total IT contract spending and 6% growth — are largely consistent with recent trends. President Trump's fiscal 2020 budget request projected growth of only about 3.5% in the federal unclassified IT budget from fiscal 2018 through 2019. However, governmentwide IT contract spending has risen by an average of 5.8% per year over the previous five years, according to Bloomberg Government's analysis.
Among cabinet-level agencies, the largest year-to-year spending growth occurred at the departments of Commerce (59%), Energy (58%), and Housing and Urban Development (48%). At the Pentagon, two components, the U.S. Navy and the Defense Information Systems Agency (DISA), accounted for more than half of the department's spending growth in fiscal 2019. Navy IT contract spending rose by about 8% to $8.5 billion, while DISA spent $3.6 billion on IT contracts, a 27% increase from 2018.
IT obligations decreased at a handful of agencies from fiscal 2018 through 2019. After a strong fiscal 2018, IT contract spending shrank by about 1% at both the U.S. Army and Air Force — to $9.6 billion and $7.6 billion, respectively. The greatest civilian drop in IT spending was at the Federal Bureau of Investigation, where obligations fell from $764 million to $594 million, a decline of about 22%.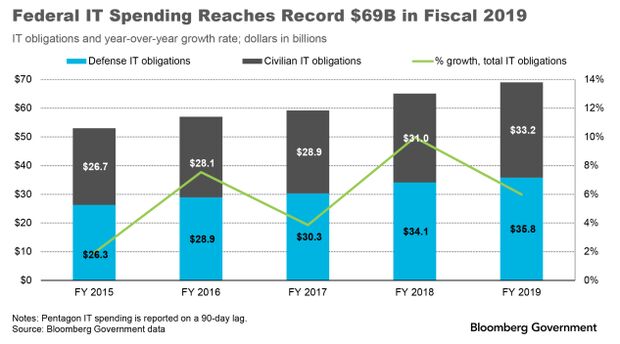 Spending in Key Technology Markets
Though federal IT spending grew by 6% overall, that figure would appear to understate the steep rise in obligations in key horizontal markets, such as cloud computing and artificial intelligence, which saw double-digit growth in defense and civilian agencies alike. Similarly, agencies' investments in emerging technologies through the use innovative procurement mechanisms such as other transaction agreements (OTAs) surged to $7.5 billion in fiscal 2019.
The chart below plots a series of markets that Bloomberg Government is tracking on behalf of its IT clients. Each bubble corresponds to a separate horizontal market Bloomberg Government is tracking. Five represent IT sub-markets as defined by the General Services Administration's category management taxonomy (see below), four depict high-growth IT markets as defined by BGOV analysts, and two display spending that flows through novel acquisition mechanisms, OTAs and "Best in Class" (BIC) IT contracts. (Note: The majority of OTA funding comes from research and development budgets, rather than IT budgets. Nevertheless, given the central role of OTAs in technology development and prototyping, we included the market here.)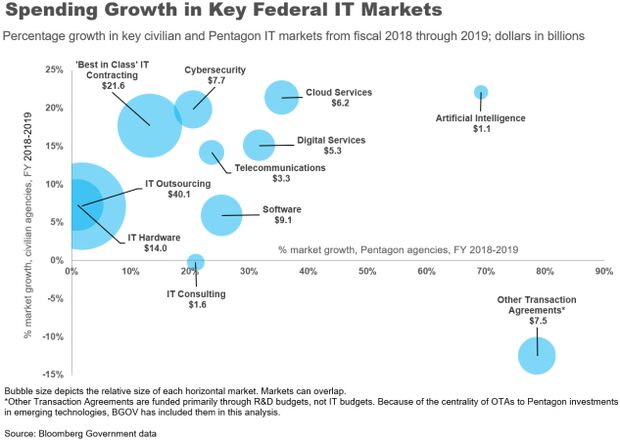 The position of each bubble refers to the growth rate in each market between fiscal years 2018 and 2019, with Pentagon spending on the x-axis (horizontal axis) and civilian spending on the y-axis (vertical axis). The size of each bubble corresponds to the amount of spending flowing through each market, in billions of dollars.
Government-Defined Markets
The following five markets refer to IT submarkets as defined by the General Services Administration, based on groupings of Product Service Codes. The latest category management taxonomy can be found here.
BGOV Analyst-Defined Markets
The following four market definitions were created by Bloomberg Government analysts to track spending in fast-growing markets for which agencies don't produce official estimates of contract obligations. BGOV uses a combination of PSC codes, contract numbers, and keywords to identify all transactions that meet each market definition.
Spending Through OTAs and BICs
Bloomberg Government is tracking not only what federal agencies are spending their IT dollars, but also how. The two biggest trends in IT acquisition in the past year have been:
Other Transaction Agreements — The Pentagon spent a record $7.3 billion using OTAs, which enable certain agencies to fast-track research and prototyping funding, in fiscal 2019 — up almost 80% from the $4.1 billion the department spent in fiscal 2018. OTA spending by civilian agencies, notably the Transportation Security Administration, actually fell by more than 12% to $245 million, despite growth in the prior two fiscal years. With both the Pentagon and Capitol Hill on board with OTAs, expect more Pentagon spending in fiscal 2020.
"Best in Class" IT Contracts — Although the federal government's push to consolidate IT spending on a handful of highly vetted governmentwide contracts dates back years, the White House's March 2019 category management memo directed agencies to double down on using BICs. Governmentwide IT spending on BIC vehicles rose from $18.6 billion in fiscal 2018 to $21.6 billion in 2019. That trend should persist in 2020 with agencies discontinuing their standalone IT contracts in favor of BIC options.
Chris Cornillie is a federal market analyst with Bloomberg Government.
To contact the analyst on this story: Chris Cornillie in Washington at ccornillie@bgov.com
To contact the editors responsible for this story: Daniel Snyder at dsnyder@bgov.com; Jodie Morris at jmorris@bgov.com
Stay informed with more news like this – the intel you need to win new federal business – subscribe to Bloomberg Government today. Learn more.