Cow-Harming 'Forever Chemicals' Strain USDA's Relief Resources
PFAS made up 88% of USDA dairy indemnity payments
Agriculture lobby looks to 2023 farm bill for more funds
Bloomberg Government subscribers get the stories like this first. Act now and gain unlimited access to everything you need to know. Learn more.
Dairy farmer Art Schaap had to watch his cows slowly die for over three years before the federal government paid him for the animals — contaminated with toxic "forever chemicals" from a nearby military base.
It was hell for the Clovis, N.M., farmer, who's been in the business for more than three decades. He now has an empty operation, Highland Dairy, and is still behind with his vendors. In the end, he received about three-fifths of what his cows would be worth now, due to outdated valuations.
And he's one of the lucky ones.
Elsewhere, farmers are struggling to get reimbursed at all for contamination from per- and polyfluoroalkyl substances, or PFAS. The federal government lacks programs to deal with the toxic chemicals, which are ubiquitous because of their longtime use in products such as nonstick cookware and firefighting foam. They've been linked to cancer, weaker immune systems, and other health problems.
Contamination in Schaap's case came from a nearby military base's fire-fighting exercises. Farms elsewhere in the US were exposed after years of spreading sewage sludge as fertilizer — a once government-sanctioned practice Maine banned this year after learning it spread PFAS.
The Agriculture Department paid Schaap through its Dairy Indemnity Payment Program, authorized in 1968 to reimburse farmers who are directed by federal agencies to stop selling their milk because of contamination from chemicals like pesticides.
The payment program wasn't created with forever chemicals in mind. And the size of just Schaap's dairy quickly overwhelmed the available funding.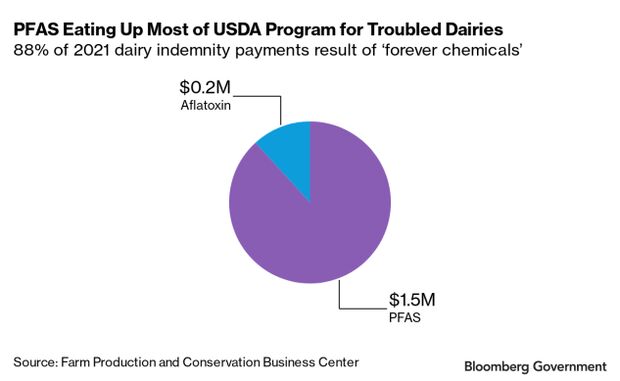 Of the roughly $1.8 million the Dairy Indemnity Payment Program paid for contaminated milk in 2021, about $1.5 million — or almost 88% — went to PFAS-related claims in Maine and New Mexico.
So far this year, the agency paid $156,842 to producers in Maine for PFAS in 2022, out of $162,510 total, according to information obtained from a Freedom of Information Act request provided in September. The rest of the compensation from the program was for milk contaminated with aflatoxin, a class of poisonous materials formed by mold in certain crops.
"The primary concern was that this was a new territory," said Timothy Rutten, an attorney who worked with Schaap, referencing the time it took the USDA to pay Schaap. "It's a novel question. They didn't know if there would be a million cows nationwide that would fall under this category eventually, or just Mr. Schaap's."
Dairy isn't the only sector of agriculture that's affected. It's hard to say which farmers will be hit worst in the absence of further research, but a recent Northeastern University study shows contamination in over 50,000 locations across the country. The report highlights a dreaded realization for scientists: PFAS is far more prevalent than they thought.
Military branches sent more than 3,500 notifications of PFAS contamination to farms since March 1, 2021 — when the National Defense Authorization Act of 2021 required the notifications — the Department of Defense said in an August report on the agricultural impacts of its bases. Clovis, N.M., was on the list, but so were locations in almost 30 other states. Some facilities, like Joint Base San Antonio in Texas, sent over 100 notifications.
As farmers discover some of the highest levels of PFAS detected on their land, they're left fighting for the limited resources the federal government has stashed away to deal with chemical contamination — an issue Agriculture Secretary Tom Vilsack acknowledged in a letter to Sen. Susan Collins (R-Maine), who's repeatedly raised the issue.
"My team and I recognize that, currently, the federal support provided by USDA programs in response to PFAS contamination is limited; quite simply, the resources we have at the ready are not designed to comprehensively respond to the scope of the crisis," Vilsack said in the May letter obtained by Bloomberg Government.
Read More: PFAS Cleanup Costs, Farm Pollution Increase, Pentagon Says (1)
'Dam-Breaking Situation'
Schaap took his milk off the market in 2018 after learning it was contaminated with PFAS, and the USDA initially reimbursed him for the milk he dumped. But the chemicals can persist in the environment — and in human bodies — for years, and after a year and a half, they showed no signs of leaving Schaap's cows. He and his attorneys worked with the USDA to reevaluate the Dairy Indemnity Payment Program, and in 2021, after Vilsack took office, the agency amended it to allow farmers payment for PFAS contaminated cows — not just milk.
"Thankfully the way that Congress has funded DIPP, the Department is able to fund eligible applications as they come in and are approved," Marissa Perry, an agency spokesperson, said in a statement.
The New Mexico farmer got $1,000 per cow for his 4,500 cows. Those same cows would be worth $1,800 now if not contaminated, Schaap says. Schaap plans to appeal the action, noting that dollar amount was based on an outdated valuation.
In urging the USDA to provide payment for the cows, Schaap's lawyers contended his situation was an isolated one, and that reimbursing him wouldn't be opening the floodgates for a slew of payments.
Read More: USDA Pressed to Do More for Farmers Hurt by 'Forever Chemicals'
But concerns persist that it isn't enough. In Maine, the first state to ban the practice of spreading sludge on farmland, dairy farmer Fred Stone just got paid this week after years of back-and-forth with the USDA. And it still wasn't as much as he was expecting. The agency told the third-generation dairy farmer that some of his animals weren't eligible for compensation, cutting his payment in half.
The agency wrote in its determination that although Stone submitted the documents he had available, the required records "just don't exist." His dairy received about $63,000 for his eligible 74 cows in the end. Stone plans to appeal the decision.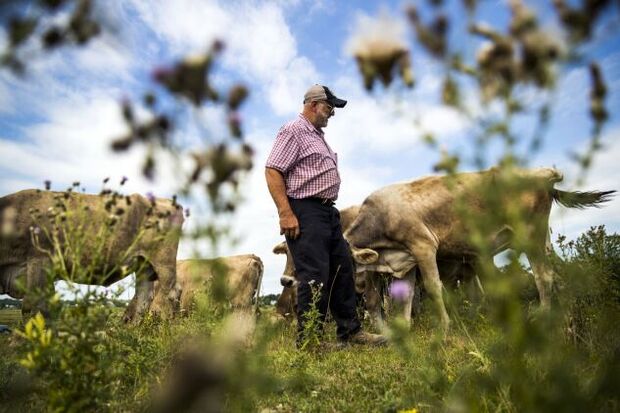 "The really concerning thing is that USDA is afraid that this is going to turn into a dam-breaking situation where they're going to be overwhelmed," Stone said.
The agency itself notes it isn't ready to deal with the crisis. USDA is asking Congress for more resources "to expand our toolkit to tackle this issue and support producers who have been impacted through no fault of their own," the spokesperson said in a statement.
"In the meantime, USDA continues to do everything it can — though limited in scope — to assist producers," she added.
Read More: Farmer Who Lost All to PFAS Inspires Law to Get Day in Court
'Now's the Time'
The federal government is studying just how pervasive the toxic chemicals are on farms, and what landowners can do when they're exposed, Perry noted. But when it comes to PFAS, agencies have yet to craft a comprehensive plan to respond.
"This is such a new problem that we don't necessarily have the science that maps out some of those issues around food contamination," David Wallinga, a senior health officer at the Natural Resources Defense Council, said. "That's part of the problem."
In the absence of clear guidelines around land contamination and testing, farmers are asking the federal government to spend more for research on PFAS. The area is one of the priorities for the American Farm Bureau Federation, the largest agricultural lobbying group in the US, ahead of the 2023 farm bill.
Read More: Farm Lobby Targets USDA Staffing, Food Aid Issues for 2023 Bill
"When you see farmers completely devastated through no fault of their own, it really causes great concern," said Courtney Briggs, the farm bureau's senior director of government affairs.
Though she hasn't yet heard from many farmers who are directly impacted, Briggs said there's an air of overwhelm from producers who are learning about the issue for the first time.
Sen. Gary Peters (D-Mich.) introduced a bill (S. 4829) with Collins last month that would create a working group in the White House Office of Management and Budget to address PFAS contamination by communicating between agencies. Peters' state has conducted some of the most rigorous investigations of PFAS, which have revealed extensive contamination.
Going into 2023, lawmakers and advocates are focused on the farm bill that Congress writes every five years. The legislation includes sections on commodities and research, which will be key for agriculture lobbyists trying to push for more funding to address the chemicals on farms.
"If you've got farmers who say that they're not getting the help they need, now's the time for farmers to be raising those demands," Wallinga said.
With assistance from Pat Rizzuto
To contact the reporter on this story: Maeve Sheehey in Washington at msheehey@bloombergindustry.com
To contact the editors responsible for this story: Anna Yukhananov at ayukhananov@bloombergindustry.com; Robin Meszoly at rmeszoly@bgov.com
Stay informed with more news like this – from the largest team of reporters on Capitol Hill – subscribe to Bloomberg Government today. Learn more.