Covid Tracking in Schools, Now Spotty, Key to Reopening Classes
Data on virus on campuses inconsistent, limited
Educators look to Biden team for federal role
Bloomberg Government subscribers get the stories like this first. Act now and gain unlimited access to everything you need to know. Learn more.
Educators itching to get students back in K-12 classrooms safely say the Biden administration could assist those efforts without Congress by tracking data on the spread of coronavirus in schools.
That kind of federal effort would contrast with the Trump administration's hands-off, decentralized approach, which has called for schools to reopen for in-person instruction but hasn't tracked how the virus spreads on campuses. Teachers, academics, and other volunteers often are left to collect data on where Covid-19 has appeared in schools.
"It's just ludicrous that we don't have that" broader data gathering, said John Bailey, a visiting fellow at the American Enterprise Institute who worked on education and labor policy at the White House during the Bush administration. "That information is what's going to tell us whether or not schools are super spreaders."
Parents and education advocates are eager to get students back to class in person, in part because of struggles with months of online learning. National assessments released this month indicate students started this school year behind in math and showed no improvement in reading, findings albeit less dire than educators feared. Local findings from some public school districts, such as Fairfax County in Virginia, show the number of students receiving failing grades has jumped since last spring.
Some states and school districts have tried to give the public more transparency about coronavirus on campus with varying success. Teachers' unions and other educator groups say controlling the virus is necessary to reopen schools safely, even for partial in-person classes. Having more comprehensive data on the virus in schools could provide stronger clues about how to do so.
Emily Oster, a Brown University economist, launched the most comprehensive database of Covid cases reported in schools with several national educator groups. Gathering information for that enterprise would be more straightforward for a federal agency, she said.
"This is a volunteer effort," she said. "They've got more resources to encourage participation."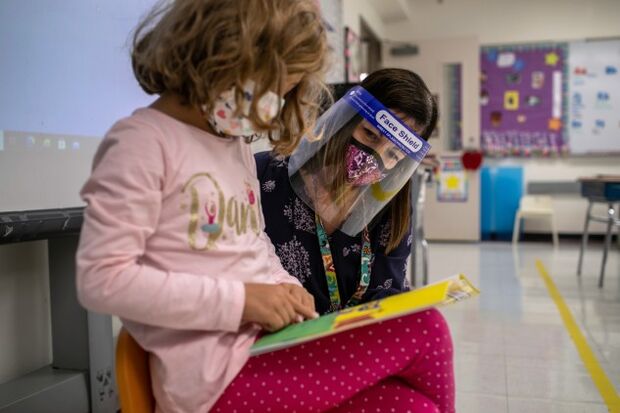 Inconsistent Data
Sens. Elizabeth Warren (D-Mass.) and Tina Smith (D-Minn.) pressed the heads of the Centers for Disease Control and Prevention, the Department of Health and Human Services, and the Education Department in October to begin tracking the virus in schools, seeing a "wide variation in both the reporting and tracking" of coronavirus cases on K-12 campuses.
Education Secretary Betsy DeVos has said it isn't her department's role to collect that data. The CDC and HHS haven't responded to requests to collect Covid data so far, the senators' offices said. The Education Department and CDC didn't respond to requests for comment about plans to track the virus in schools.
The Biden transition team didn't comment about plans to collect Covid data from schools. But it signaled the new administration will rely on data to respond to the virus and assist school planning, said Becky Pringle, president of the National Education Association, the country's largest teachers union.
"They have been very clear they know that needs to be done," she said.
Health policy experts say more comprehensive data is key to understanding how the virus is transmitted, especially between children and school staff.
"So far it doesn't look like schools are the driving factor in spread but that doesn't mean schools can't spread Covid," said Anita Cicero, deputy director of the Johns Hopkins Center for Health Security. "The data that we have right now is inconsistent or incomplete."
Much of the available data on the virus in schools doesn't reflect the current capacity of classrooms, mask-wearing practices, or the age of infected children—all key to preventing transmission.
It's also tough to compare trends between school systems because districts use varying definitions to count Covid cases, said Dan Potter, associate director of regional research of the Houston Education Research Consortium at Rice University. In some districts, only a positive test is counted, while others may take reports from family members, or just count symptoms of the virus as a positive case, he said.
"One of them might look like they have an outbreak. One of them might look like they've cured Covid," Potter said. "In reality, they've both got outbreaks."
More Federal Guidance
School leaders have been frustrated throughout the pandemic with inconsistent guidance on how to reopen safely. This month, the CDC removed guidance from its website that stressed the importance of returning to in-person instruction as coronavirus cases surged across the country.
"At the federal level, the contradictory messages we have sometimes heard have been a challenge for local communities," said Mike Magee, CEO of Chiefs for Change, a national network of top state and district school officials.
School leaders also worry that spread of the virus between teachers and staff could make buildings unmanageable if large numbers of instructors have to quarantine after exposure, Magee said.
Federal agencies such as the CDC could use national data on Covid cases to produce detailed guidelines on safe campus reopening protocols, advocates said. And schools need clear standards about what data they should collect themselves, said Cicero of Johns Hopkins.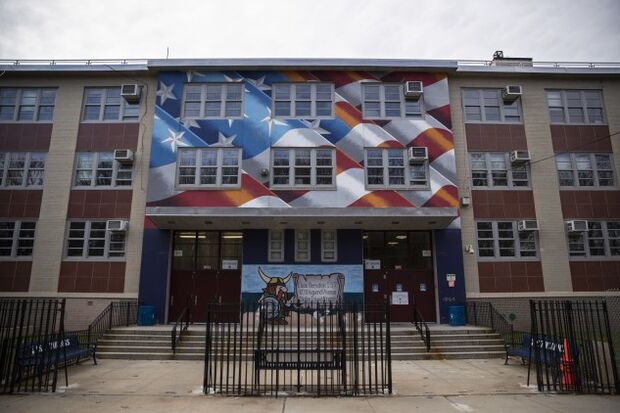 'Bumps in the Road'
Oster said her database—launched in partnership with AASA, the School Superintendents Association, and other national educator groups—is the most comprehensive picture of coronavirus in schools assembled thus far. She said the data is consistent with experts' assessments that schools don't drive virus spread, especially if mitigation measures are in place.
"What we're seeing is schools really reflecting their communities," Oster said. "We're not seeing a lot about infection that's spread in schools."
But some data, such as the share of students attending classes in-person versus remotely, can't be assembled because states themselves aren't tracking it.
"Information we need is not available," she said. "States don't have it."
The data also captures only a portion of U.S. school districts because reporting is voluntary. The coronavirus response dashboard launched by the school superintendents association tends to skew towards more affluent suburban districts with strong mitigation measures.
While districts across the country have provided data to Oster's database, only two states, New York and Texas, have opted to share statewide data. New York is the only state to provide school-level data. Gov. Andrew Cuomo (D) announced in September that the state would launch a "Covid-19 report card" to provide real-time information publicly on every school and district in the state.
"There definitely have been some bumps in the road in this whole process," said Bob Lowry, deputy director for advocacy, research and communications of the New York State Council of School Superintendents.
Initially, the report card counted Covid cases by matching reports from county health departments to schools by ZIP code. But school district boundaries and ZIP codes don't align in the state and many children who reside within a district attend private schools or are home schooled.
Schools in New York are playing a much larger role now in testing students and staff on campus, Lowry said. Still, parents should count on communication from their schools, rather than the state's website, for information on new cases, he said.
"I don't think parents should have to rely on it to make decisions," he said. "It does help paint a picture of what is happening in the schools."
Local Frustrations
The NEA's Pringle said many governors and school officials aren't using data on the virus to make campus-reopening decisions, fueling frustration and a lack of trust among teachers. Those frustrations prompted NEA to launch its own virus tracker built on the efforts of a Kansas high school theater teacher.
Ultimately, more data on the virus should be accompanied by the resources that evidence shows will slow transmission in schools, said Noelle Ellerson Ng, the associate executive director of the AASA.
"It's never going to be totally risk-free to reopen schools," she said. "Data can and should help everyone have a better understanding and better confidence in decisions being made."
To contact the reporter on this story: Andrew Kreighbaum in Washington at akreighbaum@bgov.com
To contact the editors responsible for this story: Sarah Babbage at sbabbage@bgov.com; Cheryl Saenz at csaenz@bloombergindustry.com; Robin Meszoly at rmeszoly@bgov.com
Stay informed with more news like this – from the largest team of reporters on Capitol Hill – subscribe to Bloomberg Government today. Learn more.