Covid Exposes School Ills, Fueling Ambitious Biden Spending Push
Virus highlighted long-standing health risks in schools
Democrats, Biden seeking unprecedented infrastructure funds
Bloomberg Government subscribers get the stories like this first. Act now and gain unlimited access to everything you need to know. Learn more.
The coronavirus pandemic has put a spotlight on persistent health threats to schoolchildren and teachers posed by crumbling U.S. campuses with leaking pipes or mold-prone ventilation.
Now, as more schools reopen for in-person teaching, the Biden administration is using that focus to seek billions of dollars in spending to repair and maintain K-12 schools—an area outside the traditional scope of federal infrastructure or education aid.
"It's a battleground topic," said David Sturtz, a partner at school planning firm Cooperative Strategies. "The vaccine can get you back in school but not provide long-term peace of mind. The real need out there dwarfs what we're allocating."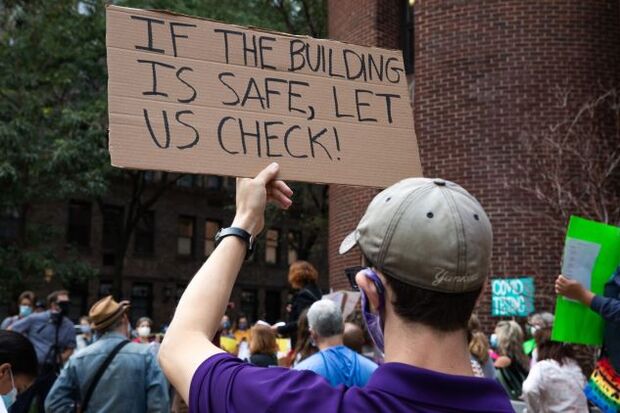 With Covid-19 vaccines in hand and policymakers negotiating over spending numbers, champions of safer school buildings are looking to the White House's $2.25 trillion infrastructure proposal as their best chance to address longtime needs.
Since the pandemic hit over a year ago, K-12 schools have received roughly $280 billion in emergency federal aid, most for immediate needs like personal protective equipment, cleaning supplies, and technology for remote instruction.
But fixing infrastructure like air filtration or water systems can be much more costly, and the scope of needed repairs is vast.
Roughly 36,000 K-12 campuses need to update or replace ventilation or heating systems, according to a Government Accountability Office report released last year. Of the school districts GAO surveyed, 41% needed such repairs in at least half of their schools.If left unaddressed, those outdated systems can lead to mold and worse indoor air quality.
What's in Biden's $2.25 Trillion Infrastructure and Tax Proposal
Federal Proposals
Rep. Bobby Scott (D-Va.), chair of the House Education and Labor Committee, has introduced a bill (H.R. 604) that would authorize $100 billion in grants and $30 billion in bond financing to schools with urgent needs for building upgrades.
The White House's infrastructure plan, released in March, proposed roughly half that, with $50 billion in grants and $50 billion in bonds. Advocates say that framework would do less to aid poor districts that can't raise financing for bonds.
Scott, whose committee will be tasked with drafting legislative language for much of the Biden infrastructure plan, has said he'll push for funding in line with his proposal.
"In my district, some school staff are concerned about returning to campus not just because of Covid-19 but also because some school buildings have had mold and other serious health hazards since even before the pandemic," Scott said at a House hearing last week.
Either plan would mean an unprecedented level of federal spending on school buildings, but would likely cover only part of needed repairs at thousands of campuses across the country. Upgrading the heating, ventilation, and air conditioning systems alone in K-12 schools could cost $72 billion, one analysis found.
Biden Offers a Can-Do Unity Vision With Rich Paying 'Fair Share'
Most districts don't have the resources to make those kinds of long-term repairs, opting during the pandemic for less costly alterations to get classrooms back open.
At Goochland County Public Schools, a 2,500-student district in rural Virginia, officials used emergency relief money last year to install HEPA air filters in classrooms, said Debbie White, the district's chief financial officer.
"We fix things as they break," White said.
'Truly a Game-Changer'
Many Philadelphia school buildings have mold, asbestos, and water leaks—all signs of overdue maintenance, said Jerry Roseman, director of environmental science at the Philadelphia Federation of Teachers.
The city's schools need $450 million in annual spending on maintenance alone, Roseman said. And a 2017 study in Philadelphia found $4.5 billion in deferred maintenance costs.
The Biden proposal isn't nearly enough to solve those types of problems in the nation's poorest schools, he said. "That sounds like a lot of money," he said. "I don't think it matches the scale of the need."
Even as school districts and some states have sought assessments of infrastructure needs, there is no full national accounting of the conditions of the country's K-12 campuses, meaning the scale of the problem may be even bigger than understood by policymakers.
But new federal programs could jump-start spending on poorer schools—even if they don't come close to addressing all infrastructure demands, said Mary Filardo, executive director of the 21st Century School Fund, which advocates for healthy school environments.
"A federal program that incentivizes more equitable school facilities even at 10% of the need is truly a game-changer for poor districts and communities," she said.
'Most Regressive'
Across the country, the bulk of the money for building and maintaining public school buildings comes from levying local property taxes. That leaves areas with the lowest property wealth struggling most to raise funds or get voters to pay for new school facilities.
Large urban school districts wrestle with the funding equation—but so do property-poor districts in rural areas and midsize cities.
School districts are even more reliant on local funds for capital spending, Filardo said. State and local revenue each covers about 45% of the average public school district's operating budget, with federal aid covering the remaining 10%. But for building construction and maintenance, states cover 18% of costs on average—while the federal contribution historically is close to zero.
"It's the most regressive funding system in education," Filardo said.
Many states have designated funding for school buildings—often at the prompting of lawsuitsover inequitable resources. But the country still falls $46 billion short each year in meeting maintenance and capital investment, Filardo's organization found in 2016. And spending varies widely state to state.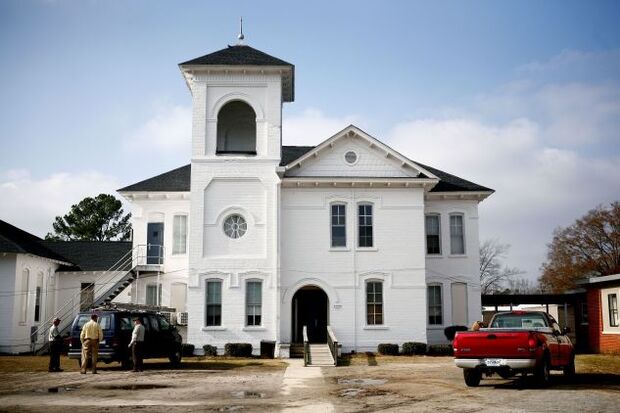 Researchers have found that building conditions can affect students' learning in the classroom. Hotter school days are linked to lower PSAT scores, according to a 2018 study.
Scramble for Covid Aid
K-12 schools were big beneficiaries of federal pandemic relief last year. But the stimulus packages focused on immediate needs such as laptops and Wi-Fi connections for remote learning, or cleaning supplies to reopen campuses. Building repairs like HVAC upgrades were only designated as an allowable use of the $126 billion in K-12 aid in the American Rescue Plan (Public Law 117-2, H.R. 1319), which Biden signed into law in March.
But school leaders still face dilemmas over spending priorities, said Michael Griffith, a policy analyst focused on school finances at the Learning Policy Institute. "There isn't enough money available to do everything you need to do."
In Durham, N.C., the school district spent nearly $1 million on PPE and Covid-19 transmission mitigation measures last year, said Julius Monk, chief operating officer at Durham Public Schools. Officials also installed new air filters before a limited number of students and staff returned to campuses beginning in March.
But a 2019 assessment found the cost of repairing the district's school buildings would be roughly $700 million.
"Our infrastructure is much like the infrastructure across the country—it is aged," Monk said. "Every year that number gets bigger."
Students in poorer areas suffer twice from inequitable funding, said Griffith. Their schools receive less money per student, and they also attend classes in older buildings. A major injection of federal funds could start to reverse that second trend, he said.
"The goal is always to ensure a kid's education is not determined by their ZIP code," Griffith said. "Especially when it comes to school facilities, that is often not the case."
To contact the reporter on this story: Andrew Kreighbaum in Washington at akreighbaum@bgov.com
To contact the editors responsible for this story: Gregory Henderson at ghenderson@bloombergindustry.com; Anna Yukhananov at ayukhananov@bloombergindustry.com
Stay informed with more news like this – from the largest team of reporters on Capitol Hill – subscribe to Bloomberg Government today. Learn more.