Covid Aid Funding Deal Needs Rework After Offsets Were Spent
$10 billion Covid measure needs renegotiation, senators say
Offsets in April deal were spent after delay in taking up bill
Bloomberg Government subscribers get the stories like this first. Act now and gain unlimited access to everything you need to know. Learn more.
Lawmakers will have to renegotiate a Covid-19 therapeutics and vaccine funding deal because billions of dollars designated as offsets have already been spent, key senators said.
Senators struck a bipartisan deal in April to spend $10 billion on Covid resources, and to offset its cost by rescinding previously appropriated funds. But the measure has languished amid a fight over the planned end of the Title 42 pandemic immigration policy, and some of the $10 billion in proposed "pay-fors" have already been spent.
Now, some of the key authors of the initial deal, Sens. Mitt Romney (R-Utah) and Roy Blunt (R-Mo.), said lawmakers will have to resume negotiations on the offsets when they eventually decide to take up a Covid bill. Between $2 billion and $4 billion of the $10 billion in funds designated as offsets have already been spent, a senior Republican Senate aide said.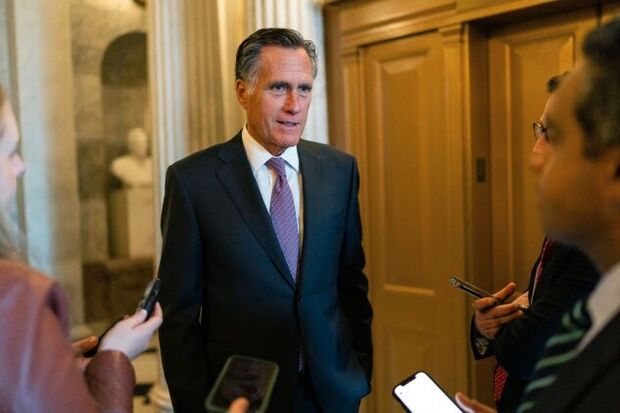 Blunt added that the previous agreement to spend $10 billion overall may also need to change. The needs have increased over nearly two months, he said. White House officials have also repeatedly asked for more than $20 billion in Covid aid.
The development adds another challenge to the process of agreeing to a Covid bill, which has been delayed due to fights over offsets, immigration, international aid, and a general lack of motivation among lawmakers.
Read More: Covid Funds Slip Down Agenda as Congress Bounces Between Crises
Waiting on Schumer
Romney said lawmakers will have to renegotiate the offsets, but that it won't happen until Senate Majority Leader Chuck Schumer (D-N.Y.) looks to take up a bill. He said he thinks lawmakers will be able to find enough new offsets when they're motivated.
"We'll probably need to update the pay-fors, but so far Leader Schumer has not been willing to put the bill on the floor," Romney said. "Until he does, it's kind of moot."
Romney announced the initial deal on April 4 to rescind $10 billion in unspent funds from previous pandemic relief measures. That included $2.3 billion in aviation manufacturing grants, more than $1.9 billion from the Small Business Administration's grants for shuttered venues such as concert halls and theaters, and $1.6 billion in various Department of Agriculture grants under pandemic response measures.
These accounts nearly all comprised grant or loan programs that are still operating, but with unspent funds. Since April, as lawmakers debate how to pass the Covid aid package, those programs' coffers have dwindled.
For example, the Small Business Administration distributed about $800 million in grants from the Shuttered Venues Operations program, according to public reports from the SBA.
And Treasury officials late last month announced plans to send $200 million in Small Business Credit Initiative funds to various states, and to transfer $100 million from that initiative to another program at Commerce.
Distracted Congress
Blunt agreed that how to pay for the bill is an unresolved issue, but that Congress's ability to actually focus on the measure is the more immediate concern.
"I think it has to be renegotiated," said Blunt, ranking member of the Senate Appropriations Labor-HHS-Education Subcommittee. "But again, you've got to have the environment to do that."
Sen. Patty Murray (D-Wash.), chair of the Senate Appropriations Labor-HHS-Education Subcommittee, agreed that the main challenge for lawmakers is resolving to take up a Covid bill, rather than offsets.
"We have been fighting this dog for a long time," Murray said. "I think it is very clear what the real issue is — that we need to get Covid dollars now so that we can buy therapeutics, so that we can buy the new vaccines, so that we can have tests, and we are ready. We don't have that right now."
Senators pushing for more money for global vaccination efforts are also preparing to make the case that the package should include billions more dollars to send Covid vaccines to other nations.
Sen. Chris Coons (D-Del.) told reporters Thursday he believes there's an opportunity to increase the overall package if lawmakers can bring it up for a vote.
"We're going to look at this all over again when we start, so I wouldn't conclude that having bargained down to 10 is the finish line," he said, referring to the $10 billion package.
To contact the reporters on this story: Alex Ruoff in Washington at aruoff@bgov.com; Jack Fitzpatrick in Washington at jfitzpatrick@bgov.com
To contact the editors responsible for this story: Giuseppe Macri at gmacri@bgov.com; Anna Yukhananov at ayukhananov@bloombergindustry.com
Stay informed with more news like this – from the largest team of reporters on Capitol Hill – subscribe to Bloomberg Government today. Learn more.