Covid-19 Could Mean Record Q4 Spending: This Is IT
Bloomberg Government subscribers get the stories like this first. Act now and gain unlimited access to everything you need to grow your opportunities. Learn more.
The federal information technology market is on track for record spending in the fourth quarter, according to a new Bloomberg Government analysis. The last burst of spending will cap off a fiscal year marked by modest growth in the IT sector, as agencies have had to adapt to telework in the era of Covid-19.
Still, federal contractors may be cautiously optimistic about the future after months of uncertainty as to how the global pandemic might affect the needs of federal agencies, and by extension the market for IT products and services. IT contracts have been largely insulated from work stoppages, while agencies made investments to facilitate secure telework in the second and third quarters of fiscal 2020, according to Bloomberg data.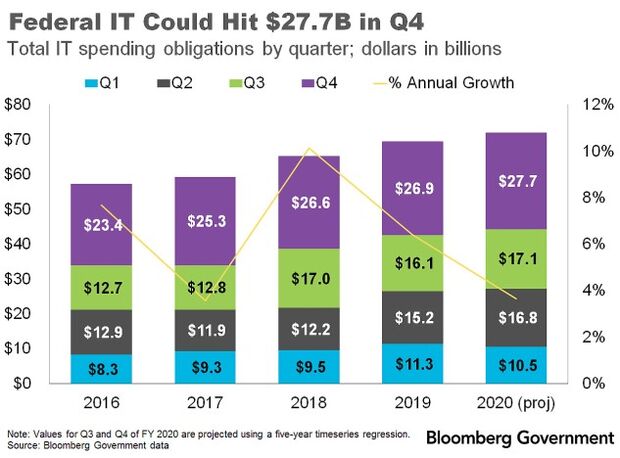 BGOV projects that federal agencies will obligate $27.7 billion on unclassified IT contracts in Q4 of fiscal 2020, which would exceed the $26.9 billion agencies spent in the same period of fiscal 2019.
The Department of Veterans Affairs is likely to make significant investments in the fourth quarter as they still have billions left in funding. The VA has spent only $1.7 billion on IT contracts so far this fiscal year, compared to its $7.8 billion IT budget request. Further, the CARES Act (Public Law 116-136) appropriated the VA an additional $2.2 billion to modernize its IT and electronic health records systems.
BGOV analyzed monthly IT spending by agency over each of the previous five fiscal years in order to understand the overall trend in growth, as well as how seasonality affects government spending on IT. For example, most federal agencies spend a disproportionate share of their congressionally-appropriated IT budgets in the final quarter of the fiscal year. But this also varies by agency. The State Department, for instance, tends to spend close to 40% of its IT dollars in September, while the National Aeronautics and Space Administration spends about the same as it does the other eleven months of the year.
The federal government is on pace to spend $72 billion on IT contracts in fiscal 2020, representing a 3.6% increase from the previous year's total. That figure would match the White House Office of Management and Budget's 3.6% projected increase in IT budgets between fiscal years 2019 and 2020.
However, these figures indicate that while the federal IT market continues to grow, the pace of growth appears to be slowing. Last year federal agencies obligated $69.4 billion on information technology contracts, representing 6.4% growth compared to fiscal 2018's total of $65.3 billion. Total IT contract spending grew by an even higher figure, 10.1%, between fiscal years 2017 and 2018.
BGOV data shows federal IT spending dipped in the first quarter of fiscal 2020 — $10.5 billion — down from more than $11.3 billion that period the year prior. Spending rebounded in earnest in March, as agencies made investments in telework capabilities. Agencies have obligated more than $1.1 billion on IT transactions directly tied to the Covid-19 response, including $467 million at the VA. Based on historical spending trends and fiscal 2020 spending to date, BGOV expects IT spending over the second half of the fiscal year to exceed fiscal 2019 levels.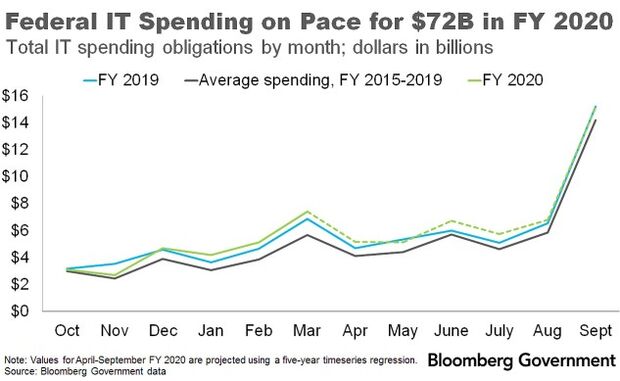 Nevertheless, the recent spike in coronavirus infections around the country will surely extinguish any hope of returning to normalcy anytime soon. If the crisis intensifies, federal agencies may be forced to not only abandon plans to resume normal activities, but to impose even stricter lockdowns than federal employees and contractors witnessed this spring. The surge in cases could also trigger a new round of stimulus spending and appropriations to help agencies modernize in response to the pandemic.
To contact the analyst: Chris Cornillie in Washington at ccornillie@bgov.com
To contact the editor responsible: Daniel Snyder at dsnyder@bgov.com;
Stay informed with more news like this – the intel you need to win new federal business – subscribe to Bloomberg Government today. Learn more.