Courts Choose More Congressional Lines: Ballots & Boundaries

Pennsylvania finally has a new congressional map.
That state's Supreme Court made its choice today, going for a configuration that sets up as many as five swing seats as reapportionment reduces the delegation by one district.
Of the other 12 districts, six have a decidedly Republican lean and six tilt toward the Democrats. Republicans should like seeing the Lehigh Valley area represented by Susan Wild becoming a little more Republican, while Democrats are bound to appreciate some friendlier lines in the Pittsburgh suburbs.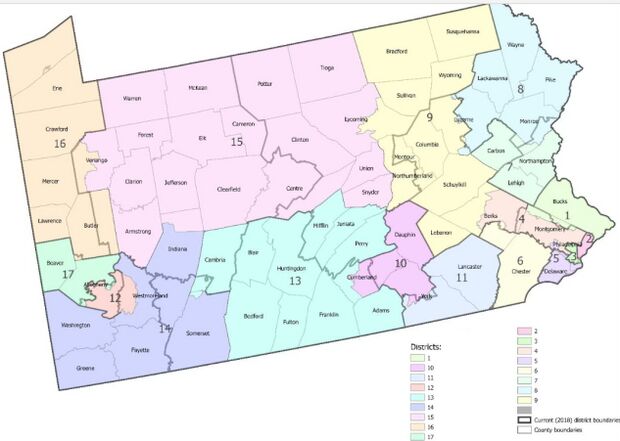 The expansive district of Rep. Fred Keller(R) was basically dismantled.
He's paired with Rep. Glenn "GT" Thompson (R), and other parts of Keller's district were absorbed by districts now held by Dan Meuser (R) and John Joyce (R).
That makes us wonder whether there will be a retirement or a matchup between two Republican incumbents.
A few hundred miles away, a North Carolina court today picked a map that it says can be used for just one election cycle.
The two-year map is a modified version of one that lawmakers submitted after their initial attempt was kicked back.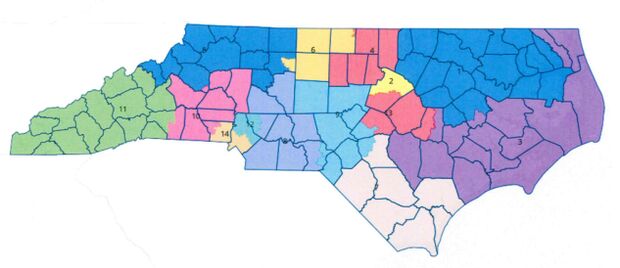 Attempt No. 2 still unfairly favored Republicans and violated the state constitution, according to the trial court decision. Opponents have until the end of today to appeal. — Jennifer Kay, Greg Giroux, and Chris Marr
READ MORE:
(Was this newsletter forwarded to you? It's free. SUBSCRIBE)
OHIO: WATCH THIS SPACE
Ohio's redistricting commission is running out of time to complete congressional and legislative maps so the May 3 primary can be held as scheduled. Commissioners missed one of its court-ordered deadlines after the state Supreme Court struck down a configuration deemed unconstitutionally gerrymandered.
Gov. Mike DeWine (R), who's on the commission, said yesterday that "We have some progress being made on that."
They plan to meet this afternoon and again tomorrow. Among the things to work out onces the lines are set: what happens to a March 4 candidate filing deadline and a requirement to mail ballots to military and overseas voters by March 18. — Kenneth P. Doyle
ARKANSAS: CASE DISMISSED
A federal judge did exactly what he said would happen if the Justice Department failed to jump to his (very short) timetable.
U.S. District Judge Lee Rudofsky last night tossed out a legal challenge by civil rights groups that contend a redrawn district map for Arkansas's House of Representatives illegally weakened the power of Black voters. The Trump-appointed judge said the U.S. government needed to bring the suit and gave DOJ five calendar days to act—including a three-day holiday weekend.
DOJ submitted a one-paragraph notice to the court pointing out that the government maintains what's been a widely-accepted view that private groups are authorized to bring lawsuits alleging state and local voting changes dilute the voting strength of minorities. And though it didn't sign on as a plaintiff, DOJ's filing says that document "does not preclude the United States from taking further action." No word yet on an appeal. — Ben Penn
Tally: 37 Completed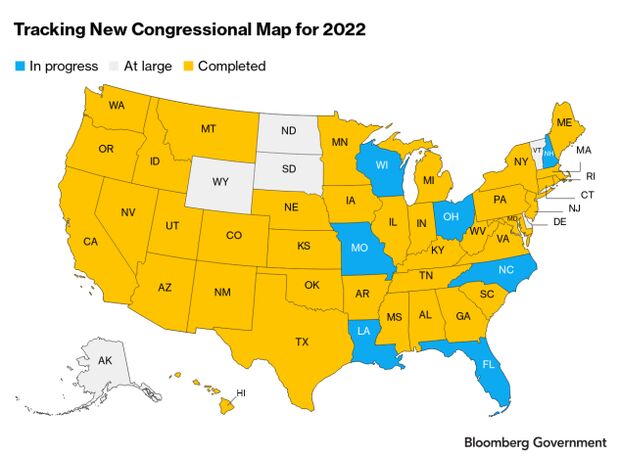 The finished maps:
Alabama|Arizona | Arkansas | California| Colorado |Connecticut |Georgia |Hawaii| Idaho | Illinois | Indiana | Iowa | Kansas | Kentucky | Maine | Maryland | Massachusetts | Michigan | Minnesota | Mississippi |Montana | Nebraska | Nevada | New Jersey | New Mexico |New York | Oklahoma | Oregon | Pennsylvania | Rhode Island |South Carolina |Tennessee| Texas | Utah | Virginia|Washington | West Virginia
KANSAS: AG WANTS CASES TOSSED
Kansas Attorney General Derek Schmidt (R) wants the state Supreme Court to reject two lawsuits, saying state courts don't have legal authority over the racial fairness of the congressional map.
Schmidt, running for governor against Gov. Laura Kelly (D), filed a petition calling for an expedited decision ahead of election deadlines. GOP supermajorities in the Kansas Legislature approved the map over Kelly's veto.
The new lines threaten the reelection prospects of 3rd District U.S. Rep. Sharice Davids, the state's lone Democratic representative in Congress. — The Wichita Eagle
NEW MEXICO: NO DICE
An attempt to create an automatic mail-in voting list failed in New Mexico after Republican lawmakers stalled it to death. Time ran out to pass the priority bill of Gov. Michelle Lujan Grisham (D) in a 30-day legislative session.
Senate Republicans first used a legislative maneuver requiring every member to be present to block debate on the bill. They then ran out the clock with a filibuster on the final day of the session. — Brenna Goth
FLORIDA: IGNORING DESANTIS
Florida Gov. Ron DeSantis (R) has given legislators a second unsolicited map that proposes doing away with a majority-Black district in northern Florida.
Nonetheless, the existing 5th Congressional District largely survives in a map to be considered tomorrow by the House Redistricting Committee. — Jennifer Kay
FLORIDA: ELECTION LAW
A current voting law's in the hands of a judge and a new proposal's being considered by lawmakers.
A measure that would add identification requirements for voters returning ballots by mail (S.B. 524) is set for its second Florida Senate committee stop tomorrow.
And we're awaiting the outcome of a challenge to the law (S.B. 90) that imposed new restrictions for voting by mail and third-party voter registration groups. Chief U.S. District Judge Mark Walker repeatedly sparred with the attorneys for the plaintiffs and defendants over documents, witnesses, and experts, The Miami Herald reported. — Jennifer Kay
Caught Our Eye
The GOP is pushing back against rulings by state court judges in election cases. (Florida Phoenix)
A county clerk facing accusations that she breached voting machines'security and who was stripped of her county election oversight, is running for Colorado secretary of state. (The New York Times)
Resources
Add Us to Your Inbox
Click HERE to sign up for Ballots & Boundaries, your check-in on redistricting and state voting laws.
With assistance from Andrew Small
To contact the reporters on this story: Jennifer Kay in Miami at jkay@bloomberglaw.com; Chris Marr in Atlanta at cmarr@bloomberglaw.com; Greg Giroux in Washington at ggiroux@bgov.com; Ben Penn in Washington at bpenn@bloomberglaw.com; Kenneth P. Doyle in Washington at kdoyle@bgov.com; Brenna Goth in Phoenix at bgoth@bloomberglaw.com
To contact the editors responsible for this story: Tina May at tmay@bloomberglaw.com; Katherine Rizzo at krizzo@bgov.com