Courting Hispanic Vote in 2022, GOP Talks Tough on Texas Border
House GOP focused on border security as migrants increase
Border districts target of both parties for 2022 midterms
Bloomberg Government subscribers get the stories like this first. Act now and gain unlimited access to everything you need to know. Learn more.
House Republicans hope their continued spotlight on the increase in immigrants at the southern border and their support of President Trump's policies there will resonate with a coveted constituency—Hispanic voters in Texas.
Republicans are targeting three Democratic districts along Texas's southern border to flip in the 2022 midterm elections. The districts, which have some of the highest percentage of Hispanic populations in the nation, had always been considered likely to stay in Democratic hands given the party's more open stance on immigration.
But the 2020 election challenged the conventional wisdom when some Hispanic-heavy areas along the border swung in Trump's favor. While Texas politicos attribute several factors to fresh support for Trump along the border, his strict border security policies didn't prevent him from winning Hispanic votes.
"You're seeing a vulnerability with Democrats on the border because of this lack-of-security position," said Rep. Michael McCaul (R-Texas), a senior member of the Homeland Security Committee, which oversees border issues. "There's an opportunity for Republicans to make serious gains in some of these seats down on the border."
Texas's southern border is a new battleground for control of the House in the 2022 midterms. While district lines in the state will change before the next election, the National Republican Congressional Committee has targeted three border districts currently held by Reps. Vicente Gonzalez, Henry Cuellar, and Filemon Vela.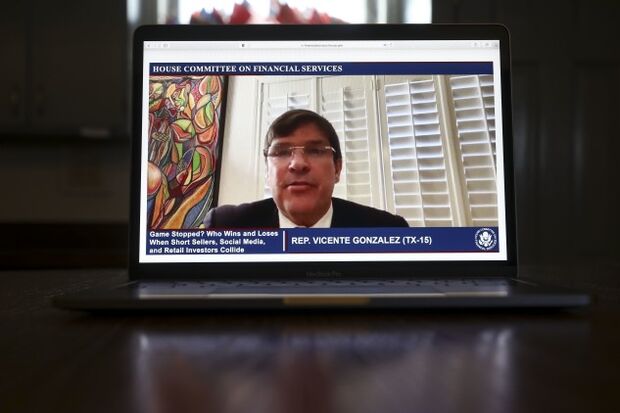 Gonzalez's re-election was notably tight—after winning by a margin of more than 21 percentage points in 2018, he won by less than 3 points in 2020. He's now on the Democratic Congressional Campaign Committee's list of most vulnerable members in the upcoming midterms. Vela, who won by a more comfortable margin of 14 points, is retiring after this year. Cuellar, who won by 19 points, said while the Republicans' message lacks empathy, Democrats need more focus on border security measures.
"This is where the national Democrats need to calibrate the message, including the administration," he said. "You can't just say 'Oh, take care of the families,' which is important, but the people on the border still want to see security down there."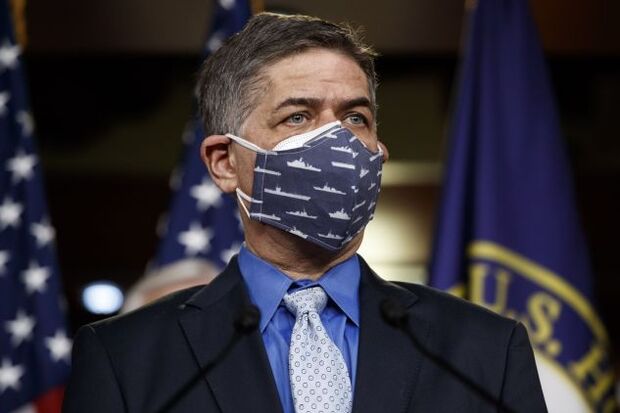 Border Difference
Republicans have tried to woo Hispanic voters for years. An autopsy after the GOP's 2012 presidential loss suggested the party needed to be inclusive towards Hispanic voters and focus on issues including comprehensive changes to the immigration system.
Even with Trump's strict border policies, including separating parents and children and implementing a program keeping immigrants waiting in Mexico, his margins among Hispanic-heavy areas along the border improved drastically.
In Hidalgo County, which is more than 92% Hispanic, Trump won nearly 41% of the vote in 2020 after getting 28% in 2016. In neighboring Starr County, which is 96% Hispanic, Trump's support more than doubled to 47% in 2020 after he got 19% in 2016. Zapata County, which is almost 95% Hispanic, voted for a Republican president for the first time in nearly 100 years.
House Republicans are continuing Trump's focus on border security, calling for Biden to reinstate Trump's policy of having immigrants remain in Mexico and close the U.S. border during the Covid-19 outbreak. They've kept the issue front and center in numerous press conferences and hearings.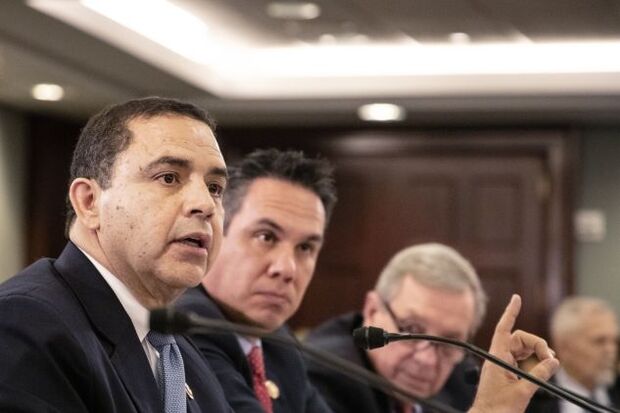 Luke Macias, a Republican political consultant who has worked across the state, said Hispanics at the Texas border tend to be citizens whose families have been in the U.S. for years, rather than recent immigrants. They link border security to security in their own communities.
"What Trump showed is that, one, more voters are incredibly in favor of stronger immigration policies, and, secondarily, there are a considerable amount of them who do not buy the narrative that believing in a secure border means you're against immigrants," Macias said.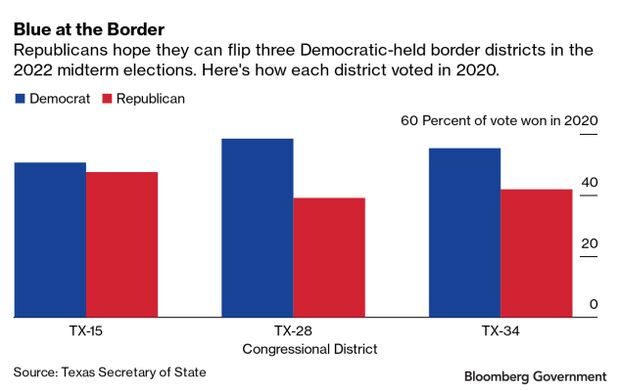 New Battleground
Both Democrats and Republican say the bump in Trump voters in south Texas was the result of a variety of policies and messaging, some of which the NRCC is planning to use again in the midterms, said spokeswoman Torunn Sinclair.
"Democrats are doubling down on their defund the police, open borders, anti-energy, tax-raising socialist agenda," she said in an emailed statement. "It wasn't popular in 2020, and South Texas Democrats will lose because of it in 2022."
House Republicans have taken several trips to the Lone Star State to focus on oil and gas production—another big issue for those along the border. House Minority Leader Kevin McCarthy (R-Calif.) and others slammed Biden for canceling the Keystone XL pipeline, which they argue led to lost jobs.
The message of "defund the police" wasn't welcomed in an area where many voters are employed as border security agents. While Democratic leaders said they do not want less funding for police departments, bur rather a redirection of some funding, Republicans successfully used the message in 2020 and plan to do so again in 2022.
Democrats said the increase in support for Trump was a result of government aid during the pandemic, including stimulus checks with Trump's name on them and federal food aid boxes that contained a letter signed by Trump, said Gilberto Hinojosa, chairman of the Texas Democratic Party.
Democrats are also hoping the recently-passed $1.9 trillion coronavirus relief measure, which included $1,400 checks for individuals, will boost support among voters, said DCCC spokeswoman Monica Robinson.
"Whether it's on the doors or on the airwaves, we plan to invest early and organize to make sure Texans know that," she said in an emailed statement.
Hinojosa said he is "not taking anything for granted" with the upcoming races. He's been on a series of virtual meetings—more than in previous elections—focused on how to win in 2022.
"We're working in south Texas and spending a lot of time organizing south Texas," he said. "We are going to make sure the blue wall down here holds because it's critical to the future of the Democratic Party."
With assistance from Greg Giroux
To contact the reporter on this story: Emily Wilkins in Washington at ewilkins@bgov.com
To contact the editors responsible for this story: Cheryl Saenz at csaenz@bloombergindustry.com; Bennett Roth at broth@bgov.com
Stay informed with more news like this – from the largest team of reporters on Capitol Hill – subscribe to Bloomberg Government today. Learn more.