Coronavirus Threat Reshapes GOP Strategies in Key Senate Races
The threat posed by the coronavirus is already reshaping two of the most competitive Senate races at the heart of the fight for the majority.
Sen. Cory Gardner of Colorado, likely the most vulnerable Republican seeking re-election this year, said he's decided to self-quarantine after learning he was exposed to a constituent who later tested positive for the virus. Meanwhile, Sen. Susan Collins (R-Maine) released a pair of coronavirus-focused ads and said she's going to pursue a "virtual" campaign as officials discourage large public gatherings.
The back-to-back announcements this week came as Senate Majority Leader Mitch McConnell (R-Ky.) already shelved bipartisan legislation both lawmakers wanted to highlight in their re-election bids and said lawmakers must now focus on tackling the economic threat posed by the coronavirus. A large thrust of Republican work, he said, will be on developing a stimulus aimed at preventing a recession from taking hold just as the 2020 election looms.
Gardner and Collins were positioned to use popular energy and land conservation bills this spring to strengthen their bipartisan credentials and show their prowess in steering projects and funds to their home states. Now both are working on plans to head off economic calamity.
"We will see massive layoffs," Collins said at a press conference Wednesday in the Capitol, where she described the disruptions now underway in Maine's tourism and retail industries. "They simply won't be able to survive."
Collins said in an interview Wednesday she canceled fundraisers and other public events both in Maine and elsewhere and — instead of being on recess — is working closely with McConnell and other GOP leaders on what she said will be a $300 billion plan to provide loans to small businesses to cover their payrolls. Collins said the plan she's developing with Sen. Marco Rubio (R-Fla.) calls for the loans to be forgiven if the money is used to save jobs.
"The unemployment claims in three days in Maine were more than in all of March last year," Collins said in the press conference. Her race against state House Speaker Sara Gideon (D) is rated a "toss-up" by the Cook Political Report.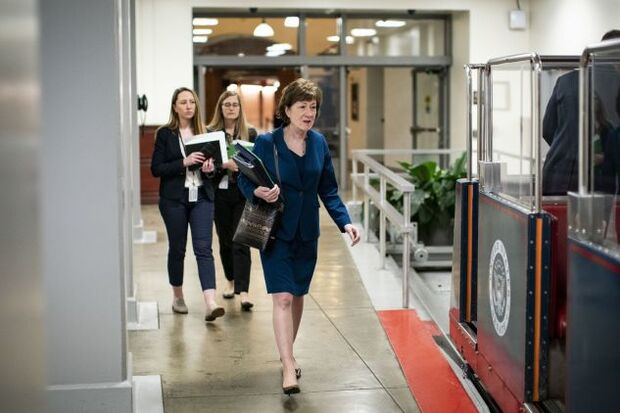 The four-term incumbent released two direct-to-camera coronavirus-focused TV ads in the past two days. In the first, Collins says she'll "be devoting the majority of my time to this new challenge, suspending traditional campaign events." In the second, she encourages Mainers to call their neighbors and "find safe ways to support your local businesses" and says she's "working to help ensure we have the resources we need."
Virtual Campaign
Meanwhile, President Donald Trump's backing of a bill (S. 3422) to permanently fund the Land and Water Conservation Fund as well as increases for U.S Forest Service and national park programs was seen as a boon for the campaigns of Gardner and Sen. Steve Daines (R-Mont.), who now is being challenged by Montana Gov. Steve Bullock (D).
"It's incredibly important for Colorado," Gardner said last week. "We have a huge outdoor economy and recreational economy."
But hours before Gardner announced his plans to self-quarantine, he was in a closed-door meeting with Treasury Secretary Steve Mnuchin to hear about Trump's $1 trillion plans to head-off a wide-spread recession. In Colorado, Gov. Jared Polis (D) said he's setting up a statewide relief fund while expecting unemployment claims in that state also to spike as restaurants, bars, and ski resorts close.
Economic problems could further hurt Gardner's campaign against former Gov. John Hickenlooper (D).
"This is beyond urgency," Gardner told Fox News on Wednesday while he watched from afar as the Senate cleared an aid package (H.R. 6201) without his vote. "There are thousands of thousands of people who are being laid off, who are at home and they don't know what to do."
Collins, who has been attacked by Maine Democrats for not holding town halls, said her decision to pursue a virtual campaign doesn't mean she won't interact with voters. She didn't say when she thinks she will be able to resume regular events.
"I will still be meeting with constituents but observing social distancing, doing conference calls and meetings," Collins said. "I've had phone calls with many Mainers this week. What I am pausing are traditional campaign events."
McConnell himself has drawn criticism from his opponent, former Marine Corps pilot Amy McGrath (D), for allowing senators to leave recently before passing H.R. 6201. The Republican leader said his focus now is to make sure lawmakers don't return to their home states before passing the next stimulus package.
"We will not leave town until we have processed yet another bill to address this emergency," McConnell told reporters Tuesday.
To contact the reporter on this story: Nancy Ognanovich in Washington at nognanov@bgov.com
To contact the editors responsible for this story: Kyle Trygstad at ktrygstad@bgov.com; Bennett Roth at broth@bgov.com