Coronavirus Outbreak Pushes More States to Shift Election Plans
The primary calendar was overhauled yet again this week amid the coronavirus outbreak, as more states delayed their elections or moved toward mail-in voting.
States are taking steps to minimize voters' risk of spreading or becoming infected when casting ballots in person, as the number of U.S. cases of Covid-19 rises daily.
The $2.2 trillion economic stimulus package (H.R. 748) Congress is working to pass by Friday includes a $400 million boost to help states increase their ability to accept mail-in ballots, expand early voting and on-line registration, and make polling places safer.
States and territories already delayed more than half a dozen elections last week. Those that followed this week include:
Delaware's presidential primary will now be June 2, rather than April 28. Gov. John Carney (D) is allowing all Delaware voters to cast absentee ballots.
Pennsylvania's legislature unanimously voted to move the state's April 28 primary to June 2 and give local officials authority to consolidate polling places during the virus emergency.
Ohio lawmakers voted to extend absentee voting until April 28 after Gov. Mike DeWine (R) indefinitely postponed the March 17 primary. The legislature declined to reschedule in-person voting, which DeWine had recommended pushing to June 2. The governor said on Twitter he would sign the bill.
Connecticut will hold its presidential primaries on June 2, a switch from the initial date of April 28 after an order from Gov. Ned Lamont (D). Absentee ballots will be available to all voters.
Indiana's May 5 congressional and presidential primaries were delayed until June 2 under the executive order signed by Gov. Eric Holcomb (R).
Puerto Rico moved its presidential primary from March 29 to April 26 after Gov. Wanda Vázquez signed legislation changing the date.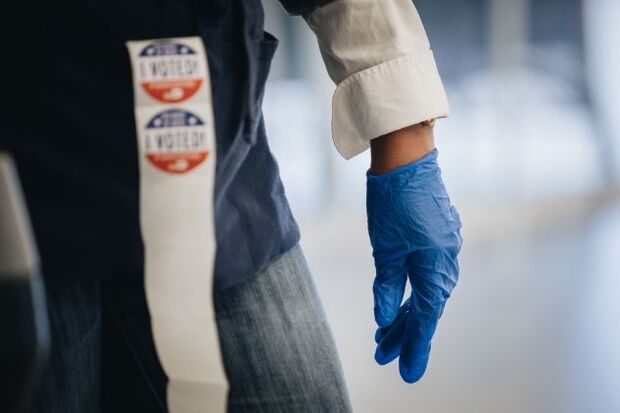 Other states made it easier for voters to cast their choices through absentee ballots, extending deadlines and removing restrictions on who would request an absentee ballot.
Wisconsin's presidential primary is still set for April 7. But a federal judge, ruling on a lawsuit by the Democratic National Committee and the state party, ordered an extension to March 30 of the March 18 deadline to file online registration applications. The judge will consider whether to postpone the April 7 deadline for receipt of mail-in ballots. The Wisconsin Election Commission said on its website that it "strongly recommends that anyone planning to vote should request to have an absentee ballot mailed to them as soon as possible." Gov. Tony Evers (D) said he is considering canceling in-person voting but legislative leaders argued he needs authorization from lawmakers to do that, according to the Associated Press. The city of Green Bay has asked a federal court to order a halt to in-person voting, citing the fact that most of its poll workers are in an age group that makes them vulnerable to the most serious cases of covid-19. Almost 700,000 voters had requested absentee ballots, according to the Wisconsin Election Commission.
The Alaska Democratic Party extended the deadline for voters to get their mail-in ballots completed to April 10, a week after the initial date of April 4. Alaskans can get their ballots online. All in-person voting has been canceled.
Wyoming's election begins April 4, but mail-in ballots will now be accepted until April 17 under a change from the state Democratic Party.
Hawaii canceled plans for in-person voting and will conduct the election via mail-in ballots. The state's Democratic Party has not given a new deadline for when ballots will be due.
Nevada will keep its June 9 congressional primary, but move to all mail-in voting, said Secretary of State Barbara Cegavske. All eligible voters will automatically receive a ballot by mail that they can return by mail or at drop-off locations. Each county will have one in-person polling location.
To contact the reporters on this story: James Rowley in Washington at jrowley@bgov.com; Emily Wilkins in Washington at ewilkins@bgov.com
To contact the editors responsible for this story: Kyle Trygstad at ktrygstad@bgov.com; Bennett Roth at broth@bgov.com