Contract for Enrollment Boost Could Lengthen TSA PreCheck Lines
The Department of Homeland Security's Transportation Security Administration wants to make enrolling in its TSA PreCheck program simpler and more convenient for high-frequency travelers.
TSA wants to add the 9 million high-frequency travelers who aren't already enrolled in its PreCheck program, according to the statement of work. To a lesser extent, it would also like to add some of the more than 80 million travelers who fly at least once a year and aren't enrolled. Adding millions of travelers to the program could make PreCheck lines a lot longer.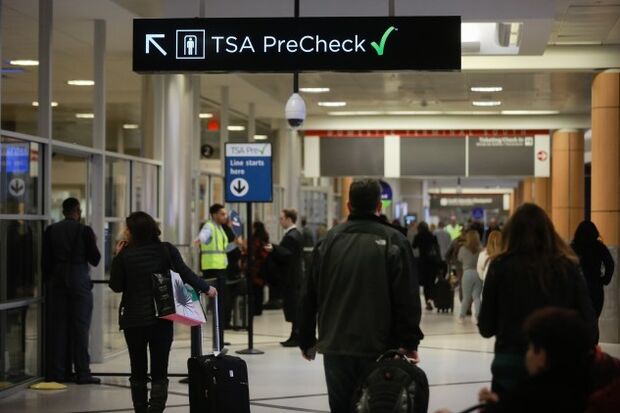 The agency posted a request for proposals on June 3 for this opportunity, called TSA Pre Expansion – Biometric Vetting Solution. The goal is boosting public enrollment in TSA PreCheck – a program that prescreens and approves low-risk travelers to allow them to receive expedited screening at airport security – by providing more enrollment opportunities and vetting a large increase in PreCheck enrollment using biometric data.
TSA is looking for at least one contractor to provide biometric vetting for the TSA PreCheck program to help meet its expansion goals. Bloomberg Government estimates the value of the opportunity at $10 million to $100 million.
The winning contractor would provide online and mobile enrollment capabilities and would then vet applicants using their criminal history records and biometrics, which must include fingerprints and photos and could include additional elements, such as iris scans. The contractor will also have to incorporate identity assurance and verification, fee collection, and privacy requirements into its products.
Because of a recent privacy breach at Customs and Border Protection where hackers acquired biometric data, it will likely be especially important for bidders to show how their solutions will address cybersecurity and privacy issues.
The contract will be competed as an Other Transaction Agreement (OTA) with a three-year base period of performance, two 2-year option periods, and three 1-year option periods for a total period of performance as long as 10 years, according to the RFP. There could be one or more awards. Proposals are due on July 15.
Questions were due on June 12, but interested contractors can set an alert at the top of the solicitation page to receive updates via email, which should include the questions that were submitted and TSA's answers to those questions.
To contact the analyst: Laura Criste in Washington, D.C. at lcriste@bgov.com
To contact the editors responsible for this story: Daniel Snyder at dsnyder@bgov.com; Jodie Morris at jmorris@bgov.com