Connecticut U.S. House Map Favoring Democrats OK'd by Top Court
Court intervened after state legislators deadlocked on map
Courtney, Hayes have the most competitive districts in state
Connecticut's Supreme Court on Thursday adopted a congressional map for the next decade that makes minimal changes to the state's five districts—a win for Democrats, who hold every seat.
The court accepted new lines proposed by Stanford law professor Nathaniel Persily, who was appointed to assist the court with redistricting after Connecticut's legislature and reapportionment commission missed deadlines to approve new congressional lines.
Persily's map "complies in every respect" with the court's instructions, it said in its order.
Persily's map moved just 71,736 people into new districts—the minimum number necessary to achieve population equality—and shifted the lines in only four municipalities, all of which are already divided between two districts.
Republicans sought more significant changes to the current map, which Persily drew last decade and under which Democrats won all five districts every two years.
"The Court's application of a least change standard necessarily advances the interests of the party favored by the current map," Republican lawyers said in a filing ahead of a Jan. 27 state Supreme Court hearing.
Aaron Bayer, a lawyer for Connecticut Democrats, said at the hearing that Persily's map "complies in every respect with this court's order" to draw a least-changes map.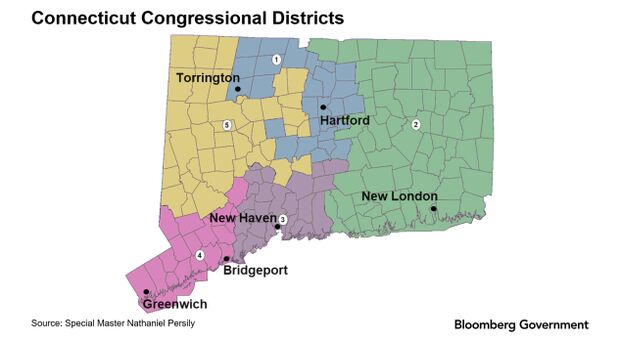 ( SUBSCRIBE to Ballots & Boundaries to follow how states revise political districts. )
Connecticut's most politically competitive districts are the eastern 2nd, which is held by eight-term Rep. Joe Courtney, and the northwestern 5th, which is represented by two-term Rep. Jahana Hayes and includes Danbury, Meriden, New Britain, and most of Waterbury. President Joe Biden would have carried the revised 2nd and 5th Districts by 11 percentage points each in the 2020 election.
Democrats and Republicans on the reapportionment commission couldn't agree on new lines in part because they disagreed on how to treat the Republican-leaning city of Torrington in the northwest part of the state, which is currently divided between Hayes's 5th District and Democratic Rep. John Larson's 1st District.
Republicans wanted Torrington united in the 5th District, while Democrats wanted it to continue being split or put wholly in the 1st. Persily's map maintained the split while moving 5,024 Torrington residents to the 1st from the 5th.
Larson's district, which includes Hartford and Bristol, would continue to have a strong Democratic lean. So would House Appropriations Committee Chair Rosa DeLauro's 3rd District, which takes in New Haven and Hamden, and Rep. Jim Himes's 4th District, which includes Stamford, Greenwich, and Bridgeport.
With assistance from Kimberly Wayne
To contact the reporter on this story: Greg Giroux in Washington at ggiroux@bgov.com
To contact the editors responsible for this story: Bennett Roth at broth@bgov.com; Tina May at tmay@bloomberglaw.com