Congresswoman Expects No Minnesota Miracle: Ballots & Boundaries

Rep. Angie Craig's congressional future may be decided by a five-judge panel appointed by the Minnesota Supreme Court.
Craig, you may recall, had two whisker-close victories, by about 18,000 votes over incumbent Rep. Jason Lewis (R) in 2018 and by fewer than 10,000 votes over Tyler Kistner (R) last year. So a little change in the district lines could matter a lot.
What to watch: the Legislature convenes Jan. 31. The two chambers have to agree on a plan and get it to Gov. Tim Walz (D) in time for him to sign it into law by a Feb. 15 court-ordered deadline. Miss the deadline and the judges take over the line-drawing.
Here's the starting point for discussion: a map drawn by Democrats (who control the state House) and a different map drawn by Republicans (who run the state Senate). Under the GOP-drawn map, Craig's district would remain competitive, while the Democrats propose moving some rural areas into other seats. It's a one-of-a-kind situation, since only Minnesota has a state legislature with split control.
Craig sounds like someone who'd be surprised if there's a bipartisan compromise. "Redistricting will most likely be decided by the courts here in Minnesota," she said. — Stephen Joyce
(Was this newsletter forwarded to you? Get your own. It's free. SUBSCRIBE )
OHIO: GERRYMANDERING TEST
An Ohio law intended to prevent partisan gerrymandering gets its first legal test in a three-suit oral argument tomorrow that could determine the fate of congressional and statehouse maps.
Voting rights groups and Democratic voters are urging the Republican-controlled Ohio Supreme Court to buck the GOP and order a redrawing of state House and Senate lines that give conservatives a supermajority in both chambers of the state legislature.
The cases are a proving ground for Ohio's constitutional amendments that are supposed to stop the state's legislature-led redistricting commission from "unduly favoring" one party over the other. Which side the justices take will affect the outcome in a separate pair of lawsuits challenging a congressional map that gives the GOP a 13–2 advantage in the 2022 midterms. — Alex Ebert
WASHINGTON: LATE & OK
Washington's Supreme Court has given the green light to a map drawn by the state's redistricting commission even though it arrived late.
The court said the commission "substantially complied" with state law when it voted to approve a 10-district map seconds before midnight on Nov. 15, while transmitting the document to state legislative leaders 13 minutes into Nov. 16.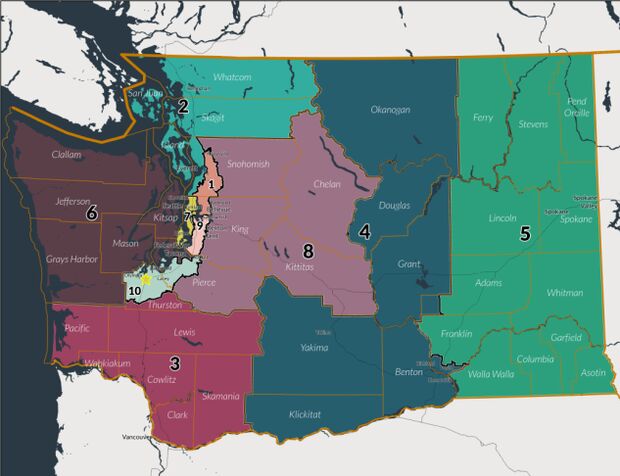 "The court concludes that the primary purpose of achieving a timely redistricting plan would be impeded, not advanced, by rejecting the Commission's completed work," it said. The legislature is permitted to make only minor changes to the map, which maintained competitive districts for Democrat Kim Schrier and Republican Jaime Herrera Beutler. — Greg Giroux
TEXAS: PRIMARY IMPACT
One of the question marks from the Justice Department's lawsuit challenging Texas's redistricting plans is what it will mean for the candidates getting ready for the primaries. Should they plan for a March 1 election?
The suit asks that lawmakers be instructed to redo the lines to comply with the federal Voting Rights Act.
The complaint claims the redistricting plan "surgically excised" minority areas from the center of the Dallas-Fort Worth metropolitican area to avoid enhancing their political clout. — Kenneth P. Doyle
See also:
CALIFORNIA, MICHIGAN: PRIVATE MEETINGS
A conservative law firm is suing California's independent redistricting commission, asking for the release of all communications from private meetings and analyses of voting districts' racial composition and voting patterns.
Harmeet Dhillon, a former adviser to Donald Trump's 2020 re-election campaign, is representing the plaintiffs, who also ask the state Supreme Court to order the commission to end its contract with Strumwasser & Woocher LLP. The Los Angeles-based law firm counsels both the commission and the state Legislature, which according to the lawsuit is a conflict of interest.
In Michigan, the Independent Citizens Redistricting Commission has voted to block disclosure of memos and a meeting recording in which attorneys gave confidential advice on how to draw political boundaries without getting sued for violating federal anti-discrimination law.
Members of the public—including an executive of the Detroit Free Press—warned at the commission's meeting to expect legal challenges. — Tiffany Stecker and Alex Ebert
CALIFORNIA: COLLATERAL DAMAGE
A consultant for the failed recall of Democratic Gov. Gavin Newsom suggests that fellow Republicans change part of their conversation to avoid lowering GOP turnout.
"I think Republican candidates going forward in the future would be well-advised to not talk about voter fraud and talk about the integrity of elections," said Dave Gilliard, a partner with Gilliard Blanning & Associates Campaigns. "I think it's a problem long term for the party, the Republican Party, if they continue to question the integrity of elections."
A poll of 600 California Republicans conducted from Nov. 6 to Nov. 14 compared the views of recall election voters with those of non-voters. Although the two groups agreed on most issues—like border protection, lower taxes, and public safety—in similar proportions, there was a nine-percentage-point difference on how they viewed election fraud: 21% of non-voters said it's a top issue for them, versus 12% of voters. — Tiffany Stecker
Tally: 19 States Done
Alabama | Arkansas | Colorado | Idaho | Illinois | Indiana | Iowa | Maine | Massachusetts | Montana | Nebraska | Nevada | North Carolina | Ohio | Oklahoma | Oregon | Texas | Utah | West Virginia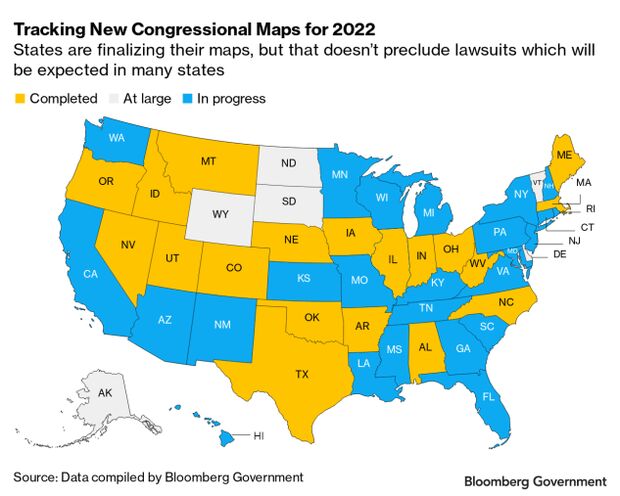 Resources
Add Us to Your Inbox
Click HERE to sign up for Ballots & Boundaries, your check-in on redistricting and state voting laws.
To contact the reporters on this story: Stephen Joyce in Chicago at sjoyce@bloomberglaw.com; Kenneth P. Doyle in Washington at kdoyle@bgov.com; Tiffany Stecker in Sacramento, Calif. at tstecker@bgov.com; Alex Ebert in Columbus, Ohio at aebert@bloomberglaw.com; Greg Giroux in Washington at ggiroux@bgov.com
To contact the editor responsible for this story: Tina May at tmay@bloomberglaw.com