Congressional Staff Reckon With Safety Well Beyond Inauguration
Pro-Trump mob's security breach alters workplace once viewed as safe
National Guard, security fencing up a week before Biden to be sworn in
Bloomberg Government subscribers get the stories like this first. Act now and gain unlimited access to everything you need to know. Learn more.
Congressional staffers shaken after a pro-Trump mob attacked the Capitol are worried about the threat of more violence, at President-elect Joe Biden's inauguration and beyond.
This legion of support for members of Congress, for whom high security measures including ID badges, metal detectors, and a constant police presence are a daily reality, were shocked at the ease with which violent rioters breached the building and its inner chambers.
"I used to think it was extremely safe," a Democratic House staffer said about the Capitol. "My impression of that has just been completely shattered."
As lawmakers escaped the chambers and hid from the mob, so did their staffers. Many are 20-something recent college graduates with low pay, long hours, and the glimmer of hope they might spur some change for the better through legislation.
Bloomberg Government granted them anonymity to speak candidly about their experiences.
The Jan. 6 insurrection isn't slowing down the churn of legislative business, especially with Biden set to take office. But fallout from it is likely to last for months, if not years.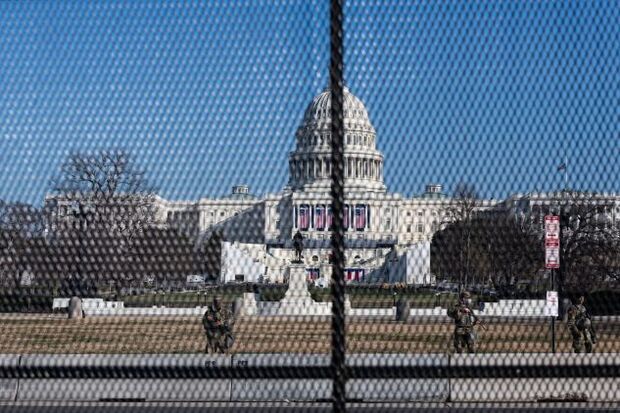 Some staffers who expressed confidence in the Capitol Police's ability to keep them safe still harbored concerns about how to co-exist with lawmakers who promoted the same conspiracy theories about the election being stolen as those who stormed the Capitol.
"Everyone still feels really uneasy about everything," a Democratic Senate staffer said. "People are still trying to process it, and the damage that has been done underneath the skin is going to stick around for a while."
Staffers for Republican lawmakers have resigned, including a top House Armed Services Committee aide and the communications director for Sen. Ted Cruz (R-Texas), reportedly because of the GOP's efforts to overturn the Electoral College results.
Members of Congress are reckoning in their own ways. Several Democratic House lawmakers introduced resolutions to remove or censure members who objected to the Electoral College certification. On Wednesday, as the House debated whether to impeach President Donald Trump for allegedly inciting violence, 30 House Democrats asked the top security officials on Capitol Hill to investigate whether some lawmakers gave tours of the Capitol on Jan. 5, a day before the attack, to individuals who were in the pro-Trump mob.
'They didn't sign up for that'
At a Jan. 7 news conference, House Speaker Nancy Pelosi (D-Calif.) said she could see in staffers' eyes "the trauma, the fright that it was for them to be locked into rooms with terrorists banging on the doors, hiding under desks, under tables and the rest of that."
"They didn't sign up for that," she said. "We didn't sign them up for that."
Despite working outside of the spotlight, staffers said they now feel like targets.
"The typical young staffer behind these political figures are optimistic public servants," said a House Republican staffer. "We aren't evil, deep state swamp creatures. We just want to do our jobs and be left alone. People have forgotten we are just like them — hard working Americans."
Those that came before them know what their jobs entail. The Congressional Staff Alumni Council set up a page on its website this week for former staffers to leave notes of encouragement to the current crop. It had more than 300 messages as of Thursday morning.
Kameelah Pointer, the president of the Senate Black Legislative Staff Caucus, said in an interview that Black staffers in particular have undergone a lot in the past year, with protests against police treatment of Blacks on top of the coronavirus pandemic. She said the attack left her "heartbroken" and "violated." But she's not planning to leave.
"It actually lights the additional fire under me to continue to help secure resources for staffers, to make sure that they have the upward mobility that they need at this point," she said. "We have a different feeling of seeing a Confederate flag being brought through the nation's capital."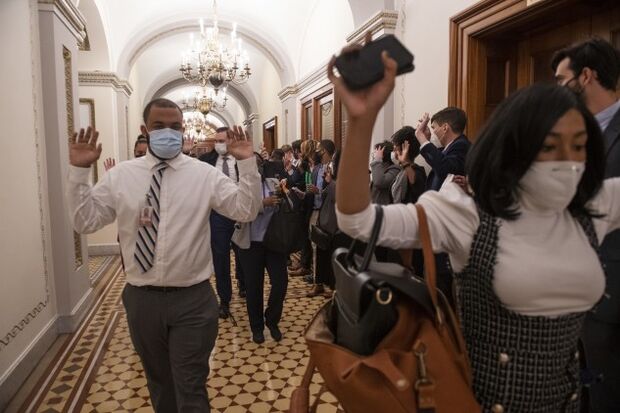 Inauguration Looms
Staffers arriving at the Capitol on Wednesday walked past towering fencing and hundreds of National Guard members, as preparations for the inauguration began early and as the House voted to impeach the president for a second time. Some lawmakers are asking staff to stay home — of course, most offices have worked remotely since the start of the pandemic.
Ecclesiaste Guerrier, an emergency coordinator in the Senate Sergeant at Arms office who has been counseling staffers whom he says are "shocked" by the events, said he believes the riot was an aberration.
"As a matter of security, I think what happened was no more than a one-off," he said. Guerrier noted there are now multiple security agencies on site to protect the Capitol.
Rebekah Hoshiko, communications director for House Natural Resources ranking member Bruce Westerman (R-Ark.), was on Capitol Hill the day of the attack and had to be evacuated from a Westerman's office to a secure location. She plans to telework on Jan. 20.
"At the end of the day, we don't really know what will happen," she said, adding that she and other staffers are "taking it day by day."
Not all staffers will stay home. A House GOP staffer who plans to volunteer at the inauguration said they weren't "going to let insurrectionists keep me from doing the job."
Outside the Beltway
Rep. Cheri Bustos (D-Ill.) was in the House Chamber as officers drew their weapons on the mob outside the doors. She praised those officers for saving her life, but they won't be there when she returns to her western Illinois district that voted for Trump twice.
In the past four years, Bustos said her staff has been called names and racial slurs, some of them written in chalk outside her district office. Her deputy chief of staff is now trying to plan how the congresswoman can continue stay safe while going out in the community to see her constituents.
"We've seen an increase in anger and frustration from the people we serve," Bustos said. "Our staff at home say this is something that's been building. They've seen things now that they never saw before."
Rebecca Kern in Washington, Kellie Lunney in Washington and Megan U. Boyanton in Washington also contributed to this story.
To contact the reporters on this story: Emily Wilkins in Washington at ewilkins@bgov.com; Nancy Ognanovich in Washington at nognanov@bgov.com
To contact the editors responsible for this story: Kyle Trygstad at ktrygstad@bgov.com; Bennett Roth at broth@bgov.com
Stay informed with more news like this – from the largest team of reporters on Capitol Hill – subscribe to Bloomberg Government today. Learn more.