Congressional Map Cycle Chugs On In Court: Ballots & Boundaries

Congressional map-making is done but it isn't over.
Now that the New Hampshire Supreme Court has finalized tiny changes to the state's two districts, we're firmly in the litigation phase of every-10-years remapping. As you can see on the map below, challenges to the new US House district boundaries in 15 states are under review by federal courts, state courts, or both.
The lawsuits allege partisan gerrymandering or claim the maps violate the Voting Rights Act and intentionally dilute Black voting power. Some litigation that originated in state court has been bumped up to federal court, including lawsuits in Arkansas and North Carolina.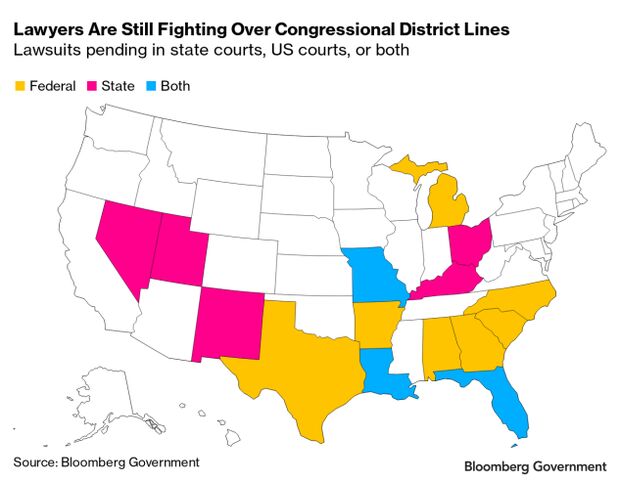 Redistricting litigators will be playing extra-close attention to a US Supreme Court case out of Alabama.
At issue is whether Alabama's map violated the federal Voting Rights Act by including only one district where Black voters would have the opportunity to elect the representative of their choice. The state, which has seven congressional districts, is 27% Black.
The Supreme Court has said in the past the law bars states from drawing voting lines in a way that dilutes the power of racial and ethnic minorities. — Jennifer Kay
(Was this newsletter forwarded to you? It's free. SUBSCRIBE )
NEW HAMPSHIRE: FINAL MAP
The last state to complete congressional redistricting turned out to have one of the easiest fixes. New Hampshire's Supreme Court adopted a map that moved just five towns between the state's two districts.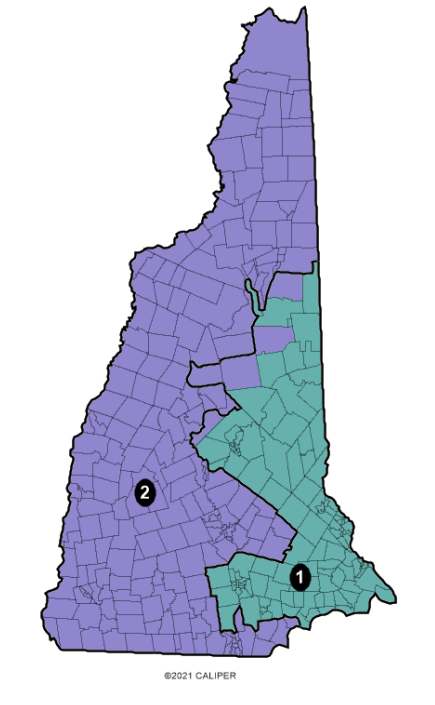 That plan is closer to what Democrats sought than the more extensive remaps from Republican legislators that were stymied by Republican Gov. Chris Sununu's veto pen. — Greg Giroux
Redistricting's Impact: Member-vs-Member
Illinois's 6th (D-vs-D): Rep. Sean Casten, who's opposing Rep. Marie Newman in a June 28 primary, released a TV ad that highlights his support for abortion rights. A Newman fundraising plea calls Casten a "former fossil-fuel CEO and lobbyist" who's "refused to support legislation that would expand Medicare to all Americans."
Illinois's 15th (R-vs-R): Rep. Mary Miller, who's up against Rep. Rodney Davis in downstate Illinois, is highlighting her vote against and Davis's vote for the law (Public Law 117-128) that provided more than $40 billion in emergency funding for Ukraine. Miller was one of 57 House members, all Republicans, who voted no.
Michigan's 11th (D-vs-D): Reps. Haley Stevens and Andy Levin debated at Oakland University near Detroit. Watch it here. — Greg Giroux
Election Law
ARIZONA: MUST ASK
In some states, eligible people are automatically registered to vote when they get a driver's license. A new Arizona statute (H.B. 2236) outlaws agencies registering people to vote without their request.
In addition to signing that into law, Gov. Doug Ducey (R) vetoed a Republican-sponsored election bill (H.B. 2617) that would have directed county recorders to cancel voter registrations when they receive information that a person is "not a qualified elector." The changes are too vague and could allow "bad actors" to make false claims, Ducey said in his veto letter. — Brenna Goth
MARYLAND: NO CHANGE
Maryland's legislature has adjourned, so if lawmakers want speedier vote-counting they'll need to try again next year. Gov. Larry Hogan (R) vetoed bills (H.B. 862 and S.B. 163) that would have let election officials pre-process absentee ballots and would have allowed voters to "cure," or fix, signature mistakes on mailed-in ballots.
The bills lacked security measures—signature verification and ballot-collecting restrictions—that are needed in an election system increasingly conducted through the mail, Hogan said in his veto letter. — Alex Ebert
MISSISSIPPI: JIM CROW DECISION
Now that Mississippi has a new election law, a federal judge dismissed a lawsuit challenging a Jim Crow-era requirement for naturalized citizens to provide proof of citizenship when registering to vote.
The legislation (H.B. 1510) signed into law by Gov. Tate Reeves (R) in April repealed that requirement, and instead implemented an extra database check in the voter registration process to verify that applicants are US citizens. Secretary of State Michael Watson (R), Mississippi Immigrants Rights Alliance, and the League of Women Voters of Mississippi jointly asked for the lawsuit's dismissal. — Jennifer Kay

Caught Our Eye
Colorado's June 28 primary will test just how much the state's Republicans embrace 2020 election conspiracies. (The Colorado Sun)
The Kansas Supreme Court locked in political changes. (The Topeka Capital-Journal)
Democrats have tried to keep up with Republican gerrymandering—and everyone is losing. (The New Yorker)
Every Map
Alabama|Arizona | Arkansas | California| Colorado |Connecticut | Florida| Georgia |Hawaii| Idaho | Illinois | Indiana | Iowa | Kansas | Kentucky |Louisiana| Maine | Maryland | Massachusetts | Michigan | Minnesota | Mississippi | Missouri |Montana | Nebraska | Nevada | New Hampshire | New Jersey | New Mexico |New York |North Carolina |Ohio| Oklahoma | Oregon | Pennsylvania | Rhode Island |South Carolina |Tennessee| Texas | Utah | Virginia|Washington | West Virginia | Wisconsin
More Resources
Add Us to Your Inbox
Click HERE to sign up for Ballots & Boundaries, your check-in on redistricting, state voting laws, and initiatives.
To