Congressional Comeback On The Line: Ballots & Boundaries

It's primary day in Maryland, where a new congressional map strongly favors Democrats in six out of eight districts.
One to watch as results come in: the Democratic primary in the 4th District, a Black-majority area of suburban Washington where ex-Rep. Donna Edwards is mounting a comeback bid. It's an open seat because Rep. Anthony G. Brown (D) opted to run for attorney general.
Redistricting added more of Prince George's County and a slice of Montgomery County to the 4th while removing its share of Anne Arundel County.
In November, we'll be watching Maryland's 6th District, where Republicans have a shot at unseating Rep. David Trone. That district links Washington suburbs to the western edge of Maryland and is the only politically competitive district in the state. — Greg Giroux

Read More: Maryland Primaries Set Up Fall Matches for Reps. Harris, Trone
OHIO: REDISTRICTING 2.0
A divided Ohio Supreme Court ruled today that the Republican-controlled redistricting commission has to redraw congressional districts in the next 30 days. That map would then be used in the 2024 elections.
The court found the current lines by the Ohio Redistricting Commission unlawfully drew in a Republican advantage that exceeds the party's political support. The GOP, which generally garners about 54% of votes statewide, has an advantage in 12 of the 15 districts put in place for 2022 under a federal court order.
The races to watch this fall are the ones that will decide who sits on the state Supreme Court. There are three Republican-held seats up for re-election. With one flip Democrats could potentially take over the majority and seek sanctions for non-compliant line-drawers. — Alex Ebert
(Was this newsletter forwarded to you? Get your own. SUBSCRIBE here .)
Redistricting's Impact: Member v. Member
Michigan's 11th District: Democratic Rep. Andy Levin just couldn't vote in favor of what he termed a "bloated Pentagon budget" and said no to the House-passed fiscal 2023 defense authorization bill (H.R. 7900).
He wasn't alone.
Thirty-eight other Democrats opposed the bill. Levin said he supports many of the measure's provisions, but its authorization of $839.3 billion in national security spending was a bridge too far.
His Democratic challenger in the Aug. 2 primary, Rep. Haley Stevens, was among 180 in her party who voted yes.
Both candidates also have taken to the airwaves to drum up votes. Stevens released a TV ad promoting her legislative work supporting girls in early childhood STEM education. United Democracy Project, a super PAC aligned with the American Israel Public Affairs Committee (AIPAC), aired an ad touting her 100% ratings from progressive groups and praise from former President Barack Obama. Meanwhile, a spot from the pro-Levin J Street Action Fund criticized Stevens for accepting campaign donations from AIPAC. — Greg Giroux
New York's 12th District: Democratic Rep. Carolyn Maloney loaned her campaign $900,000 as she prepares for an Aug. 23 primary showdown with Rep. Jerry Nadler in mid-Manhattan. The two longtime members of Congress, who served decades together in separate districts, are now pitted against each other in a single district.
Maloney, the Oversight and Reform Committee Chair, began July with $2.1 million in her campaign account compared with $1.2 million for Nadler, who leads the Judiciary Committee.
A third candidate, Suraj Patel, a lawyer and Obama White House alumnus who ran against Maloney in 2018 and 2020 and who is trying to navigate his own lane to victory, had $563,000 left to spend. — Greg Giroux
Razor's Edge Races
Highlighting close contests worth watching after crucial redistricting changes.
Today: Ohio's 9th District
Where Is It?
Northwest. About 55% of the district's residents live in Lucas County in and around Toledo; the rest live in more Republican-friendly territory east and west of that city. The district borders Indiana, Michigan, and the western part of Lake Erie.
Who Drew It?
Ohio's Republican-majority redistricting commission
2020 Presidential Vote: Trump 51%, Biden 48%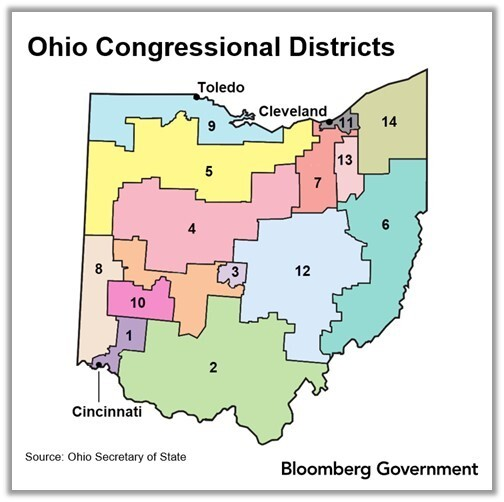 Demographics: 74% White, 12% Black, 7% Hispanic, 1% Asian
Cook Political Report Rating: Toss-up
Nominees: US Rep. Marcy Kaptur (D), J.R. Majewski (R)
Why You Should Watch: First elected to Congress in 1982, Kaptur is the longest-serving woman in U.S. House history and a senior member of the Appropriations Committee. Republicans redrew her strongly Democratic district to be politically competitive. Majewski, an Air Force veteran who defeated two state legislators to get the nomination, has drawn scrutiny for being outside the US Capitol during the Jan. 6, 2021 insurrection, and for his ties to the QAnon conspiracy theory movement. Kaptur already has aired TV ads that tout her support for law enforcement and portray Majewski as an extremist. — Greg Giroux
Next edition: Virginia's 2nd District
Election Laws
FLORIDA: FEDERAL APPEAL
Florida's secretary of state and the Republican National Committee have filed briefs asking the US Court of Appeals for the 11th Circuit to overturn a judge's ruling requiring preclearance before the state can enact new laws governing certain elections operations.
"The district court got it wrong. The presumption of legislative bad faith, the unfocused historical inquiry, and the limited and statistically insignificant conclusions—to name a few errors—can't prove intentional discrimination and don't warrant preclearance," attorneys for state and local elections officials said in a filing.
The appeals court stayed the judge's order, pending the state's appeal. Arguments in the case will be heard Sept. 15 in Miami. — Jennifer Kay
Caught Our Eye
There were no major problems with ballot drop boxes in 2020, an Associated Press survey found. (The Associated Press)
The Ada County, Idaho, Prosecutor's Office has asked the US Supreme Court to review the state Supreme Court's ruling that upheld a new congressional and legislative redistricting plan. (Idaho Press)
Resources
Add Us to Your Inbox
SIGN UP for Ballots & Boundaries, your check-in on ballot initiatives, state voting laws, and redistricting.
To contact the reporters on this story: Greg Giroux in Washington at ggiroux@bgov.com; Jennifer Kay in Miami at jkay@bloomberglaw.com
To contact the editor responsible for this story: Tina May at tmay@bloomberglaw.com