Congressional Agenda, Work Plans Altered by Coronavirus
Bloomberg Government subscribers get the stories like this first. Act now and gain unlimited access to everything you need to know. Learn more.
The threat posed by the coronavirus has upended congressional operations and lawmakers' agendas, forcing House and Senate leaders to put much of what they planned on the backburner while they focus on the next steps to curb health risks and restore the economy.
Senate Republican leaders said they will officially resume their spring work period May 4 despite ongoing concerns about virus exposure. House Democrats delayed their own return but now expect to be fully back at work the week of May 11.
Even from afar, House Speaker Nancy Pelosi (D-Calif.) and Senate Majority Leader Mitch McConnell (R-Ky.) have staked out positions on the next recovery packages that lawmakers expect to approve this summer to help hard-hit businesses, state and local governments, and individual taxpayers. The packages under discussion, which also could include a massive influx of infrastructure funds, will come on top of the more than $3 trillion provided by Congress in four quick bursts this spring.
Those packages are likely to crowd out many other items that were once on the leaders' priority lists for the summer. The list of other "must dos" is increasingly small, with priority being given to bills to fund the federal government and renew Pentagon programs. In the Senate, McConnell wants to use gaps in the action to confirm President Donald Trump's judicial nominees.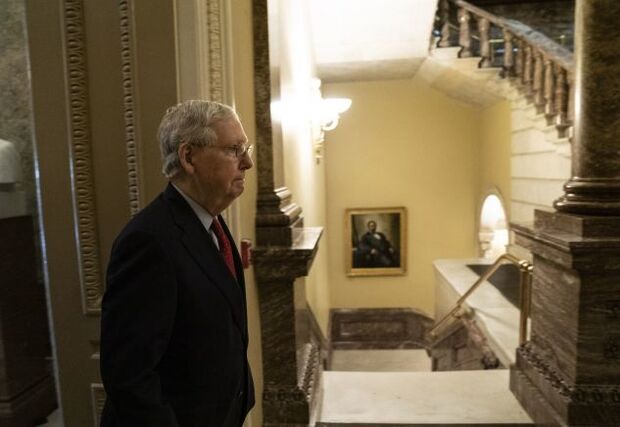 Lawmakers' work on the recovery packages and the few other essential matters also could be subject to more changes as the number of U.S. cases, now past the 1 million mark, continue to climb. The House plans to soon vote on a plan to allow remote voting, and Majority Leader Steny Hoyer (D-Md.) said weekly schedules and even recesses are in flux. His comments have led to speculation the annual August recess could be canceled.
The coronavirus has reshaped the political landscape and the two sides increasingly are in a competition six months out from the election to show voters which party is best equipped to handle the recovery. Trump and Republicans said they oversaw a strong economy before the crisis hit, but former Vice President Joe Biden, the expected Democratic nominee, and other members of his party contend Trump's handling of the pandemic put the economy and lives at risk.
Tougher Road for Recovery Bills
The House and Senate already have sent four separate packages to Trump's desk to address the coronavirus emergency, including the $2.2 trillion CARES Act (Public Law 116-136) and the $484 billion "interim" act (Public Law 116-139) to shore up its small business loan program, provide more aid to hospitals, and pay for wide-spread testing.
But achieving bipartisan consensus on the next packages appear more difficult. Pelosi says her starting point is up to $1 trillion in aid that cash-strapped states and local governments need to prevent layoffs of first responders and other workers, and to help make up for lost revenues amid business closures. The speaker is backing another $80 billion for broadband development. She wants an infusion of funds for the postal system, which Trump previously blocked.Also on her list are provisions to expand voting by mail.
"There will be a bill, and it will be expensive," Pelosi said. "The health and well-being of the American people are at stake, and the sooner we get this done, the better."
McConnell came under attack for criticizing state aid and suggesting some declare bankruptcy. He subsequently said he'd consider such relief but not to address problems pre-dating the coronavirus crisis. And he said he wants the next bill to carry language limiting liability for businesses as the economy reopens.
"There probably will be another state and local funding bill, but we need to make sure that we achieve something that will go beyond simply sending out money," McConnell said.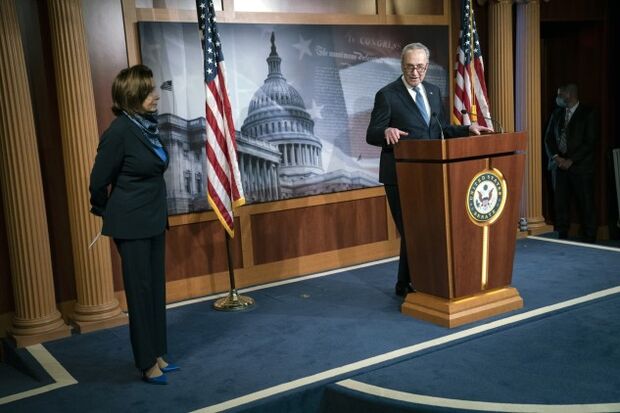 The list of other items that could be added to the next package is long. Some of those that Pelosi and Senate Minority Leader Chuck Schumer (D-N.Y.) have discussed: more direct payments to individuals, changes to the Paycheck Protection Program to both tighten and expand eligibility and funding, federalization of the medical supply chain, and a fix to prevent the collapse of pension funds for unionized workers and the government fund that insures retirement benefits. Some Republicans want to provide help for the oil industry while Democrats are looking for tax credits for renewable energy.
The big unknown is infrastructure, even though both Pelosi and Trump have signaled support for packages of $1 trillion or more to stimulate the economy. Lawmakers said McConnell has shot down Pelosi's plans for a package that, along with broadband, includes money for transportation, water, schools, and other areas. But McConnell still is struggling to bring up a $287 billion highway bill (S. 2302) reported out of committee last summer.
But ambitious plans that generate projects may gain ground closer to the election, others said.
"When we get to Phase 5 you're going to see infrastructure in a big way, I think, probably a trillion dollars," former Speaker John Boehner (R-Ohio) said.
Appropriations Top 'Must Do'
Amid this work, Hoyer said he still expects the House to consider regular fiscal year 2021 spending bills beginning in June. Hoyer said Appropriations Committee Chairman Nita Lowey's (D-N.Y.) work was aided by the Bipartisan Budget Act (Public Law 116-37) already setting defense and non-defense program increases. The panel held over 70 hearings early this year, has allocations for the 12 bills, and is currently writing the measures, aides said.
But McConnell hasn't discussed any timetable for the bills coming out of the Senate Appropriations Committee. The panel's chairman, Sen. Richard Shelby (R-Ala.), got off to a late start, and it isn't clear the committee will keep its summer markup schedule or the spending bills will be given floor time. As a result, there is growing expectation that a continuing resolution will be needed to prevent a government shutdown on the eve of the election and that lawmakers will complete their work on the spending measures in a lame-duck session.
Leaders also still plan to advance the annual rewrite of the National Defense Authorization Act.. Markup plans for bills developed by Senate Armed Services Chairman James Inhofe (R-Okla.) and House Armed Services Committee Chairman Adam Smith(D-Wash.) have slipped but both are planning to have measures ready for floor consideration this summer.
The Senate must also extend authorities under the post-9/11 era Foreign Intelligence Surveillance Act. The House passed a rewrite (H.R. 6172) of the surveillance statute but the Senate was only able to agree to a 77-day extension (S. 3501) of expiring authorities. McConnell is committed to considering the legislation with amendments when lawmakers return.
'Leave No Vacancy Behind'
Some other items that McConnell wanted to consider earlier — such as a package of energy bills (S. 2657) and a land conservation bill (S. 3422) — were delayed. But McConnell said he's still prioritizing the confirmation of Trump nominees, particularly judges.
As the Senate returns, there are 15 lower-court judges awaiting votes. McConnell also wants to force early action on Trump's picks for the U.S. Court of Appeals for the Fifth Circuit and the U.S. Court of Appeals for the District of Columbia Circuit.
"My motto for the rest of the year is leave no vacancy behind," McConnell said. "The pandemic will not prevent us from achieving that goal."
With assistance from James Rowley
To contact the reporter on this story: Nancy Ognanovich in Washington at nognanov@bgov.com
To contact the editors responsible for this story: Kyle Trygstad at ktrygstad@bgov.com; Bennett Roth at broth@bgov.com
Stay informed with more news like this – from the largest team of reporters on Capitol Hill – subscribe to Bloomberg Government today. Learn more.