Congress Likely to Follow as House Seeks More F-35s, F-15Xs (2)
F-35 has strong support ahead of defense spending debate
Analysts predict Congress buys both F-35, older F-15X
The House floated a budget proposal Tuesday that funds more Lockheed Martin Corp. F-35 joint strike fighters than the Pentagon requested and also backs its full request for new F-15X fighters, despite concerns over competition between the two aircraft.
The $690 billion draft appropriations bill calls for 90 F-35s and eight Boeing Co. F-15Xs. Analysts say Congress will likely follow suit and bankroll similar purchases in the final fiscal year 2020 defense budget.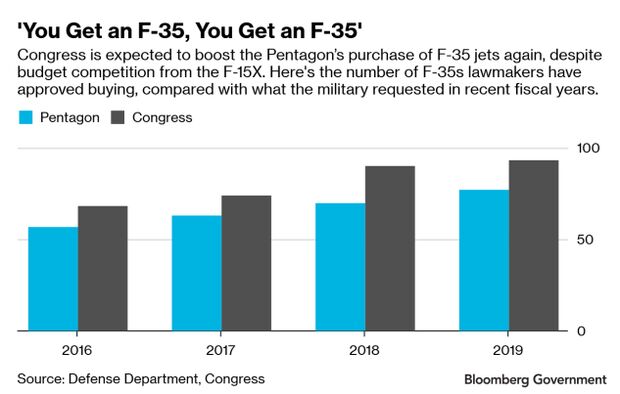 The Pentagon's budget request in March for 78 of the advanced Lockheed fighters stirred concerns among lawmakers who say the number needs to be higher. Complicating those talks is the Pentagon's proposed purchase of the older, less-advanced Boeing jets, frustrating critics who worry it could take a bite out of an expected F-35 boost and say the U.S. should fully commit to the newer fighters.
Lockheed's fifth-generation fighter jet, the most expensive weapons program in history, enjoys bipartisan backing in Congress, including the support of powerful lawmakers who will help decide how many fighters are funded in the fiscal 2020 defense budget.
"We need more F-35s. I'm on that side," said Jim Inhofe (R-Okla.), the chairman of the Senate Armed Services Committee, which is weighing a purchase authorization.
A Surprise Request
The White House in March requested 78 of the F-35, close to last year's proposal, when the military requested 77. That number was also too low for lawmakers, who significantly raised funding to buy 93.
That increase was championed by Kay Granger (R-Texas), now the top Republican House appropriator, who has an F-35 assembly plant in her Fort Worth district. Lawmakers funded 90 F-35s the year before, an increase of 20 over the Pentagon's request.
This year's Pentagon budget proposal also came with an unexpected $1.1 billion request to buy eight of the older F-15X aircraft for fiscal 2020—plus another 72 over the coming five years. It eventually plans to acquire 144 of the Boeing jets.
It would be the first purchase of new F-15s in about two decades.
Former Defense Secretary Jim Mattis and his Cost Assessment and Program Evaluation office last year decided to buy upgraded F-15s, deeming they could fill the gap as earlier versions of the fighter retire and higher-tech F-35s come online.
The request came as welcome news for lawmakers in areas where the aircraft is built. Boeing is looking to rev up its F-15 production line in St. Louis following the Pentagon's interest, gaining an ally in Sen. Roy Blunt (R-Mo.), who called the jet the "most cost effective alternative to meet readiness targets."
Still Committed to F-35
But for most lawmakers, the announcement drew more fire than support.
One Senate group with two Appropriations defense subcommittee members—Susan Collins (R-Maine) and Lisa Murkowski (R-Alaska)—sent a letter to President Donald Trump to urge against more F-15s.
Gen. Joseph Dunford, chairman of the Joint Chiefs of Staff, tried to allay critics' concerns by saying the Pentagon is committed to building up the F-35 fleet as quickly as possible. "We'll still be flying F-35s as fast as we can," Dunford told a Senate Appropriations defense panel.
But the Pentagon hasn't done a good job explaining its strategic choice to buy new F-15s instead of investing in more advanced fighters, said Byron Callan, a defense analyst at Capital Alpha Partners. "It just kind of came out of left field. There's a lot to answer for on how this whole thing has unfolded," he said.
In the end, Congress is likely to keep the F-35 purchases relatively flat—around the 90 or so aircraft funded in the past two years—and also find money for the F-15X program in next year's defense budget, Callan said.
"I'd be very surprised if the funding was zeroed out," Callan said, adding that the fate of the F-15X in the future might still be in question. Lawmakers could find funding in the Pentagon's maintenance or research budgets to fund the aircraft, he said.
Richard Aboulafia, a military analyst at Teal Group, said he expects Congress to increase the number of F-35s but possibly not as much as the last two years, in part due to the military's request for the F-15X. "But you have to debate it and get vocal about it to get maximum credit," he said.
Coming at a Cost
The White House, watchdogs, and some lawmakers have long been concerned about long-term costs of the F-35, which has per unit costs around $80 million apiece. The program is expected to ring up at $1.2 trillion over six decades.
Read more:
Still, the problems plaguing the F-35 program have done little so far to dissuade those who are eager to push ahead with the fleet.
A bipartisan group of 103 House members led by John Larson (D-Conn.), a co-chairman of the chamber's F-35 caucus, sent a letter last month to Armed Services members and appropriators urging funding for 102 of the F-35. United Technologies Corp.'s Pratt & Whitney division, which makes F-35 engines, is based is Larson's hometown of East Hartford, Connecticut.
"Not only does the F-35 program deliver air superiority for the United States and its key allies, it also bolsters our domestic economy by supporting more than 1,400 suppliers and more than 220,000 direct and indirect jobs across the country," the group wrote.
The Pentagon has spent almost two decades developing the F-35, and the Air Force and Marine Corps variants participated in combat operations for the first time last year. Concerns over long-term costs of the jet and the aging fleet of F-15Cs forced the Pentagon into looking at mixing in purchases of cheaper planes.
Each Air Force F-35 will cost about $47 million more to buy and sustain over a decade than the F-15X, the director of the Defense Department's independent cost assessment office told House lawmakers this month.
No Half Measures
Some lawmakers said the investment is necessary.
"It makes no sense to buy a non-stealthy fourth-generation fighter and pay for it by using money we'd use to buy a fifth-generation stealthy fighter," said Sen. John Cornyn(R-Texas), who signed a letter this year opposing more F-15s. Cornyn has an F-35 production facility in his state.
Cornyn said there won't be enough money this year to buy both the needed F-35s and F-15Xs. The aircraft are in direct competition, he said. "We put our eggs in the F-35 basket. We ought to keep them there."
Aboulafia said the Air Force also doesn't appear enthusiastic about the White House's request to buy F-15Xs, despite the fact its requests might only last as long as Trump's administration. "I meet very few people outside of the Trump administration who are enthusiastic about adding these planes," he said.
The reality is Congress remains locked in a partisan battle over spending limits for defense and non-defense programs. Without a deal on the caps, none know just how much the military may receive for either aircraft— or—when it might get the appropriated funds.
"Without money, we can't buy anything. That's what this is about," said Senate Appropriations Chairman Richard Shelby (R-Ala.). "Sooner or later, we're going to buy them. We're going to have to. A lot of our planes are getting older—a lot older."
To contact the reporter on this story: Travis J. Tritten at ttritten@bgov.com
To contact the editors responsible for this story: Paul Hendrie at phendrie@bgov.com; Brandon Lee at blee@bgov.com; Jonathan Nicholson at jnicholson@bgov.com; Robin Meszoly at rmeszoly@bgov.com