Congress Leaders Prefer Personal Touch Over Zoom to Sway Members
Bloomberg Government subscribers get the stories like this first. Act now and gain unlimited access to everything you need to know. Learn more.
House Speaker Nancy Pelosi and Senate Majority Leader Mitch McConnell don't agree on much, but the leaders are now finding common ground in resisting calls for remote voting — something that could upset institutional traditions and their influence over rank-and-file members.
These veteran lawmakers have cobbled together winning coalitions by mastering the art of the personal touch on the House and Senate floors, and in committee rooms, cloakrooms and closed-door caucus meetings.
"They built their careers as leaders meeting people in the flesh," said Sarah Binder, a congressional expert at the Brookings Institution. "And majorities just don't appear — they have to be built. And they have lived in a world where being in the room makes a difference."
Pelosi said the House Rules Committee will issue a report Thursday that evaluates options that may include video conferencing for committee work, as the coronavirus keeps lawmakers away from Capitol Hill. But she urged caution, saying it's not possible to "do Congress by Zoom." She was referring to the online video conferencing service that has grown in popularity during the pandemic but has been criticized for security breaches.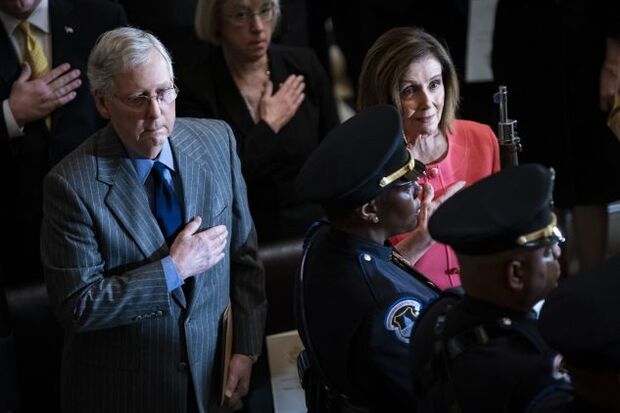 Before the coronavirus forced lawmakers to return home, Pelosi (D-Calif.) and Minority Leader Kevin McCarthy (R-Calif.) and their whips were often seen on the House floor talking to members on the floor, in particular when big appropriations packages came up for votes. The leaders huddled weekly with their caucuses to hash out disputes over upcoming legislation.
Pelosi has long nurtured her relationships in the House, inviting children of members to come up to the podium to join her grandchildren when she took the oath of office in January 2019.
McConnell (R-Ky.) said he's confident no changes are needed, even though almost 20 senators from both parties recently backed a bipartisan plan to allow him and Senate Minority Leader Chuck Schumer (D-N.Y.) or their designees to allow remote voting for 30 days during emergencies.
"We can work around this without dramatically changing the way the Senate has operated for over 200 years," McConnell said.
When members are on Capitol Hill, McConnell meets with his leadership team every Monday night, lunches with GOP members at least three days of every week, and interacts with them and Democrats constantly on the Senate floor. Administration officials often attend the Tuesday lunches to coordinate strategy and address policy concerns.
"They only way you get things done is to keep these people in D.C. to hash it out," said Jim Manley, a Democratic strategist who worked for former Senate Majority Leader Harry Reid (D-Nev.).
'Touchy-Feely' Place
House Majority Leader Steny Hoyer (D-Md.) said on a press call Wednesday that leaders are looking at all kinds of options — from Facetime to Zoom — for both committee work and remote voting. But he said McCarthy, McConnell, Pelosi and he all agree they don't want to make remote voting regular.
"There really is no substitute for coming together, sitting together, debating and talking to one another to effectively exercise our democratic responsibilities in the Congress," Hoyer said.
It's the same on the other side of the Capitol. The Senate is essentially a very "touchy-feely" place, said Ross Baker, a political scientist at Rutgers University who also was a scholar in residence in Reid's office. Reading "body language" on the floor is a time-honored tradition, he said.
"There's a kind of intimacy being part of a small group — a very select group — interacting personally and not remotely over a video screen," he said. "Negotiations are just so personal — so mano a mano — and I think every possible route should be made to preserve in-person voting."
McConnell made a concession recently and allowed members to email, rather than phone in, their objections to providing $250 billion in extra aid to small business. He failed to get unanimous consent to pass the measure because of an objection from Sen. Ben Cardin (D-Md.).
Binder said the majority leader would likely see more objections in the future if business is done remotely. "It is much easier to object to something or refuse to cooperate online than it is when you are actually in the room," she said.
In recent years, one of McConnell's biggest challenges to pass emergency spending legislation has been to overcome objections from his home-state colleague, Sen. Rand Paul (R-Ky.).
"The last thing he wants to do is to give Rand Paul veto power to call in objections from a remote location," Manley said.
Working remotely has been embraced by one of Pelosi's key allies, Appropriations Committee Chairwoman Nita Lowey (D-N.Y.), who said her panel can easily work on its fiscal 2021 bills and more emergency spending packages without members returning for roll call votes.
"Unless it's safe, I think we are better off doing our work, as we have been doing, passing bills by unanimous consent," Lowey said.
Allowing lawmakers to vote remotely in an emergency sets precedents that could have long-term consequences for how the House is run, said Scott Lilly, former Democratic staff director of the Appropriations Committee who now teaches at the University of Texas Lyndon B. Johnson School of Public Affairs.
"Once you start and demonstrate you can use that, the pressure starts to build to do it again," Lilly said.
Lilly said existing rules allow the House to conduct committee business informally and pass important legislation without all members being present. As an example, he said a 1995 standoff between Speaker Newt Gingrich (R-Ga.) and President Bill Clinton that resulted in the 1995 government shutdown ended when the Appropriations Committee chairman and ranking member went together to the House floor and got unanimous consent to pass a bill to reopen the government.
To contact the reporter on this story: Nancy Ognanovich in Washington at nognanov@bgov.com
To contact the editors responsible for this story: Bennett Roth at broth@bgov.com; Kyle Trygstad at ktrygstad@bgov.com
Stay informed with more news like this – from the largest team of reporters on Capitol Hill – subscribe to Bloomberg Government today. Learn more.