Colorado Tries to Beckon Tourists With Buy-and-Try Pot Lounges
Bloomberg Government subscribers get the stories like this first. Act now and gain unlimited access to everything you need to know. Learn more.
You've just flown into Colorado for a few days of skiing. On your way to the mountains, you swing by a licensed retail marijuana dispensary, where visitors can buy up to 28 grams of state-legal cannabis.
Now what?
Even in pot-friendly Colorado, it's illegal to consume marijuana openly and publicly, and most hotels and vacation rentals prohibit its use on their premises.
To at least in part cater to the tourists who contribute about $20 billion a year to Colorado's economy, the state is starting to offer business licenses for bring-your-own-cannabis lounges and marijuana-on-the-menu cafes.
"This takes it out of back alleys and parks," said state Rep. Jonathan Singer (D), chief sponsor of a law (H.B. 1230) that took effect Jan. 1. "Whether you are a novice, a tourist, or an established resident, you should have a public place where it's safe to consume."
Marijuana remains a Schedule 1 illegal drug under the federal Controlled Substances Act.
Colorado's new law leaves it up to local governments to decide whether to allow — and how to regulate — the establishments.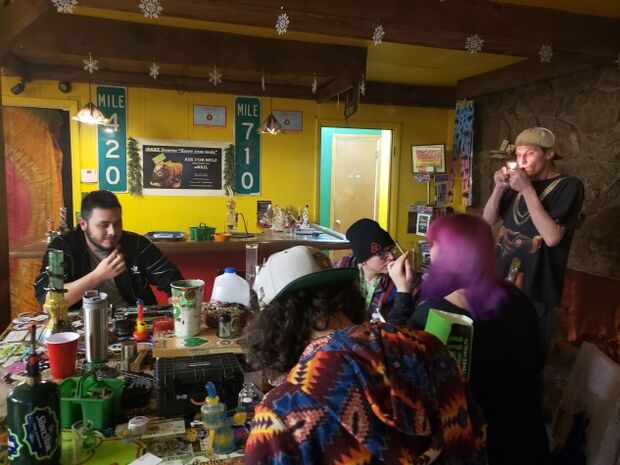 Those with a license to sell marijuana products can't simultaneously hold a liquor license, so the new stage of cannabis commerce will force customers to choose whether to go to a tavern for a beer or settle in at a lounge to eat, vape, or smoke some weed.
Meanwhile, some members-only places that grew up under the old state law are unsure how long they could last against a new kind of competition.
Rita Tsalyuk, co-owner of the Coffee Joint in Denver, said she's applying for one of the BYO licenses, but hasn't decided whether the cafe will allow smoking.
"It would require some ventilation systems, and we're not a big space," said Tsalyuk. "Right now, I like that it doesn't smell."
Her cafe waives its $5 fee to legally dab, vape or consume cannabis edibles if a customer buys more than $5 worth of cannabis at the co-owned dispensary next door.
The owner of iBAKE Denver says his private club will close if Adams County, Colo., requires it to go through a licensing process and comply with new requirements, so he doesn't know how long the doors will be open.
"There's really no written rules yet for them to enforce." iBAKE owner Steven Nelson Jr., who also goes by T.L. Weedman, said in an interview. "We're not pressing the issue."
Denver officials haven't decided what their approach will be.
"Those with concerns will have the opportunity to provide comment if Denver goes forward in opting in and creating an ordinance" to allow marijuana centers, said Eric Escudero, spokesman in Denver's Business Licensing Center.
Alaska, California, Massachusetts
Alaska was the first state to allow on-site marijuana consumption, and California has the nation's first cannabis restaurant, though neither has a state-level business licensing law like Colorado's.
The Original Cannabis Cafe opened in West Hollywood, Calif., in September 2019, one of eight businesses that secured a cannabis lounge license from that city. The cafe had to split itself into two businesses in order to operate legally.
California Assembly member Richard Bloom (D) hasn't decided whether to reintroduce legislation seeking to create a state-level license for cannabis cafes and lounges, said his chief of staff, Guy W. Strahl.
Alaska's rules, which took effect in April 2019, allow adult consumption in licensed retail shops. The space where buyers consume their cannabis has to be separate from other parts of the store, and there must be a ventilation system and a smoke-free area for employees to monitor the consumption area. Consumers can't use marijuana they bought elsewhere.
Massachusetts has approved a pilot program for public cannabis facilities. The state legislature must sign off on it before it can begin.
Slow Start
In Colorado, it may take some time for municipalities to figure out what kind of mandates to impose with its licenses, and for entrepreneurs to figure out if a buy-it-here-use-it-here establishment can be profitable.
Unlike food or booze, people aren't used to consuming cannabis in public, said the Coffee Joint's Tsalyuk.
"It doesn't have that culture. People have done it underground for so long," she said. "It's going to be there, but people aren't ready for it yet."
With assistance from Joyce E. Cutler and Emily C. Dooley
To contact the reporter on this story: Tripp Baltz in Denver at abaltz@bloomberglaw.com
To contact the editors responsible for this story: Katherine Rizzo at krizzo@bgov.com; Heather Rothman at hrothman@bgov.com
Stay informed with more news like this – from the largest team of reporters on Capitol Hill – subscribe to Bloomberg Government today. Learn more.