Colleges, Cops, Airports Among Earmark Winners in 2022 Funding
The 4,975 earmarks in omnibus package totaled $9.7 billion
Sen. Shelby, top GOP appropriator, pulled in $647.9 million
Bloomberg Government subscribers get the stories like this first. Act now and gain unlimited access to everything you need to know. Learn more.
Universities, police, and airports were among the most popular items in the 4,975 earmarks tucked in the fiscal 2022 government funding measure, which revived the practice of allowing members to include money for specific local projects.
The projects are the first earmarks to be enacted in a government funding bill since they were banned in 2011. They range from two measures totaling a combined $200 million by Sen. Richard Shelby (R-Ala.) for the Alabama State Port Authority to a $4,000 measure by West Virginia's Sen. Shelley Moore Capito (R) and Rep. Carol Miller (R) for the City of Huntington's police department to buy a hydraulic vehicle lift.
The earmarks, totaling $9,688,599,148, were included in the $1.5 trillion government funding bill (Public Law 117-103) enacted in March, according to a Bloomberg Government analysis of 10 documents published by the House Appropriations Committee.
Readers can access a centralized spreadsheet compiled by Bloomberg Government here.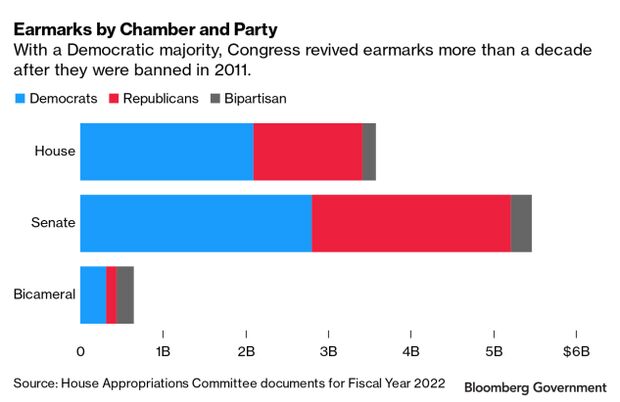 The bill included 3,696 earmarks filed solely by Democrats, totaling $5.2 billion, plus 1,015 earmarks filed solely by Republicans, totaling $3.9 billion, while 263 earmarks were filed by bipartisan groups of lawmakers, totaling $615.7 million.
While Democrats brought home more combined money, the top GOP earmarkers got the biggest hauls, in part because fewer Republicans participated in the process. The fact that the GOP garnered about 40% of the total illustrates a "real intent for this to be an equitable process," Michael Thorning, associated director of governance at the Bipartisan Policy Center, said in a phone interview.
Senators tallied 2,252 earmarks totaling $5.5 billion. House members garnered 2,449 earmarks totaling $3.6 billion. And bicameral groups of members included 274 earmarks totaling $650 million.
Lawmakers didn't come close to hitting their self-imposed limit on earmark spending. Congress's new rules limit earmarks to 1% of discretionary spending, which would have allowed for $15 billion in earmarks, much greater than the $9.7 billion included in the omnibus.
"This is not what some people warned, that it would be like turning on a firehose of federal spending," Thorning said. "This was pretty thoughtful and restrained."
The House Appropriations Committee has already notified members they'll be allowed to submit up to 15 requests for next year's bills, up from a limit of 10 for the fiscal 2022 package. Chair Rosa DeLauro (D-Conn.) praised the inclusion of the earmarks in the funding package in a statement, saying the funding "meets urgent needs in districts across the country and sends a clear message to the American people that Congress is working for them."
Airports, Higher Education
Shelby, the vice chairman of the Senate Appropriations Committee who is retiring, was Capitol Hill's top earmarker, raking in $647.9 million combined among 16 projects. That includes two earmarks totaling a combined $200 million for the Alabama State Port Authority, plus $100 million for improvements at the Mobile Downtown Airport. He also added $76 million for the University of Alabama at Birmingham's School of Medicine.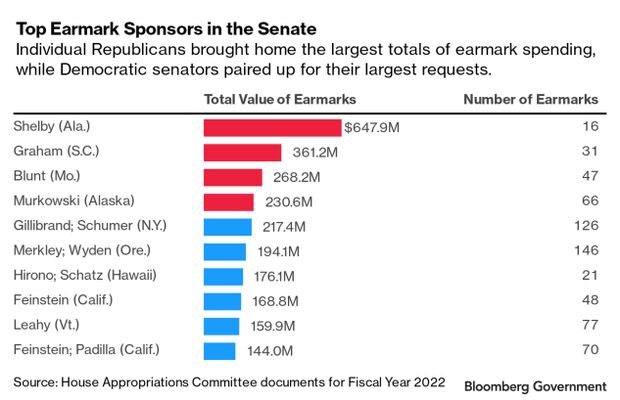 Universities, community colleges, and other postsecondary education institutions were a popular category for earmarks. Lawmakers included at least 589 earmarks for universities, colleges, or other similar organizations, totaling slightly more than $1 billion. Shelby's measure for UAB was the largest, followed by Sen. Roy Blunt's (R-Mo.) $61 million measure for the University of Missouri. Shelby also secured $60 million for the University of South Alabama's College of Medicine and $50 million for the University of Alabama at Tuscaloosa.
The earmarks also serve as a miniature infrastructure bill for some areas. Lawmakers landed 67 earmarks totaling $306.6 million for airports. After Shelby's $100 million haul for Mobile's airport, the next largest earmark was a $17.5 million measure for the New Castle County Airport in Delaware, jointly requested by Rep. Lisa Blunt Rochester (D) and Sens. Tom Carper (D) and Chris Coons (D).
Wastewater, Tribes, Law Enforcement
The omnibus overflowed with funds for sewers and wastewater systems around the country. Lawmakers included 191 earmarks totaling $374.5 million mentioning wastewater, sewers, or sewage projects. The biggest measure was a $10.3 million fund for the City of Follansbee, W.Va., to improve wastewater infrastructure, secured by Capito.
Lawmakers followed up on President Joe Biden's State of the Union call to fund police departments, including at least 168 earmarks totaling $112.4 million for police, sheriff's offices, and departments of public safety. Rep. Doug LaMalfa (R-Calif.), along with Sen. Alex Padilla (D-Calif.), submitted the largest request for $4.8 million for the Nevada County Sheriff's Department.
Native American tribes, nations, and other related programs garnered 52 earmarks totaling $121.5 million. Sen. Lisa Murkowski (R-Alaska) led the way with 11 earmarks totaling $70.9 million, mostly for the Alaska Native Tribal Health Consortium, a nonprofit that provides health services to Alaska Natives. Among tribes, the Shoshone-Bannock Tribes received the largest earmark, a $7 million measure requested by Rep. Mike Simpson (R-Idaho) for a fire station.
The Transportation-HUD portion of the spending package was by far the most lucrative section for members' projects, including 1,492 earmarks totaling nearly $3 billion. Next up was the Labor-HHS-Education bill, including 1,538 earmarks for $1.8 billion. The Defense appropriations bill, formerly a major target for members' earmarks, included only 15 projects for $23.5 million, after senators agreed not to include earmarks in the bill and House members allowed only a limited amount.
To contact the reporter on this story: Jack Fitzpatrick in Washington at jfitzpatrick@bgov.com
To contact the editors responsible for this story: Giuseppe Macri at gmacri@bgov.com; Andrew Small at asmall@bgov.com; Loren Duggan at lduggan@bgov.com; Bennett Roth at broth@bgov.com
Stay informed with more news like this – from the largest team of reporters on Capitol Hill – subscribe to Bloomberg Government today. Learn more.