Coal Miners Put Manchin on Spot to Deliver on Black Lung Benefit
West Virginia Democrat says he's working on an extension
Trust fund for sick miners losing about $2.8 million per week
Bloomberg Government subscribers get the stories like this first. Act now and gain unlimited access to everything you need to know. Learn more.
Coal miners sickened by black-lung disease need renewal of an income stream to help fund their disability benefits. Sen. Joe Manchin, a pivotal figure in the Biden administration's contentious budget plans, is under pressure to deliver.
Congress will ensure it's "taken care of," Manchin (D-W.Va.) said. He predicted his stand-alone legislation (S. 2810), extending the 2021 tax rate companies pay into the Black Lung Disability Fund through 2031, will end up in a larger legislative package that's yet to be determined. "There are many places we can put it, and many places we can't," he said in a hallway interview last week.
Disabled miners and their dependents still have been receiving their benefits since the rate expired on Dec. 31. But less money overall is flowing into federal coffers because the higher tax rate companies paid last year is back to the reduced level, threatening the long-term integrity of the trust fund.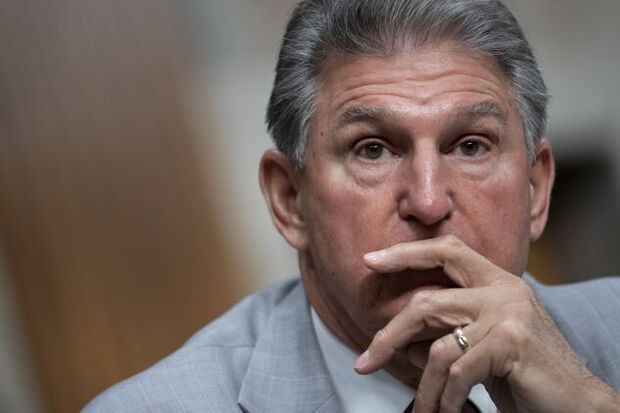 The tax, contributed by all coal companies—among them Peabody Energy Corp., Arch Resources Inc., and NACCO Industries Inc.—is the fund's primary source of money. It's shrinking and will continue to do so rapidly unless Congress renews the tax at the 2021 rate, advocates say.
The trust fund is losing more than $2.8 million per week, the Appalachian Citizens' Law Center and the environmental group Appalachian Voices estimates.
The House-passed Build Back Better Act (H.R. 5376) included a four-year extension of the 2021 black lung excise tax rate. But Manchin's opposition to separate measures in that package stalled its prospects in the Senate.
Now, the congressional agenda is crowded ahead of the August recess and the November midterm elections.
Read More: Crises Distract Congress as Leaders Struggle to Pass Priorities
Previous omnibus bills have included excise tax renewals as part of tax extender packages. Passing legislation through budget reconciliation requires only a simple majority in the evenly split Senate but would require all Democrats to be on board, with Vice President Kamala Harris breaking the tie.
"You've got every Republican voting against every one of these things," Sen. Sherrod Brown (D-Ohio) said when asked if an extension of the black lung excise tax rate could go into a bigger package. Brown unsuccessfully tried to insert an extension into the fiscal 2022 spending package (P.L. 117-103).
Sen. Shelley Moore Capito (R-W.Va.) supports an extension of the 2021 tax rate. She said she's concerned about the rise in black lung disease, and wants to make sure sick miners are taken care of. "I have to look at it in the context of, if we were going to fall short there, we would fill up that shortfall without having to raise the tax" on companies, she said, without offering specifics.
'Counting on You, Joe'
Congress created the Black Lung Disability Trust Fund—now roughly $4 billion in debt—in 1977 to ensure coal miners with the disease, also known as pneumoconiosis, were compensated for health problems contracted from breathing in coal dust on the job.
The fund pays benefits to miners suffering from black lung disease when responsible operators are unable to pay. The federal program is designed to ensure that mine operators, rather than taxpayers, are on the hook to provide the benefits.
The 2021 tax rates on coal were $1.10 per ton of underground-mined coal and $0.55 per ton of surface-mined coal, with a cap of 4.4% of the sales price. Those rates were in place from the mid-1980s through 2018 because Congress renewed them.
In 2019, the rated reverted to $0.50 and $0.25 cents respectively of mined coal, limited to 2% of the sales price. That was the original rate mandated when the law took effect in the 1970s. Congress increased the rate again to $1.10 and $0.55 for the last two years, but without renewal before Dec. 31, it lapsed to the original, reduced level.
Earlier: Coal Miners Seek Legislative Fix for Black Lung Disease Benefit
Earlier this month, the Black Lung Association launched a digital and radio ad campaign, dubbed "We're Counting On You, Joe" across West Virginia, imploring Manchin to use his influence in Washington to push through a 10-year extension of the black lung excise tax. Leaders from the group held a press conference on May 12 in front of the West Virginia Coal Miners Memorial in Charleston.
The fund disbursed more than $40 million in claims to the state of West Virginia in fiscal 2020, according to the Labor Department, second only to the $41 million in claims that Kentucky received. The individual benefit payment to miners in 2021 was about $693 per month, and up to $1,387 for primary beneficiaries with three or more dependents, the Labor Department's data show.
Support from West Virginia's senators is critical, miners' advocates say.
"We can't fight the lobbyists; they've got all kinds of money. We ain't got nothing," said Gary Hairston, national president of the Black Lung Association, who worked in coal mines for decades and has black lung disease. "We need to get Joe on board," to do something now, Hairston said, adding, "We need Capito with us" too.
To contact the reporter on this story: Kellie Lunney in Washington at klunney@bloombergindustry.com
To contact the editors responsible for this story: Anna Yukhananov at ayukhananov@bloombergindustry.com; Robin Meszoly at rmeszoly@bgov.com
Stay informed with more news like this – from the largest team of reporters on Capitol Hill – subscribe to Bloomberg Government today. Learn more.