Clock Ticking on Alabama Redistricting: Ballots & Boundaries
Bloomberg Government subscribers get the stories like this first. Act now and gain unlimited access to everything you need to know. Learn more.

We're a few hours away from learning whether Alabama will meet or miss a court deadline to submit a revised congressional district map.
Unless a conference committee veers in a new direction, they probably won't comply with the part of the judges' order that said the altered lines should give Black residents a second district where they're a majority or nearly a majority of voters.
Today's debate provided no clues about whether they'll send the court a version that adds a 38% Black district, a map that adds a 42% Black district, or something different. "Why even risk having a court saying we got it wrong?" state Rep. Phillip Ensler (D) asked in one floor exchange.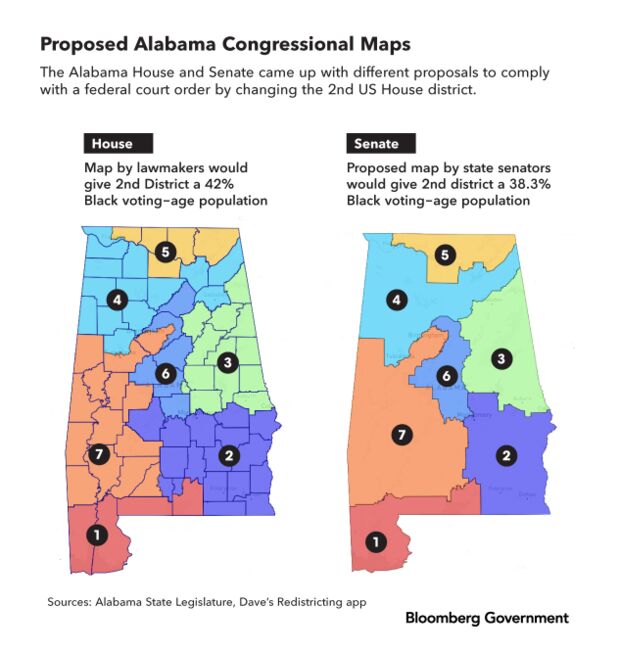 "I believe that my plan complies with what the court asked us to do," replied state Rep. Chris Pringle (R).
"You can put lipstick on a pig, you can put a wig on a pig, you can even put these eyelashes that I have on my eyes on a pig," said state Rep. Juandalynn Givan (D). "It's going to still be a pig."
"These lines that you all have drawn are still illegal, they are still in violation of the Voting Rights Act," she said.
Moving too many Republican voters out of their currently configured districts could make it harder for the GOP to maintain its slim US House edge. Of note: Speaker Kevin McCarthy (R-Calif.) confirmed to NBC News that he's been making some calls to Montgomery. — Greg Giroux
(Was this newsletter forwarded to you? SUBSCRIBE and get the next edition without delay.)
More Redistricting in Motion
GEORGIA, LOUISIANA: Dates Set
A Sept. 5 trial will examine whether the Republican-controlled Georgia legislature should have created another Black-majority district on the western side of metropolitan Atlanta. Republicans have defended the map and noted Georgia's 14-member House delegation has five Black members (36% of seats), while Georgia's population is 33% Black.
In Louisiana, US District Court Judge Shelly D. Dick scheduled an Oct. 3-5 hearing after the US Supreme Court reinstated an order that blocked Louisiana's 2022 congressional election map, under which just one of six districts is Black-majority in a state that's about one-third Black. — Greg Giroux
NORTH CAROLINA REDO
The Republican-led legislature probably will redraw congressional lines in late September or early October, North Carolina Speaker Tim Moore (R) told reporters. A new 14-district map could favor Republicans in at least 10 districts, three more than they won under an interim court-ordered map used for the 2022 election. Moore, who's not seeking another term as speaker, may be a candidate for one of the reconfigured districts. "I haven't decided what I'm going to do next," he said, according to WRAL. — Greg Giroux
SOUTH CAROLINA BRIEFS
The US Justice Department, South Carolina's governor and six US House Republicans are among the signatures on amicus briefs in a racial gerrymandering case the US Supreme Court will hear Oct. 11. At issue is whether the state legislature's reconfiguration of the Charleston-area 1st District before the 2022 election violated the equal protection clause of the 14th Amendment. Republicans assert the changes were made for the lawful political reason of aiding Rep. Nancy Mace (R) after she won a close 2020 election. — Greg Giroux

UTAH: Qualification Question
There's a minimum age for members of the US House (25) but no requirement that they be registered voters, as Republicans in Utah are learning in their short spurt toward choosing a special-election nominee. The Salt Lake Tribune reports that a fallen-aside candidate has
filed a lawsuit aimed at taking a name off the Sept. 5 primary ballot. The target is Celeste Maloy, who until recently worked in the D.C. office of Rep. Chris Stewart (R) and now is running to succeed him.
 See also: Edwards Most Cash-Rich Special Election Candidate

CALIFORNIA: Same-Sex Marriage
A 2015 US Supreme Court ruling rendered state bans on same-sex marriage unenforceable, but California might take no chances. State voters next year will be asked whether to change the California Constitution to repeal language that defined marriage as between a man and a woman. They'll also be asked about a proposed $18 an hour minimum wage and whether to change the rules for voters to decide on tax increases. — Associated Press
MISSOURI: Abortion Proposal
Backers of a proposed abortion rights amendment will have less time than the law allows to circulate petitions after a high-level dispute slowed down the process.
The Missouri Supreme Court ruled that Attorney General Andrew Bailey (R) improperly injected himself by rejecting what's normally a routine cost estimate. The Attorney General was to have performed that task within 10 days of receiving the fiscal notes and summaries from the Auditor, a period that expired more than three months ago," the court wrote.
Meanwhile, the ACLU is suing over the wording of the proposed 2024 initiative. Secretary of State Jay Ashcroft wants it to say it would "allow for dangerous, unregulated, and unrestricted abortions, from conception to live birth, without requiring a medical license or potentially being subject to medical malpractice." — KMOV
Resources
Add Us to Your Inbox
SIGN UP for Ballots & Boundaries to keep up with congressional campaign trends, ballot initiatives, state voting laws, and redistricting.
Stay informed with more news like this – from the largest team of reporters on Capitol Hill – subscribe to Bloomberg Government today. Learn more.