Climate-Smart Farm R&D Funds Waste Potential, Group Finds (2)
Agriculture produces a tenth of US greenhouse gas emissions
Methane reduction gets little research funding, group finds
(Adds comment from Sen. Grassley. A previous version corrected a quote from Rep. Johnson.)
Bloomberg Government subscribers get the stories like this first. Act now and gain unlimited access to everything you need to know. Learn more.
Some of the agriculture tools that could have the biggest impact on cutting climate-warming gases receive the smallest share of the US Department of Agriculture's funding, an environmental research group reports.
Agriculture puts out more than a tenth of US greenhouse gas emissions. Environmental researchers see the industry as a prime opportunity to combat climate change. Agriculture Secretary Tom Vilsack has emphasized the administration's commitment to climate-smart agriculture with tools such as sequestering carbon in soil — but the agency's research funding has lagged in recent years, making up less than 1% of the $428 billion in the 2018 farm bill.
Strategies that receive the most money don't necessarily have the most potential to mitigate greenhouse gas emissions, the environmental think tank Breakthrough Institute found in an analysis of R&D spending on climate-smart agriculture. Meanwhile, tools with a big impact, like developing methane-inhibiting additives in cattle feed, receive little research funding.
"It's a rounding error, even within agricultural climate research — which itself is a rounding error in overall ag funding," Dan Blaustein-Rejto, director of food and agriculture at the Breakthrough Institute, said of methane reduction. Methane is one of the most potent greenhouse gases, responsible for about 30% of global warming.
More money for agriculture research is needed through the farm bill, annual appropriations, and other legislation, the report's authors wrote. "However, funding should also target the areas where it can have the greatest impact."
The Agriculture Department plans to expand publicly funded climate research on a wide range of areas, a spokesperson said in a statement.
"From research in methane reduction in the cattle and dairy industry, to the Climate Hubs, to the international Global Methane Pledge, USDA is using every tool available to put agriculture at the center of solutions to climate change," the spokesperson added.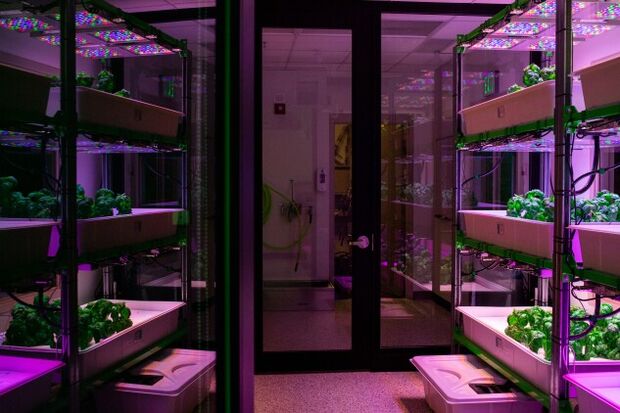 'Limited Response'
At issue is a core question in the conservation debate, said Ben Lilliston, director of rural strategies and climate change at the think tank Institute for Agriculture and Trade Policy: Should the focus be on tweaking the existing farm system with methods such as cover crops — or are more transformative changes needed?
Farmers plant cover crops, such as ryegrass, not to harvest a food but to protect soil from erosion, weeds, and other threats to their operations.
"Cover crops on their own are kind of a limited response to the climate crisis," Lilliston said.
For Nathan Anderson, a corn, soybean, and cattle farmer in Iowa, planting cover crops limits erosion, allows his soil to hold more water, and suppresses weeds. It also allows him to use less herbicide, a win-win for the farm's bottom line and the climate.
"It's critical that farmer-to-farmer networking, research, knowledge-sharing is involved in the research components and the research funding as we move forward in cover crops," Anderson said.
Read More: Citing China, Senators Call for More Money for Farm Research (1)
Cover crops eat up the most R&D funding in relation to their potential to mitigate greenhouse gases, the Breakthrough Institute found. Next was precision agriculture, a practice the Biden administration and Democratic lawmakers have zeroed in on as a solution for using less nitrogen fertilizer on crops, which makes soil healthier and helps conserve farm resources.
Projects with lower public funding levels compared with their potential included anti-methanogenic feed additives, which cut methane emissions from cows, and enhanced root crops, which improve soil health.
Outlook in Congress
Lawmakers see opportunities to spend more on climate-focused agriculture R&D in the farm bill, which they'll write next year. Research usually makes up a small slice of the overall legislation, but both parties have called for more R&D to compete with China, which spends almost twice that amount. Providing the actual money is up to congressional appropriators.
Jim Costa (Calif.), a top Democrat on the House Agriculture Committee, said he hopes to see bipartisan backing for more climate research in the next farm bill.
"In general, support for research at land-grant universities has been broadly bipartisan," said Rep. Dusty Johnson (R-S.D.), adding that he doesn't expect that to change under a Republican House and Democratic Senate.
Sen. Chuck Grassley (Iowa), another key Republican, noted both parties are trying to get more money for agriculture research and development.
Blaustein-Rejto still sees getting more climate research money as an uphill battle, especially with members of the GOP bristling at roughly $20 billion in agriculture spending from Democrats' August party-line climate, tax, and health care bill (Public Law 117-169).
"There's a lot of challenges to increasing research funding in today's political environment, where there's very little appetite to add any new funding to the farm bill next year," he said.
To contact the reporter on this story: Maeve Sheehey in Washington at msheehey@bloombergindustry.com
To contact the editors responsible for this story: Anna Yukhananov at ayukhananov@bloombergindustry.com; Robin Meszoly at rmeszoly@bgov.com
Stay informed with more news like this – from the largest team of reporters on Capitol Hill – subscribe to Bloomberg Government today. Learn more.