Classified Access Opposed by McConnell Gets Renewed Senate Push
Bloomberg Government subscribers get the stories like this first. Act now and gain unlimited access to everything you need to know. Learn more.
Senators attending a briefing on the most sensitive classified material, such as the decision to take out a top Iranian general, often do so without the assistance of top aides who may have valuable insight and experience on those topics.
Some senators are seeking to change the rules so that they can bring a bring a staff member when they receive briefings on information, such as the U.S. strike on Jan. 3 that killed Iranian Gen. Qassem Soleimani.
To do so, they'll need to win over Senate Majority Leader Mitch McConnell (R-Ky.).
In the Senate, access to Sensitive Compartmented Information, a subset of Top Secret classified material, is limited only to staffers for key committees pertaining to national security, while staffers for individual members can't hold an SCI clearance. As a result, only 37 of the 100 senators have access to a staffer with SCI clearance, though there are about 280 staffers with that level of clearance overall, said Sen. Chris Murphy (D-Conn.).
Murphy is working to garner support for a measure that would allow every senator to have a staffer in their personal office with SCI clearance, a move supporters say would enable rank-and-file members to better understand material and engage in a back-and-forth with administration officials.
McConnell is an obstacle, after objecting to a measure that Murphy planned to include in the fiscal 2020 Legislative Branch spending bill, Murphy said.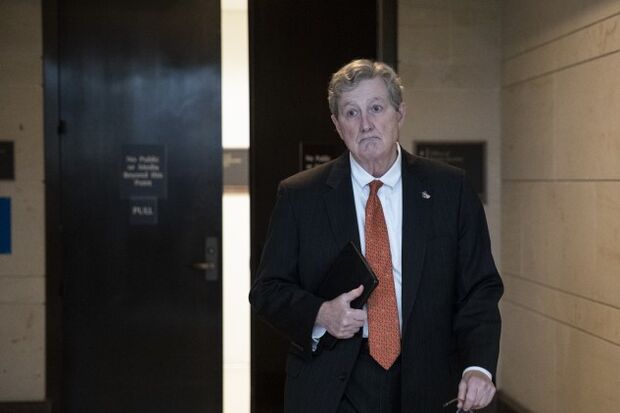 "It was going to be opposed by Sen. McConnell, and so we are living to fight another day," Murphy, the ranking member of the Senate Appropriations Legislative Branch Subcommittee, said in an interview. "I think there's an enormous amount of support for that provision, but I'd like to do it the right way. And I'd like to ultimately have the support of leadership."
Staffers for McConnell didn't respond to requests for comment. Murphy said McConnell didn't explain his opposition to the measure, but that he hopes to get the leader to relent.
Holding the Administration Accountable
The staffers could help lawmakers challenge and hold accountable national security agencies in classified meetings, said Mandy Smithberger, director of the Center for Defense Information at the Project on Government Oversight. Some of the debates may focus on whether the information needed to be classified in the first place, for example when Trump administration officials recently said parts of former National Security Adviser John Bolton's manuscript detailing actions that led to the withholding of Ukraine aid would be classified.
The policy could be changed at any time by updating the Senate Security Manual, a Senate aide said. That's a responsibility of the director of the Office of Senate Security, who is selected by the majority and minority leaders.
The executive branch could refuse to clear additional Senate staffers, but officials usually follow directions in Appropriations Committee reports out of deference to lawmakers who hold the power of the purse, the aide said.
Murphy offered and then withdrew an amendment to the Legislative Branch spending bill (S. 2581) during a markup in September 2019 that would have allowed an SCI staffer for every member. Subcommittee Chairwoman Cindy Hyde-Smith (R-Miss.) said she would continue working with Murphy on the issue, and Sen. John Kennedy (R-La.) said the measure "sounds like a good amendment," despite Murphy's decision to withdraw it.
'Information Is Power'
Every member of the Senate Select Committee on Intelligence has a committee staff designee with an SCI clearance, though they are employed by the committee and not the senators' personal offices, the aide said. Top members of the Senate Judiciary, Appropriations, and Foreign Relations committees also have staffers with SCI clearance, the aide said.
Staffers can help lawmakers engage in a back-and-forth with executive branch officials, but the executive branch and party leaders have little to gain by ceding power to rank-and-file members, Smithberger said in a phone interview.
"The executive branch wants to hold on to as much information as they can, and information is power," Smithberger said. "It's part of a long-term trend where too much power is concentrated in leadership in the House and Senate. And as far as they're concerned, their staffers have all the access that they need."
It would be helpful for lawmakers to have staffers with them in classified briefings such as the Jan. 8 meeting following Iranian attacks retaliating for the Soleimani strike, Smithberger said, so that members can "assess the veracity of that information" with the aid of an expert staff member.
Murphy and eight other senators sent a letter in January asking Acting Director of National Intelligence Joseph Maguire for a classified briefing on claims by Trump and Secretary of State Mike Pompeo that Soleimani was planning imminent attacks on U.S. embassies.
Rank-and-file members of the House are even worse off, Rep. Jackie Speier (D-Calif.) said in a 2016 letter. While individual members of the Senate Intelligence panel are each given a designee, their counterparts on the House Permanent Select Committee on Intelligence aren't. Smithberger has previously advocated for each member of the House Permanent Select Committee on Intelligence, House Defense Appropriations Subcommittee and House Armed Services Committee to have a staffer with SCI clearance.
Smithberger said that amid increasing debates over the executive branch's willingness to provide information to lawmakers, "you're seeing more members wanting to stand up for Congress as an institution."
To contact the reporter on this story: Jack Fitzpatrick in Washington at jfitzpatrick@bgov.com
To contact the editors responsible for this story: Zachary Sherwood at zsherwood@bgov.com; Loren Duggan at lduggan@bgov.com
Stay informed with more news like this – from the largest team of reporters on Capitol Hill – subscribe to Bloomberg Government today. Learn more.