Cities Hope Congress Won't Sidetrack China Rail Car Deals (1)
Chinese state-owned firm accused of underbidding for business
Lawmakers target Chinese-backed companies in several bills
Cash-strapped U.S. transit agencies hope congressional action against China's rapid expansion into rail car manufacturing won't derail their attempts to buy needed new equipment cheaply.
Transit agencies in Los Angeles, Boston, Chicago and Philadelphia have all signed rail contracts worth hundreds of millions of dollars with Chinese state-supported CRRC Corp. Ltd., a company that's become a focus of lawmakers worried about national security threats from China.
The company has undercut its competition for contracts by hundreds of millions of dollars, critics say, coming in with bids 20 percent less than rivals in several cases and almost 50 percent cheaper than the highest bidder in at least one instance.
For transit agencies often obligated by their procurement processes to select the lowest bids, the choice of CRRC is both obvious and, in some instances, inevitable.
"We see this as the tip of the spear," Erik Olson, vice president for the Rail Security Alliance, said in an interview with Bloomberg Government.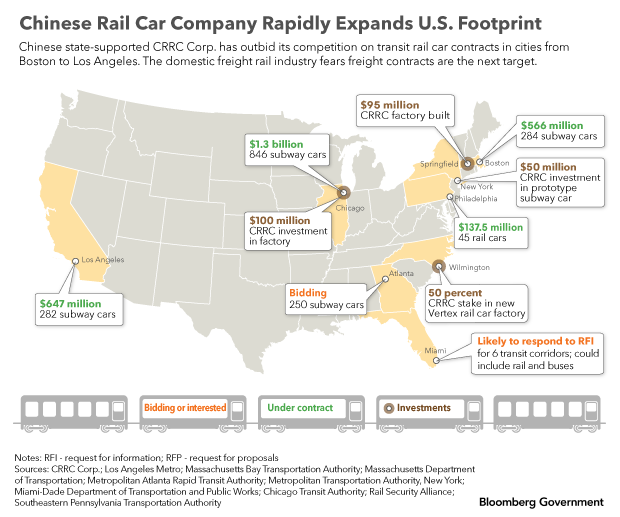 The U.S. freight rail industry believes CRRC's cut-rate bids are proof the company is focused on undercutting and ultimately supplanting the domestic industry, beginning with transit and moving onto freight. The industry has applauded language targeting state-owned companies in pending legislation in Congress.
As transit agencies and their lobbyists try to figure out what the sudden congressional attention could mean for their current and future rail car buying efforts, CRRC has its sights set on future contracts in Miami and New York, and is in the running for a contract in Atlanta.
State Support
CRRC is 85 percent owned by the Chinese government, according to data compiled by Bloomberg; another 2.5 percent is owned by a sovereign wealth fund. There are no brokerage, individual or corporate owners, according to Bloomberg.
"CRRC is a state-owned enterprise. They don't have to make money," RSA's Olson said.
The expansion into the American market furthers China's "One Belt, One Road" infrastructure effort. China seeks to forge new trade ties and establish the country as a new economic epicenter by spending $1.3 trillion by 2027 on rail, roads, ports and power grids, according to Morgan Stanley estimates.
The company does not hide its ambition: Its 2017 annual report said CRRC is working toward becoming "a world leading provider of systematic solutions for rail transportation equipment" having already "consolidated its position as the world's largest rolling stock supplier."
CRRC and its Massachusetts subsidiary did not respond to repeated requests for comment.
Congressional Concern
Lawmakers have heard passenger and freight rail companies' concerns and say they don't mind competition but also say other companies like CRRC are more concerned with long-term market dominance than short-term profits. They also say their products pose potential national security risks.
"All of us are full-throated supporters of competition and trying to get the best price, but you're dealing with, in essence, the Chinese state, who are very aggressive to not compete, but destroy the competition, to in essence have a monopoly," Rep. Mario Diaz-Balart (R-Fla.) told Bloomberg Government in a recent interview.
Rep. Kay Granger (R-Texas) orchestrated adding an amendment to the Diaz-Balart's Transportation-HUD spending bill (H.R. 6072) that would bar the use of Federal Transit Administration funds from going to projects that have contracts with CRRC.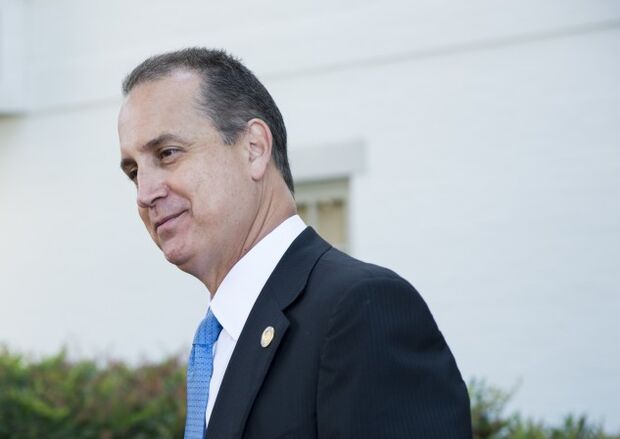 There is no domestic manufacturer of transit cars, but CRRC has won contracts over companies affiliated with traditional U.S. trading partners like Canada's Bombardier Inc., South Korea's Hyundai Rotem, and Japan's Kawasaki Heavy Industries Ltd..
In response to the national security concerns, the Senate defense policy bill (S. 2987) calls for a report on threats from Chinese state-owned rail cars and bus carriage companies. Lawmakers are working to finalize a compromise House-Senate defense bill soon and, in a related China trade issue, Bloomberg News reported bill negotiators agreed to drop a Senate provision that would have restored restrictions on Chinese telecom giant ZTE that were lifted by the Trump administration, citing three people familiar with the matter.
The rail car national security worries include "smart" freight cars that could monitor the transfer of hazardous materials and military supplies as well as WiFi-connected transit cars that could gather data from unsuspecting commuters.
"This is an area where, on top of just the industry, there's national security implications, which is why I think you're seeing bipartisan support about China," Diaz-Balart said. "It's an issue that we're going to have to deal with."
It's Complicated
Even if the two bills with CRRC provisions pending in Congress become law, they are limited in scope.
CRRC has structured its bids in such a way that some transit agencies forgo using any federal funds for their projects, so the Granger/Diaz-Balart language would not even apply.
Massachusetts, for example, took that route. State bonds fund the CRRC deal that would benefit Boston's Massachusetts Bay Transportation Authority (MBTA), which needed new rail cars, and western Massachusetts, which wanted the jobs a new manufacturing plant would offer.
"The MBTA is not using FTA funds for the purchase of its new Red and Orange Line cars," Joe Pesaturo, a spokesman for the Massachusetts Bay Transportation Authority, said in an email to Bloomberg Government.
CRRC has built a $95 million plant, trained U.S. workers in China, and received orders from other cities for cars that will be at least partially constructed in Massachusetts.
Rep. Richard Neal (D-Mass.), who represents the district where the new manufacturing facility was built, flagged the China language as worrisome to Appropriations Committee Democrats as the T-HUD bill was advancing out of committee.
"First, I think this is a trade issue and, secondly, my understanding is that that would not impact [the Springfield facility]" he told Bloomberg Government.
Los Angeles or Philadelphia both have contracts for new transit cars to be built in Massachusetts. It's unclear if the cities could use federal funds to purchase those cars, which the plant is banking on supplying.
Future Uncertain
Despite the uncertainty, some transit agencies have remained mum so far. Chicago's transit agency and the Chicago mayor's office did not respond to requests for comment. Others say they hope their contracts aren't affected.
SEPTA, the transit agency serving the Philadelphia area, believes it is in the clear because the agency awarded its contract in March 2017, long before the language appeared in the pending T-HUD bill.
SEPTA's multilevel railcar contract is part of the Philadelphia agency's capital budget, which is comprised of state, federal and local contributions. For the multilevel car project, the agency has $174 million budgeted with $40 million of that in federal funding, the balance being state or local contributions, the agency told Bloomberg Government.
"We do not believe the language affects previously awarded contracts. We are seeking further clarity to confirm our interpretation that Section 165 applies to the awarding of future contracts," the Philadelphia agency said in a response emailed to Bloomberg Government. "We would also note that the Senate T-HUD bill excludes this proposed provision."
Los Angeles' Metro is taking a similar approach.
"Metro is aware of the language in the bill, but has not had any discussions with FTA to confirm what, if any, impacts there would be to our existing contract with CRRC," Dave Sotero, a spokesperson LA Metro told Bloomberg Government in an email.
"If the language is adopted by both chambers of Congress and signed into law, Metro will work with FTA and CRRC to determine how the language will be implemented," he said.
For agencies, there is significant uncertainty in the congressional language. For instance: Does it apply to options in contracts for future rail car purchases? How broadly will federal transit officials interpret the language about being a state-owned entity—is the language based on ownership, or the board of directors, or where it operates?
Vaguely worded or not, for lawmakers worried about China, it's a start.
"There are other issues I would eventually like to look at," Diaz-Balart said. "This is a pattern for the Chinese regime. It's worrisome."
(

Updates with timing of defense policy bill, possible ZTE language in 17th paragraph; rewords first sentence in 18th paragraph

)
To contact the editors responsible for this story: Paul Hendrie at phendrie@bgov.com; Jonathan Nicholson at jnicholson@bgov.com; Brandon Lee at blee@bgov.com