Chokeholds, Tear Gas Targeted by Lawmakers After Protests (1)
(Updates with Iowa law signed and comments from Austin mayor and Cuomo.)
Bloomberg Government subscribers get the stories like this first. Act now and gain unlimited access to everything you need to know. Learn more.
Jolted by nationwide demonstrations over the death of George Floyd, police chiefs, mayors, city councils, and state legislatures are rushing to change the way law enforcement officers subdue suspects and protesters.
City councils in Charlotte, N.C., Berkeley, Calif., and Austin, Texas, have told their police to stop using tear gas for crowd control. Police departments in Miami, Denver, Phoenix, and Raleigh, N.C., have moved on their own to ban the use of chokeholds. The governors of New York and Iowa signed laws on Friday making chokeholds illegal, and more jurisdictions are considering doing the same.
"These protests are forcing elected officials to rethink the thousands of racist policies that got us to this point and try and undo them," Peniel Joseph, director of The LBJ School of Public Affairs' Center for the Study of Race and Democracy at the University of Texas at Austin, said in an email.
Floyd was killed in Minneapolis. The white officer who pushed his knee into Floyd's neck for almost nine minutes faces a second-degree murder charge.
City Leaders Push Police Oversight By Civilians After Protests
The largest police force in the Southeast announced this week that it's abandoning the "applied carotid triangle restraint," which cuts off blood flow to the brain.
"As a progressive agency, we must remain in a constant state of review and open to emerging best practices and community feedback," Miami-Dade Police Director Alfredo Ramirez said in a statement posted to his Twitter account.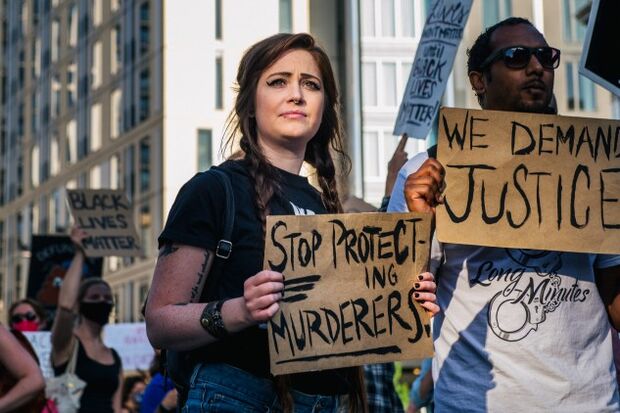 The decision was prompted by community feedback and recommendations from policing professionals, Ramirez said.
"I hope everybody understands there needs to be more transparency and accountability of law enforcement," Massachusetts Gov. Charlie Baker (R) said Thursday while announcing plans to introduce policing legislation. "There needs to be checks and balances."
Gov. Gavin Newsom (D) has said he'll sign a bill advancing in the California State Assembly to ban the "applied carotid triangle restraint" technique. Bans on the use of chokeholds, among other new requirements for police officers, have been approved this month by the Colorado Senate, Houston's mayor, and the city councils of Minneapolis and Austin, Texas.
'Nobody Should Be Afraid'
"I don't believe in defunding or abolishing police, but I do believe we need really basic revamping of our policing model," Austin Mayor Steve Adler said in an interview Friday. "Nobody should be afraid when a police car pulls up behind them."
Minnesota Gov. Tim Walz (D) called a special session of the state legislature on Friday to consider deadly force and accountability standards statewide.
New York Gov. Andrew Cuomo (D) on Friday signed the "Eric Garner Anti-Chokehold Act," named for a black man who died in 2014 after being put in a chokehold by a New York City Police officer.
Cuomo also issued an executive order requiring local governments and police agencies to develop plans to address the use of force by officers, community policing, and implicit bias awareness training, by April 1, 2021, or risk losing state funding.
"We're not going to fund police agencies in this state that do not look at what has been happening, come to terms with it, and reform themselves," Cuomo said at a news conference. "We're not going to be, as a state government, subsidizing improper police tactics."
Tear Gas Challenges
Meanwhile, police face legal and political pressure to stop spraying protesters with tear gas.
Portland Police Bureau officers who used chemical irritants on people attempting to comply with orders to leave the scene of a demonstration "may have been substantially motivated by an intent to interfere with (protesters) constitutionally protected expression," U.S. Dist. Judge Marco Hernandez of the District of Oregon said in issuing a temporary restraining order.
That order blocks the agency from using tear gas to disperse crowds "where there is no or little risk of injury" for 14 days.
The city councils of San Francisco; Charlotte, N.C.; Berkeley, Calif.; Austin, Texas; and San Jose, Calif., all have moved to ban using or purchasing chemical agents for crowd control purposes, at least temporarily.
The Seattle Police Department has limited the use of tear gas to SWAT officers during demonstrations.
A national lobbying group representing police and law enforcement officers has pushed back at federal legislative proposals to ban chokeholds, among other actions.
Those reforms "would put officers and the public at greater risk of harm as they are currently written," William Johnson, executive director and general counsel for the National Association of Police Organizations, said in a June 5 newsletter.
Disciplinary Reform
Larger policy changes, especially in the disciplinary review process, should address officers using racial slurs or stopping people without cause, University of St. Thomas School of Law Professor Rachel Moran said in an interview. Banning chokeholds without making additional changes would be "better than a solidarity statement, but it's insufficiently imaginative," Moran said.
"It's bigger than what kind of neck restraint you use. We should at least be able to agree that the ones misusing force, or being accused of misconduct on a regular basis, should not be able to stay on the police force," Moran said.
For example, she noted the Minneapolis officer charged in Floyd's death was the subject of 18 previous complaints.
Cuomo and Wisconsin Gov. Tony Evers (D) have suggested that criminal justice reforms should extend beyond policing to education, health care and employment policies.
The U.S. Conference of Mayors created a working group to develop recommendations for addressing police violence and patterns of racial discrimination.
"The recent killings of innocent black people have highlighted once again that there is much work to do with revising and improving the policies and practices of our police departments. We must do better, and we must start this work immediately," saidBryan K. Barnett, the conference's president and mayor of Rochester Hills, Mich., said in a statement.
With assistance from Keshia Clukey, Stephen Joyce, Paul Stinson, Paul Shukovsky, Tripp Baltz, Brenna Goth, Adrianne Appel, Joyce E. Cutler, and Andrew M. Ballard
To contact the reporter on this story: Jennifer Kay in Miami at jkay@bloomberglaw.com
To contact the editors responsible for this story: Katherine Rizzo at krizzo@bgov.com; Heather Rothman at hrothman@bgov.com
Stay informed with more news like this – from the largest team of reporters on Capitol Hill – subscribe to Bloomberg Government today. Learn more.