China, Asia Trade Top Agriculture Industry List for Biden Pick
Californian Trevino tapped to be USTR agriculture negotiator
'Left behind' producers want to pry open Pacific Rim markets
Bloomberg Government subscribers get the stories like this first. Act now and gain unlimited access to everything you need to know. Learn more.
Improving U.S. trade with Asian nations, particularly China, is the top priority for American food exporters as President Joe Biden's nominee for chief agricultural trade negotiator heads for Senate confirmation.
"We are being left behind while the rest of the world has negotiated new business deals," said Peter Bachmann, vice president of international trade policy at USA Rice Federation.
The agriculture industry wants to build on the U.S.-China phase one trade deal the Trump administration negotiated. Pork producers and family farmers are also looking to Pacific Rim nations, aiming to join an existing trade agreement with those countries.
Biden's nominee to the post within the U.S. Trade Representative's Office, Elaine Trevino, is a former deputy secretary in the Department of Food and Agriculture in her home state of California, the nation's largest agricultural exporting state. Currently, she's president of the Almond Alliance of California.
The Senate Finance Committee has yet to schedule her nomination hearing.
For the agriculture industry, Trevino represents an opportunity to use trade for further recovery from the economic disruptions caused by the Covid-19 pandemic. If confirmed, she would be the first woman of color in the post.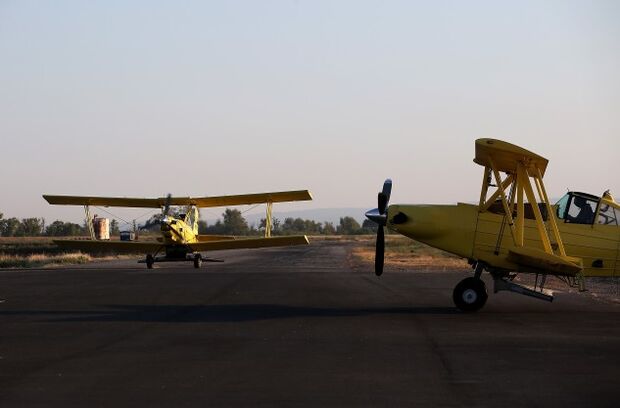 China
An expansion of the phase one agreement with China would benefit farmers and ranchers, said American Farm Bureau Federation President Zippy Duvall. The U.S. and China signed the deal in January 2020, bringing a detente to the trade war the Trump administration launched in 2018.
The Biden administration is now putting its own mark on the agreement, with Ambassador Katherine Tai at the helm. While the deal stabilized American agricultural exports, Tai recently pointed to shortfalls, such as a shrinking market share.
The agreement permitted market access for new U.S. horticultural products, including avocados, blueberries, and nectarines, the Agriculture Department reports. However, American farmers still see rising competition from Chinese fruit, the agency said.
Biden Team Weighs China Trade Probe in Bid to Press Beijing
The deal also gave rice growers more export opportunities into China, where about 30% of the world's supply is produced, the USDA reports. The department estimated that the move could eventually result in $300 million a year for U.S. rice growers.
The rice industry is looking to level the playing field with China. Trevino needs to work on behalf of commodities affected by U.S. wins in World Trade Organization cases against the Chinese and "hold them accountable," Bachmann of USA Rice said in a statement.
The U.S. brought 27 dispute settlement cases against China and won every decided case, Ambassador Tai said.
"Still, even when China changed the specific practices we challenged, it did not change the underlying policies, and meaningful reforms by China remained elusive," she said.
China needs to make structural changes to its tariff-rate quote rules, Bachmann said. "This will help lay the groundwork for a case against the bigger bad actor, India," he said.
American seafood exporters also see a threat.
They "have lost competitive market access in multiple major markets, including Japan and China, and have zero access – none – to Russia," said Robert DeHaan, vice president of government affairs at the National Fisheries Institute.
U.S.-China Trade Booms as If Virus, Tariffs Never Happened
Pacific Rim
More broadly, agricultural producers are seeking workarounds after President Donald Trump pulled out of the Trans-Pacific Partnership in 2017. Eleven other countries, including Australia, Japan, Singapore, and Vietnam, signed onto a revised version — the Comprehensive and Progressive Agreement for Trans-Pacific Partnership — in 2018.
"We hope that USTR engages in trade conversations in all those countries to push our products forward across the Pacific" in the short term, said Dennis Nuxoll, vice president of federal government affairs at the Western Growers Association.
His group, which represents family farmers in Arizona, California, Colorado, and New Mexico, backed TPP.
Had the U.S. joined the agreement, it would have made up more than 30% of the world's gross domestic product, the Institute for Government, a U.K.-based think tank, reports. Instead, it represents about 13%.
Whether Biden will seek to rejoin remains to be seen. Trade groups, including the National Pork Producers Council, are pressing him to do so. China and Taiwan recently submitted their applications to join.
The U.S. Can't Be Smart on China Without Talking Trade
EU, Mexico
Industry groups also are eyeing a prospective deal with the European Union — and potential hurdles it may bring.
Nuxoll of Western Growers contests the EU's push for more sustainable agriculture.
"While all producers in our sector strive to grow food using less environmentally impactful means, the reality is we also need to feed people," he said. "That means the use of technology to grow more using less, but many of Europe's proposed policies on agriculture don't seem to allow for that."
Trade partners, such as Mexico, also present barriers. Trevino should turn her attention to Mexico's proposed ban on corn from genetically-engineered seeds, North American Millers' Association President Jane DeMarchi said.
"If such a ban were to be enforced, U.S. exports of corn and processed corn products would be severely restricted, impacting not just U.S. growers and processors, but ultimately, Mexican consumers," she said in a statement.
Biden Trade Chief Visits Mexico in Bid to Deepen Integration
'Team of Politicals'
Trevino is "a much-needed voice for agriculture amongst the team of politicals at USTR," Bachmann of USA Rice said. "We have been working with the great team of career staff over the last 10 months but there's a bottleneck before issues can reach the Trade Representative's desk."
As deputy state food and agriculture secretary in California, Trevino oversaw international export and trade programs, specialty crop block grants, division of marketing services, plant health and pest prevention, and the statewide county fair network, the USTR office said in a statement .
She also sits on the USDA's Agricultural Policy Advisory Committee.
Trevino, awaiting her confirmation hearing, wasn't available for comment.
To contact the reporter on this story: Megan U. Boyanton in Washington at mboyanton@bgov.com
To contact the editors responsible for this story: Fawn Johnson at fjohnson@bloombergindustry.com; Robin Meszoly at rmeszoly@bgov.com; Sarah Babbage at sbabbage@bgov.com
Stay informed with more news like this – from the largest team of reporters on Capitol Hill – subscribe to Bloomberg Government today. Learn more.