Cheney Vote in House Unveils Republicans' 2022 Turnout Priority
House GOP voting on whether to oust conference chair
Trump retains popularity, fundraising draw in party
House Republicans say Wednesday's vote to remove Rep. Liz Cheney from leadership is about fostering a unified message before the 2022 midterms. But it's also about the relationship between President Donald Trump and House GOP leaders, who view the former president as a critical ally in taking back the House.
The party's move follows Trump calling the Wyoming Republican "a warmongering fool who has no business in Republican Party Leadership" and Cheney writing in a Washington Post op-ed that her party's embrace of Trump's false claims that the election was stolen "will do profound long-term damage to our party and our country."
It signals House Minority Leader Kevin McCarthy's (R-Calif.) belief that appealing to Trump and his supporters is how to win in 2022, said Scott Jennings, a Republican campaign adviser.
"That's the bet McCarthy has made," Jennings said. "He needs Trump in the tent pissing out, and not out of the tent pissing in."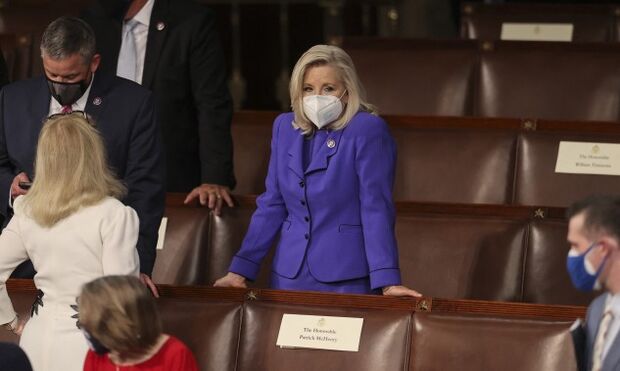 From his Mar-a-Lago resort, Trump has continued to hold fundraisers and donor retreats. His Save America PAC had more than $80 million after the first quarter, according to Trump adviser Jason Miller. He's also doled out endorsements to incumbents and candidates, including Susan Wright, who advanced to the special election runoff to succeed her late husband in Texas' 6th District.
Republican voters are still overwhelmingly loyal to Trump. In a Reuters/Ipsos poll last month, 45% of Republicans said they held a "very favorable" view of Trump, compared with 22% who said the same for Sen. Ted Cruz (R-Texas) and 4% for Senate Minority Leader Mitch McConnell (R-Ky.).
Former GOP Rep. Joe Walsh (R-Ill.), a Trump critic who briefly ran for president last year, said ousting Cheney "is only going to further fire up the base for the Republican Party."
"This was an easy bone to throw at Trump," Walsh said.
Unity At The Top
House Republicans have said their opposition to having Cheney in leadership has nothing to do with Trump, citing the February vote she won to remain conference chair after she supported the president's impeachment. Lawmakers say the vote is instead about the need to have a unified message.
"Where we disagree, I do my best not to create conflict," said a Republican congressman who asked to speak anonymously given the sensitivity of the topic. "Anything not focused on retaking the majority is a distraction and an inappropriate use of time and resources."
Rep. Adam Kinzinger (R-Ill.), who has also publicly refuted Trump's claims the election was rigged, said the issue his colleagues face is squaring Cheney's comment with their constituents' beliefs. About 55% of Republicans said in the Reuters/Ipsos poll that they believe the election was stolen. That leaves rank-and-file Republicans in a tight spot when their conference chair says the election was legitimate, and as they prepare to run for re-election during a cycle when redistricting is delayed.
"Cheney is making it uncomfortable for them, because when she's asked about it, she doesn't dance around. She just says the election wasn't stolen," Kinzinger said. "That gins up your local media again. You're going to have to answer that."
Kinzinger also said that if anyone is breaking up unity in the party, it's Trump for continually saying he should have won the 2020 election.
The relationship between the former president and his party hasn't been without hiccups. In March, Trump sent the GOP's major congressional campaign committees cease-and-desist letters for using his name or image to raise money, a position later reversed. And Trump has endorsed a primary challenger to Rep. Anthony Gonzalez (R-Ohio), one of the 10 House Republicans who voted to impeach him.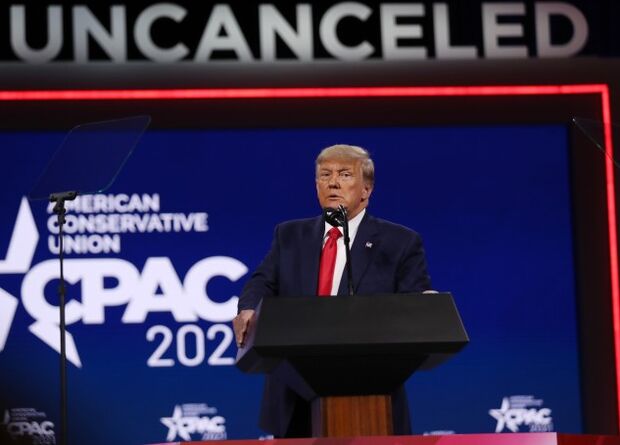 Out in the Suburbs
Democrats know that the combination of a historically slim majority, being in power in the White House, and an unfavorable redistricting cycle make keeping House control a challenging prospect.
So the party hopes to take advantage of the infighting by contrasting Wednesday's vote to remove Cheney from leadership with the lack of consequences for other Republicans, including Reps. Marjorie Taylor Greene (R-Ga.), who promoted conspiracy theories, and Matt Gaetz (R-Fla.), who is being investigated by the Justice Department for a sexual relationship with a minor.
"It seems like the only way to get ahead over there is to be a dangerous liar, accused sexual predator, or perpetrator of white supremacist ideology," Democratic Congressional Campaign Committee
Chair Sean Patrick Maloney said in a statement.
A House GOP leadership swap will be long forgotten by voters come November 2022. But the move indicates that even with Trump out of office the party is still shifting its voter targeting away from those who, like Cheney, have conservative values and views but aren't fans of the former president.
Those voters aren't the bulk of the GOP's base and not as critical for midterms, said Sarah Longwell, executive director of the Republican Accountability Project, an anti-Trump conservative group.
"This is not uncalculated on the Republicans' part," Longwell said. "They're looking at numbers and they're saying, 'We're going to make a trade. We think with a party that makes moves like excise Liz Cheney, that we can keep this new MAGA coalition.'"
Republicans also proved in 2020 they could win without Trump supporters, said National Republican Congressional Committee spokesman Michael McAdams. Nine Republicans won districts in November that Trump lost.
"If anyone has a problem with moderate voters, it is House Democrats," he said in a statement.
Still, Republican strategist Doug Heye said party leaders weren't only taking a "very real risk" of isolating some voters, but also "making a deal with the devil" in aligning themselves with Trump.
"I would remind Republicans who are constantly trying to pick up points with Donald Trump: Donald Trump doesn't give points, he only takes them away one at a time," he said.
To contact the reporter on this story: Emily Wilkins in Washington at ewilkins@bgov.com
To contact the editors responsible for this story: Kyle Trygstad at ktrygstad@bgov.com; Bennett Roth at broth@bgov.com