Cawthorn's Redistricting Pivot Is Tested: Ballots & Boundaries

Madison Cawthorn gets a report card today from the North Carolina district he sought to ditch.
The first-term Republican is on the primary ballot in the far western 11th District, where his personal and ethical conduct and feuds with North Carolina GOP officeholders could lead to his ouster or pull Cawthorn into a runoff.
The race also is one where a politician pivoted as a result of redistricting. Cawthorn announced last November he would seek re-election in a more Republican-friendly congressional district closer to Charlotte. Just 12% of the people in that proposed district were Cawthorn's constituents. North Carolina ended up with a different map, prompting Cawthorn to backtrack and return to his current district in the Blue Ridge Mountains.
The top vote-getter in the eight-candidate race needs more than 30% of the vote for outright victory.
Other House incumbents to watch todayinclude seven-term Oregon Democrat Kurt Schrader, who faces liberal challenger Jamie McLeod-Skinner in a significantly redrawn district. Areas new to Oregon's 5th District include most of Deschutes County (Bend), where McLeod-Skinner won votes in the 2018 election when it was in the 2nd District. — Greg Giroux
(Was this newsletter forwarded to you? It's free. SUBSCRIBE )
NEW YORK: ALMOST FINAL
New York's just days away from having congressional district lines in place for the next decade.
People have until tomorrow to comment on a draft map, and the state Supreme Court in Steuben County is working against a Friday deadline to complete the process.
Recommendations from the court-appointed special master hit the congressional delegation like a bolt of lightning because the proposal would pit senior Democrats against each other. Read more: New York Court Expert Proposes More Republican-Friendly Map — Keshia Clukey
MISSOURI: 6-2 COMPROMISE
A congressional map designed to extend a 6-2 Republican advantage in Missouri's delegation finally is headed to Gov. Mike Parson's desk. Parson (R) said he'll act fast on the GOP-drawn map, given election officials need time to prepare for the Aug. 2 primary under the new lines.
The plan would revise the 2nd District of Rep. Ann Wagner (R) such that it would have supported Donald Trump over Joe Biden by 8 percentage points in the 2020 election, compared to a virtual tie under the current lines. That bodes well for her re-election this November, though the 2nd could again become competitive by the end of the decade if suburban St. Louis County continues to trend Democratic.
The map also kept Whiteman Air Force Base and Fort Leonard Wood in the 4th District, making it likely that Rep. Vicky Hartzler's successor will land on the Armed Services Committee in the 118th Congress. Hartzler (R) is running for Senate.
Though Republicans have the governorship and decisive majorities in the legislature, the redistricting process was prolonged by a bloc of strongly conservative senators who demanded a 7-1 map that would have dismantled the Kansas City-based 5th District of Rep. Emanuel Cleaver (D). — Greg Giroux

NEW HAMPSHIRE: SUNUNU REVIEW
Gov. Chris Sununu is vetting the latest congressional map from his fellow New Hampshire Republicans.
The two-district map produced by a House-Senate conference committee would shift Manchester, New Hampshire's most populous city and the hometown of 1st District Rep. Chris Pappas (D), into the 2nd District of Rep. Annie Kuster (D).
The changes would make it easier for Republicans to capture the 1st but harder to win the 2nd. The New Hampshire Supreme Court is preparing to implement a minimal-change map if the legislature and governor can't agree before the candidate qualifying period begins June 1. — Greg Giroux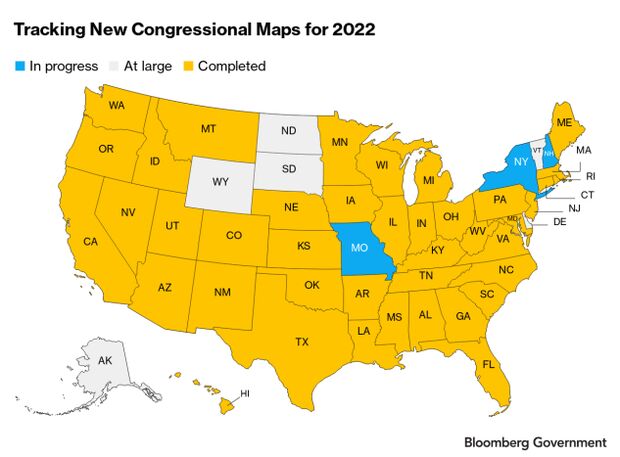 FLORIDA: LITIGATION
A redistricting plan preserving a minority-access congressional district stretching across North Florida is back in play for the midterm elections, after a state judge lifted an automatic stay that would have left in place a map drawn by Gov. Ron DeSantis's office.
The stay was triggered by the state's appeal of the judge's order to replace a plan that erased Florida's 5th Congressional District. The state will ask an appeals court to again block the replacement plan, and the case could be fast-tracked to the Florida Supreme Court. — Jennifer Kay
MICHIGAN: DIFFERENT LEGISLATION PLEASE
Secretary of State Jocelyn Benson says Michigan could use some election-law changes, just not the kind the legislature's been offering.
For instance, lawmakers could pass a bill allowing election administrators to pre-process absentee ballots (which is done in Florida and Ohio) or beef up criminal penalties for election official harassment, Benson (D) said at a press conference today.
"Rather than continuing to spread misinformation with legislation and proposals that are in search of non-existent problems, it is time for our allies, and teammates I hope, in the Legislature to do the peoples' work and pass nonpartisan election policies that serve all voters on both sides of the aisle," she said. — Alex Ebert
WISCONSIN: PAUSE BUTTON
An investigation into the 2020 election in battleground Wisconsin will be paused while five lawsuits play out.
Payday will continue, though, for the former state Supreme Court justice leading the probe. Assembly Speaker Robin Vos merely reduced the monthly salary to $5,500 from $11,000. — The Associated Press
MINNESOTA: CAMPAIGN THREAT
The campaign platform of a gubernatorial candidate in Minnesota includes a threat to investigate the chief elections officer.
Former Minnesota Sen. Scott Jenson contends that Secretary of State Steve Simon violated state law by extending the voting period and relaxing a signature requirement for absentee ballots. Simon, secretary of state since 2015, is running for re-election this year. — Stephen Joyce
Ballot Initiatives
MICHIGAN: PENCE PUMPS PETITIONS
Former Vice President Mike Pence is headlining an event today backing efforts to shift roughly $500 million in state personal income tax revenue to private education.
The Let MI Kids Learn campaign has until June 2 to submit roughly 680,000 valid signatures—about 340,000 for each of two petitions. If they clear that bar the GOP-controlled Michigan Legislature can avoid a veto by Gov. Gretchen Whitmer (D) and adopt the petition package (S.B. 687 and S.B. 688) granting parents income tax credits for religious or other private education tuition. — Alex Ebert
OHIO: POT DEAL
Recreational marijuana legalization could be on the ballot next year in Ohio.
Regulate Marijuana Like Alcohol announced a deal to ensure the proposal comes before the Ohio Legislature on Jan. 3, 2023—the first day of the next legislative session. That gives the GOP-controlled Legislature, which generally has opposed recreational pot, time to either approve legalization or require that signatures be gathered for a potential statewide vote in November 2023.
The industry-backed campaign says its proposed 10% excise tax would add more than $400 million annually to state coffers. — Alex Ebert
Caught Our Eye
Finished Maps
Alabama|Arizona | Arkansas | California| Colorado |Connecticut | Florida| Georgia |Hawaii| Idaho | Illinois | Indiana | Iowa | Kansas | Kentucky |Louisiana| Maine | Maryland | Massachusetts | Michigan | Minnesota | Mississippi |Montana | Nebraska | Nevada | New Jersey | New Mexico | North Carolina |Ohio| Oklahoma | Oregon | Pennsylvania | Rhode Island |South Carolina |Tennessee| Texas | Utah | Virginia|Washington | West Virginia | Wisconsin
More Resources
Add Us to Your Inbox
Click HERE to sign up for Ballots & Boundaries, your check-in on redistricting, state voting laws, and initiatives.
To contact the reporters on this story: Greg Giroux in Washington at ggiroux@bgov.com; Jennifer Kay in Miami at jkay@bloomberglaw.com; Keshia Clukey in Albany, N.Y. at kclukey@bloomberglaw.com; Alex Ebert in Madison, Wisconsin at aebert@bloomberglaw.com; Stephen Joyce in Chicago at sjoyce@bloomberglaw.com
To contact the editor responsible for this story: Tina May at tmay@bloomberglaw.com