Cash Edge Boasted by GOP Committees as 2022 Senate Races Start
NRSC, McConnell-aligned super PAC outraised counterparts
Incumbents reveal initial cash-on-hand figures for this cycle
Senate Republicans and their allies began the 2022 election cycle with a fundraising advantage over Democrats and related groups, who ended the year in debt after investing in two Georgia seats that won them the majority.
The Senate Leadership Fund, a Republican super PAC aligned with Minority Leader Mitch McConnell(R-Ky.), had $5.2 million in net cash on Jan. 1, while Senate Majority PAC, aligned with Majority Leader Chuck Schumer (D-N.Y.), began the year with net debts of $4.6 million.
The National Republican Senatorial Committee had $5.4 million in net cash, while the Democratic Senatorial Campaign Committee, began the year with $10.2 million in net debts.
"The numbers speak for themselves," SLF spokesman Jack Pandol said Monday in an email, declining to comment further.
Republicans hope to claw the Senate back next year after Democrats secured control in the 50-50 chamber thanks to Joe Biden winning the presidency and Vice President Kamala Harris breaking tie votes.
The early cash advantages come after Democratic candidates were dominant in 2020 fundraising, while the GOP groups led their counterparts. SLF raised $475 million and the NRSC raised $338 million in the last election cycle, while on the Democratic side, SMP raised $372 million and the DSCC brought in $304 million.
The Democratic super PAC received a bank loan in late November to help cover the costs of its efforts in the Georgia Senate runoffs won by Democratic Sens. Jon Ossoff and Raphael Warnock.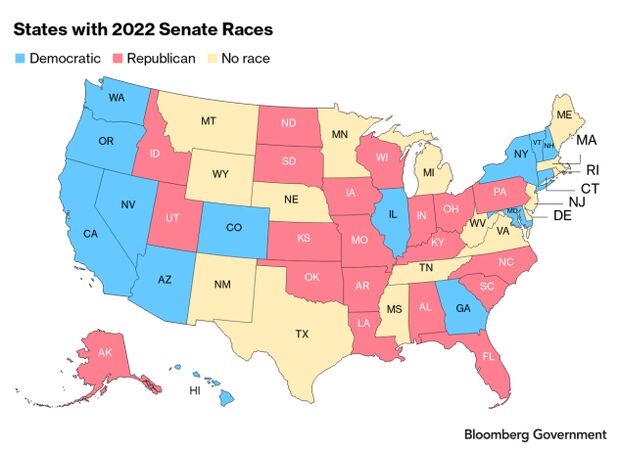 Big Republican donors led by Las Vegas Sands casino owner Sheldon Adelson, who died in January, gave tens of millions to the McConnell-aligned super PAC and other Republican groups in 2020, helping to minimize GOP losses in key Senate races. Democrats also got money from big donors, including financier George Soros, who provided $10 million to the Schumer super PAC.
Meanwhile, Democratic Senate candidates took in more than $1.2 billion collectively last cycle, compared to about $850 million for Republicans, according to FEC filings summarized on the commission website. Democrats were aided in small-dollar fundraising by opposition to former President Donald Trump and by the established internet fundraising platform ActBlue.
"Despite Mitch McConnell's mega-donor allies dumping unprecedented sums of money into their network of Super PACs, grassroots fundraising fueled by small-dollar donors helped deliver the majority and has never been more crucial for the DSCC and Democratic candidates," DSCC spokesman Stewart Boss said in an emailed statement.
Incumbent Cash
At the start of the 2022 cycle, Sen. Ron Johnson (R-Wis.) had only $560,000 in cash on hand as of Dec. 31. Johnson has yet to announce whether he'll run for re-election, but if he does he'll be among the most vulnerable incumbents after Biden carried his state.
Other Republicans who haven't announced their re-election plans include Chuck Grassley of Iowa, who had $1.8 million on hand, and Roy Bluntof Missouri, who had $1.7 million.
Among those expected to run and face potentially competitive races, Sens. Marco Rubio (R-Fla.) and Catherine Cortez Masto (D-Nev.) had $3 million each. Sen. Mark Kelly (D-Ariz.), who raised $101 million on the way to winning a special election last year, had $1.4 million to run for a full Senate term next year.
Schumer, who could face a spirited primary challenge next year, had $10.3 million.
To contact the reporter on this story: Kenneth P. Doyle in Washington at kdoyle@bgov.com
To contact the editors responsible for this story: Bennett Roth at broth@bgov.com; Kyle Trygstad at ktrygstad@bgov.com