Capitol Hill Players to Watch During Silicon Valley Bank Fallout
Partisan splits emerge on response
Hearings expected, legislation possible
Bloomberg Government subscribers get the stories like this first. Act now and gain unlimited access to everything you need to know. Learn more.
Congress is grappling with the fallout from the collapse of Silicon Valley Bank and Signature Bank, with a handful of lawmakers poised to influence the debate on Washington's response.
Here are seven lawmakers to watch as Capitol Hill addresses the largest banking crisis in 15 years.
Sherrod Brown
Senate Banking Chair Sherrod Brown (D-Ohio) is already calling for his committee to hold hearings "sooner rather than later" into the collapse of the Silicon Valley Bank.
Brown doubts a divided Capitol Hill will be able to pass laws tightening federal regulations. Instead, he plans to push federal regulators to act on their own to expand oversight, including enhanced stress tests, and has called for a pause in interest rates hikes by the Fed amid the collapse of the two banks.
The third-term senator, who faces a competitive re-election next year in a Republican-leaning state, has sought to blame the GOP and its allies on Wall Street and in the banking industry for having little interest in strengthening standards for banks.
Read More: Brown Urges Fed to Tighten Bank Rules With Congress Gridlocked
Tim Scott
Sen. Tim Scott (R-S.C.), the top Republican on Senate Banking, is taking a stand against insuring that all deposits at both banks are fully guaranteed by the federal government, a move he's derided "as crony capitalism."
"The most sophisticated investors are now going to have the insulation of the federal government. That is problematic," Scott said on Fox News over the weekend. He said failures by the Federal Reserve, lax federal oversight and poor bank management caused the collapse.
Scott has also said there should be "transparency and accountability" after the collapse but that "a culture of government intervention" could create a moral hazard and encourage more risky banking decisions.
Scott, a potential candidate for president next year who ascended to the top Republican slot on Banking only this year, could use his opposition to a bailout to appeal to GOP primary voters.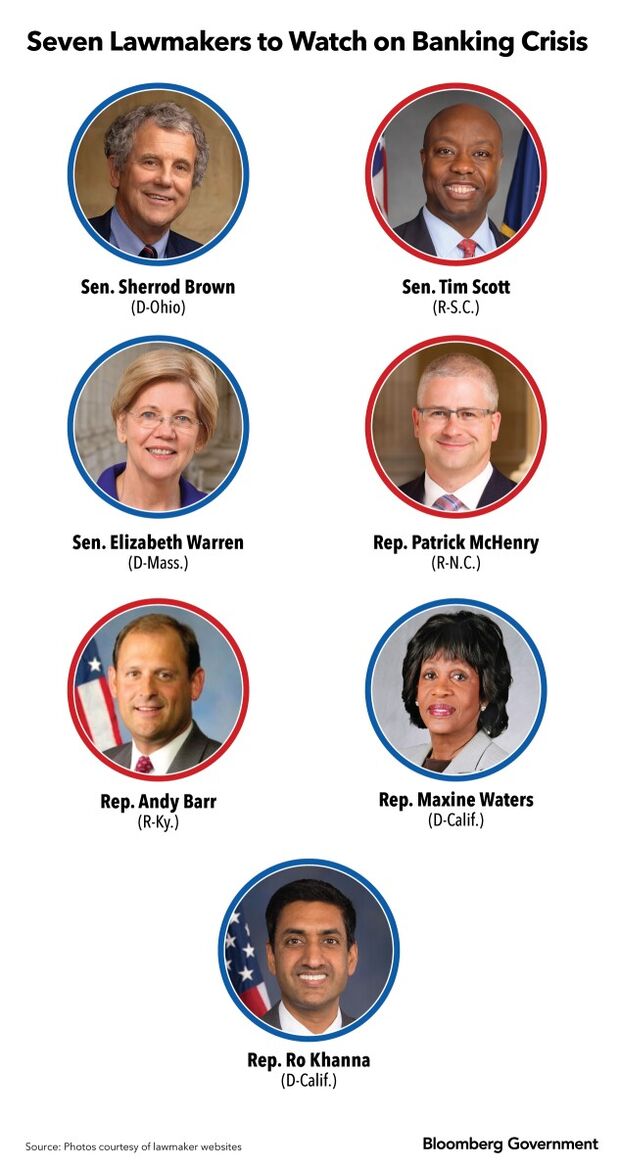 Elizabeth Warren
Sen. Elizabeth Warren (D-Mass.), who rose to national prominence by taking on banks amid the 2008 economic crisis, is a leading progressive who is calling for a sharp increase in government regulation again.
"Obviously we need to change the regulations and we need to do it fast," said Warren, who has already introduced a bill to reverse a 2018 law that loosened standards for federal banking regulation.
Unlike Brown who wants to work with the Fed, Warren has renewed her critique of Federal Reserve Chairman Jerome Powell and wrote to SVB CEO Gregory Becker on Tuesday demanding details of the bank's lobbying more than five years ago to roll back regulations on mid-sized banks.
"I wish I had been wrong," Warren told Bloomberg Government, referring to her 2018 dire warnings about rollbacks.
Read More: Warren Calls on Powell to Recuse Himself From Fed's SVB Review
Patrick McHenry
House Financial Services Chair Patrick McHenry (R.N.C.) is aiming to remain above the partisan fray as he eyes
hearings on banks, regulators and any potential legislation relating to the collapses.
McHenry, a close ally of Speaker Kevin McCarthy (R-Calif.) who claimed the committee gavel this Congress, urged members to "remain levelheaded and look at the facts" in a statement over the weekend, and projected confidence in financial regulators and current protections.
So far, he's stood by the Biden administration's moves to prevent a larger banking crisis, a likely nod to his Charlotte-based district that is home to many financial services firms.
McHenry has sought to deflect blame from the banks by partially blaming the crisis on social media, saying online posts raised concerns over the banks and encouraged investors to pull out their savings. He called the banks failure the "first Twitter fueled bank run."
Andy Barr
Kentucky Republican Andy Barr, a senior member of the Financial Services Committee, is emerging as one of the House's most vocal critics of banking regulation and wants to tie the bank failure to Biden's economic policies.
Barr, the chair of House Financial Services Subcommittee on Financial Institutions and Monetary Policy, which oversees bank regulators including the Federal Deposit Insurance Corporation, believes the crisis resulted from lax oversight and he does not see a need for more regulation.
He partly blames poor supervision by the San Francisco Federal Reserve, a regulator conservatives have argued leans left .
He's also voiced another conservative criticism: the Silicon Valley Bank was too focused on initiatives like diversity, inclusion and ESG investments rather than running day-to-day bank management.
Maxine Waters
Top Financial Services Democrat Maxine Waters will be among the most outspoken lawmakers in blaming Republicans and their 2018 deregulatory push for the bank failures.
"[Republicans] were absolutely pleased that they were deregulating, and I think that is something that really has helped to cause a lack of…oversight," the Californian told Yahoo Finance this week.
Waters has said she is open to new regulations and expects the committee to hold hearings into the collapse. She also is standing by the Biden administration for protecting the banks' customers.
Republicans are likely to highlight that Waters received a $2,500 donation from a Political Action Committee associated with SVB in 2020. She said this week she is returning the donation and noted she opposed their deregulatory push in 2018.
Ro Khanna
Rep. Ro Khanna (D-Calif.) has a unique connection to Silicon Valley Bank – it's in his district. Still, the progressive lawmaker found himself at odds with the bank when he voted against relaxing regulations in 2018.
Khanna said in a tweet that medium-sized banks like Silicon Valley "managed to avoid stress tests/liquidity and capital requirements that could have prevented this predictable disaster."
He's called for the government to claw back the $3.6 million in stock Becker sold just before the collapse.
Khanna, who has not ruled out a California Senate run, could highlight his willingness to buck a Silicon Valley bank and its CEO to stress his progressive bona fides if he were to enter the race.
Seemeen Hashem in Washington, DC also contributed to this story.
With assistance from Laura Litvan
To contact the reporters on this story: Emily Wilkins in Washington at ewilkins@bgov.com; Zach C. Cohen in Washington at zcohen@bloombergindustry.com
To contact the editors responsible for this story: George Cahlink at gcahlink@bloombergindustry.com; Bennett Roth at broth@bgov.com
Stay informed with more news like this – from the largest team of reporters on Capitol Hill – subscribe to Bloomberg Government today. Learn more.