Cannabis Going on the Ballot in California's Wine-Growing Valley
Commercial pot operations would be permitted, taxed
Farm Bureau promises to fight March 3 ballot initiative
The combination of climate, water and soil that makes Napa Valley Cabernet Sauvignon so popular may also be right for growing cannabis on a large scale, if voters allow commercial marijuana growing.
Backers of an initiative to permit pot growing gathered sufficient signatures to place on the March 2020 ballot an initiative that would force the county to permit commercial growing.
The Napa County Board of Supervisors, after reviewing a report about permitting commercial pot growing in the famed wine growing region, on Aug. 20 approved placing the initiative on ballot.
Supervisors were limited to three actions: adopt the initiative as an ordinance, submit the ordinance without alteration to voters, or order a report under Section 90111 of the Election Code to analyze the measure's potential impacts.
The initiative comes three years after Californians approved recreational marijuana. County supervisors said they had bigger priorities, including recovery efforts from deadly wildfires, to contend with instead of dealing with commercial pot operations in the famous wine-growing region.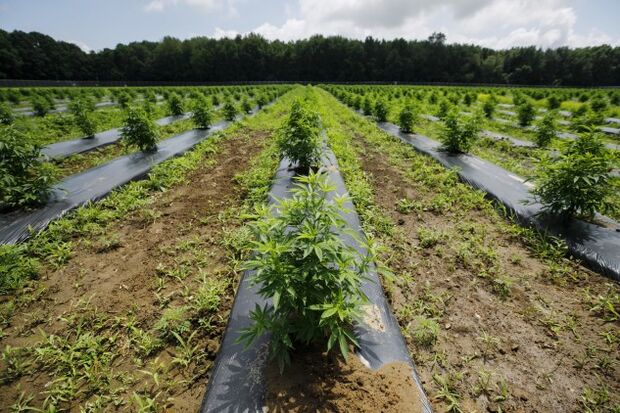 If approved, the ballot issue designated Measure J would revise Napa County's definition of "agriculture" to include commercial cannabis cultivation.
The local government would be required to allow as a matter of right or permit commercial cannabis businesses within the unincorporated parts of the county. The initiative would tax commercial cannabis activity at a rate of $1 per square foot of canopy for outdoor cultivation, $2 per square foot for mixed-light cultivation, and 3.5% of gross receipts for all other commercial cannabis activities.
The Napa Valley Cannabis Association, which backs the initiative, includes board members from the wine industry.
"Cannabis will not replace the wine business by any means but it will be a good compliment to it," said Stephanie Honig of the Honig Vineyard & Winery in Rutherford, Calif. "It's a high value agricultural crop that will take up a small foot print (up to 1 acre per parcel 10 acre parcel). It will add value to properties that are not ideal for wine grapes in Napa County and it will prevent us from having a monoculture. "
Marketing to Millennials
Cannabis also presents a future revenue stream amid a changing marketplace, said Honig.
"Millennials are drinking less and are using more cannabis. They don't want to be like their parents. If we can market to that generation with premium cannabis and they will choose Napa (as opposed to other wine and cannabis growing regions) and eventually (as they become their parents age) we will convert them into Napa Valley wine drinkers."
Voters will have to decide if they want marijuana greenhouses to share the same neighborhood as the vineyards for which Napa Valley is known.
Grapes produced in Napa received the state's highest average price of $5,571.44 per ton, up 6.6% from 2017, the U.S. Agriculture Department said in a 2018 final grape crush report. The 2018 Chardonnay price of $970.76 was up 5.1% from 2017 and Cabernet Sauvignon at $1,683.25 a ton was up 8.3% from 2017.
Cabernet Sauvignon is king in Napa, with 22,045 acres devoted to the grape out of a total 37,021 acres of red grape acreage, a Napa County Department of Agriculture report said. And Cabernet grapes brought in an average $7,925 per ton in 2018.
White grape varietals grown in Napa last year totaled 9,723 acres, with Chardonnay the most popular at 6,130 acres and $2,917 per ton, the county report said.
Liability Concerns
On the other side of the debate is the Napa County Farm Bureau, which opposes the ballot initiative.
"There are a number of problems that we have with the initiative," said Ryan Klobas, the Farm Bureau's CEO. "For instance, it doesn't really strongly address odor control, setbacks around wineries, and the zoning in which you can plant has been disputed. But in order to change anything in that initiative, it would take another initiative."
The Farm Bureau also foresees pest-control conflicts, for instance chemicals that are acceptable to use on grapes drift over to cannabis.
"Pesticides that you would use on wine grapes negatively impact cannabis. Before cannabis goes to market, it needs to test clean of those pesticides with the state. So the issue becomes if it creates drift to the cannabis grow, whose liability is that? Whose responsibility is that? That's a question that there's not really an answer to," Klobas said.
To contact the reporter on this story: Joyce E. Cutler in San Francisco at jcutler@bloomberglaw.com
To contact the editors responsible for this story: Katherine Rizzo at krizzo@bgov.com; Bennett Roth at broth@bgov.com; Gregory Henderson at ghenderson@bloombergenvironment.com