Cancer Therapy Triggers Battle Over Innovation, Medicare Costs
Sloan-Kettering amps up lobbying for increasing payments
Novartis, Gilead treatments can run up to $1 million
Cancer centers and hospitals, growing frustrated with Medicare's reluctance to pay full freight for an innovative cancer treatment, are asking lawmakers in Congress to pressure regulators.
The new therapy, known as CAR-T, effectively trains a patient's immune system to kill cancer cells. It came up explicitly in 18 lobbying filings for the first three months of 2019 on behalf of the Cleveland Clinic, Memorial Sloan-Kettering Cancer Center, and the H. Lee Moffitt Cancer Center & Research Institute, among other organizations. That's up from just two such disclosures filed with the House of Representatives clerk during the same time period in 2018.
Sloan-Kettering, which bills itself as the world's oldest and largest private cancer center, spent $340,000 on lobbying, more than it spent in all of 2018 trying to influence lawmakers in Washington.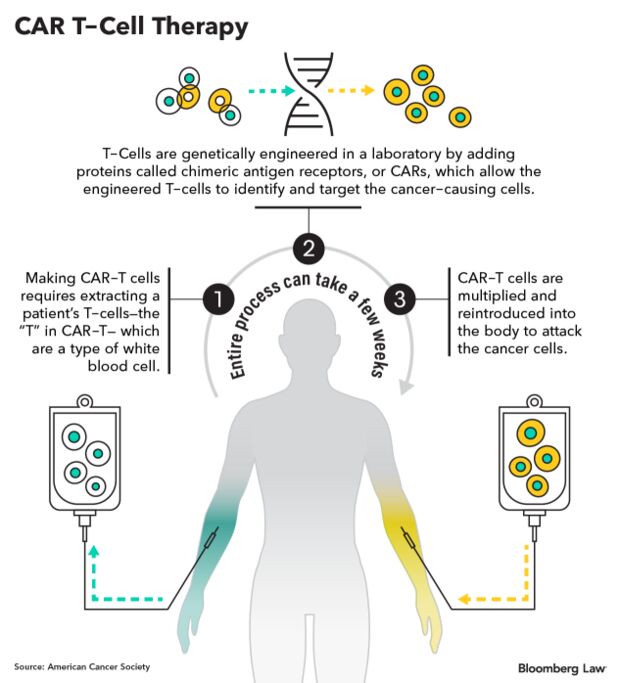 Cancer centers offering CAR-T therapies say they can't keep offering the treatment, with a price tag of up to $1 million total in some cases, to Medicare patients at the public health insurance program's current rates. Representatives of some of the country's premier cancer treatment centers have met with regulators in recent months and gotten promises of a solution in private, only to be disappointed with the official responses that have come.
"I've been at these meetings where they listen, they appear sympathetic to the issue and it appears they're going to solve it but the fact remains they haven't worked it out," Jack Kolosky, chief operating officer of Moffitt Cancer Center in Tampa, Fla., said.
Federal officials, though, have been wary of paying even close to full freight for some new treatments out of fear of runaway spending by Medicare.
Increase Rates
Federal health officials released a proposal April 23 that would boost payments for CAR-T therapies to $242,450 from $186,500 in fiscal 2020. That increase would add $110 million to be paid by Medicare in that year alone.
Cancer center representatives say that's still far too low and doesn't address how to finance innovative new therapies for Medicare beneficiaries.
Novartis AG and Gilead Sciences Inc., the only two approved manufacturers of CAR-T drugs, have priced their therapies at $475,000 and $373,000, respectively. That price tag doesn't include hospital stays, physician visits, and other associated costs that can drive the total expenses up to $1 million, according to American Society of Clinical Oncology.
The Centers for Medicare & Medicaid Services typically covers about 50 percent of the cost for CAR-T therapies. The latest proposal to cover up to $242,450 represents about 65 percent coverage of the estimated costs.
CAR-T therapies are considered breakthroughs for some patients with leukemia and lymphoma who don't see results from standard drugs and treatments. Many have no alternative treatments available.
Just 68 places in the U.S. offer to treat patients with Gilead's Yescarta, according to company data. Gilead garnered $264 million in profits from sales of the drug in 2018, which isn't much compared with the $4 billion the company earned in sales for various HIV medications in the last quarter of 2018 alone.
Other companies such Celgene are rushing to bring their own CAR-T therapies to market.
To boost revenue, drugmakers have been pressing federal regulators to act by showcasing how hospitals and cancer centers are struggling to afford to provide the treatments to their patients.
White House Meeting
Representatives of Kite, a subsidiary of Gilead, met in March with eight federal officials including Brian Blase, a special assistant to President Donald Trump, to complain that even when paid the full sticker price for CAR-T drugs, hospitals take a loss of as much as $280,000 every time they buy one, according to federal meeting records.
In early 2018 Medicare was paying on average $360,000 for a range of services to patients getting CAR-T treatments, but hospitals were ringing up on average $1.7 million in charges for those treatments, according to a document presented at the meeting.
One of their recommendations was to increase what Medicare pays for the therapy to about $338,000.
Regulators, in the agency's proposal to pay more for CAR-T, seek to strike a balance between costs and helping patients, warning they need to pay for new drugs "appropriately" but also to encourage use of effective new therapies.
"CAR-T is a great example around how government policy has really thwarted innovation," Centers for Medicare & Medicaid Services Administrator Seema Vermasaid recently.
Access Questions
Even at the proposed higher payment rate, many providers simply can't afford to treat Medicare patients with CAR-T therapies for much longer, Kolosky, who works with the Alliance of Dedicated Cancer Centers, said. Right now private payers are asked to pay more to offset the money lost to treating Medicare patients, he said.
The clinics providing these therapies are focusing on CAR-T payment rates because they're also looking toward a future with more expensive effective therapies.
If Medicare can't pay more, some clinics might not offer Medicare beneficiaries the treatments.
"They need to find some answers to this because this is going to be a problem for many Medicare beneficiaries going forward," Navneet Majhail, director of Cleveland Clinic's Blood & Marrow Transplant Program, said. "The problem is going to be with access for these beneficiaries."
For private insurers, cancer centers have been able to negotiate rates for CAR-T treatments that are sustainable, Majhail, who is also president of the American Society for Transplantation and Cellular Therapy, said.
To contact the reporter on this story: Alex Ruoff in Washington at aruoff@bgov.com
To contact the editors responsible for this story: Paul Hendrie at phendrie@bgov.com; Robin Meszoly at rmeszoly@bgov.com