Campus Workers Fear Contagion as Colleges Seek Legal Immunity
Bloomberg Government subscribers get the stories like this first. Act now and gain unlimited access to everything you need to know. Learn more.
Custodian Jennifer Allen never left the University of Memphis when the coronavirus outbreak forced campuses to shut down in March and everyone around her left for online classes and virtual offices. Allen has been deep-cleaning libraries and other campus buildings for the past six months.
Now, with the start of the fall semester weeks away, Allen and others who scrub classrooms, staff dining halls, and operate other campus facilities say colleges planning to resume in-person instruction haven't done enough to ensure the health and safety for those on the job.
"I feel like they shouldn't be letting these students come back, that it should be virtual until further notice," Allen said.
She and other workers say colleges should make coronavirus tests free and readily available, boost hazard pay for workers, and guarantee they won't miss a paycheck if they have to take time off to recover from the virus or need to quarantine after an exposure. At the same time, college groups want Congress to insulate schools that reopen from some lawsuits, a plan that divides Republicans and Democrats.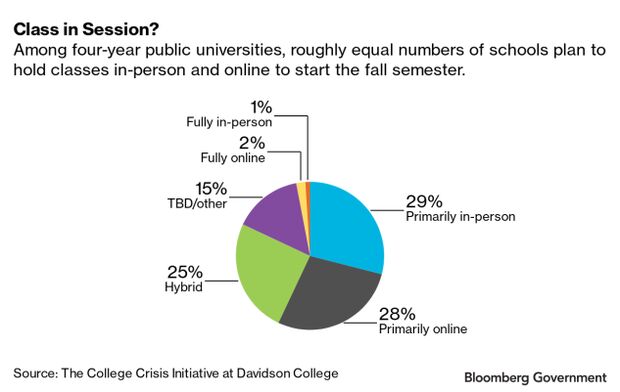 Covid-19 related ligation from students and workers will be inevitable as schools reopen, so institutions need to ensure adherence to federal health and safety guidelines, which require monitoring and updating as Covid-19 protocols change, legal experts say.
"With the ubiquitous nature of community transmission, it will be difficult for plaintiffs in lawsuits to prove where they contracted COVID. However, even employers who keep up with all the latest Covid guidance and are doing all the right things will still likely see lawsuits," Melanie L. Paul, with Jackson Lewis P.C., said in an interview.
Congressional Standoff
Liability has been a sticking point in Senate talks over education relief in another round of coronavirus stimulus legislation. GOP lawmakers including Majority Leader Mitch McConnell (R-Ky.) and Sen. Lamar Alexander (R-Tenn.), chairman of the Health, Education, Labor, and Pensions Committee, have insisted for months that they won't pass additional Covid-19 relief legislation without protection from lawsuits.
Senate Republicans last week proposed a measure in a coronavirus relief plan that would shield businesses and schools against liability claims as long as they took reasonable efforts to comply with public health standards and guidelines. To win in court, plaintiffs would have to show an institution was grossly negligent or engaged in willful misconduct. Lawmakers want to ensure that colleges and businesses that follow guidance on use of masks and social distancing won't have to worry about being sued by trial lawyers, a Republican aide said.
Sen. Patty Murray (Wash.), the HELP committee's ranking Democrat, has said that's a nonstarter for any bipartisan agreement. Many K-12 schools and colleges, she said, "are working hard to do the right thing—but no one should have a 'get-out-of-jail-free' card for not taking care of their students, faculty, and staff."
Jim Keller, a lawyer who advises colleges and universities, said the Republican proposal wouldn't preempt worker's compensation laws in states, so employees could still seek benefits if they get sick.
"This kind of protection would provide some peace of mind for certain institutions that they're not going to face a wave of lawsuits," he said. "Every institution will try to do the right thing with or without a bill like this," he said.
A school's approach to liability could depend on whether it employs workers directly or as contractors, said Mike Duff, a workers' compensation professor at the University of Wyoming.
While professors and workers at an institution would be eligible for worker's compensation if they are infected, independent contractors, such as janitors, "in theory could sue the university directly — but not if there's a civil liability immunity law, that would cut off lawsuits from people in gig economy or subcontractors," Duff said.
Campus `Die-in'
Many colleges have backtracked on offering classes in-person, while others, including many large state institutions, are for now sticking with reopening. Some 625 colleges and universities planned this week to hold classes in-person in the fall, compared with more than 820 set to be primarily or fully online in the fall, according to the College Crisis Initiative at Davidson College.
Even colleges offering a limited number of in-person classes will need non-academic workers on campus. That's a concern for staff at large universities who worry about safety as in-person classes resume.
David Nickel, a mechanic at the University of Georgia, said there is "a complete lack of transparency" at the 38,000 student campus. "People are absolutely frightened about it," he said.
Carina McGeehin, who works in the university's Office of Performing Arts, said "there are absolutely major areas where we're not seeing progress."
The university has yet to explain plans if there is an outbreak of coronavirus in student housing and to agree to hazard pay or paid leave for workers who are exposed to the virus, McGeehin said. On Thursday, students, faculty, and staff connected to the campus will stage a "die-in" protest to press for those and other demands.
A University of Georgia spokesman said the school has invested $6 million in preventive measures including 24,000 surveillance tests for Covid-19 cases that will be conducted by Thanksgiving, more than 150,000 face coverings for students and staff, and thousands of gallons of hand sanitizer. The university also will mandate the wearing of masks after demands from faculty and staff.
"The University of Georgia's primary commitment has been to the health and safety of our faculty, staff, and students," said Greg Trevor, the spokesman.
`Risky Behaviors'
Paul at Jackson Lewis said infections may be unavoidable on reopening campuses, especially as students engage in risky behavior on and off campus.
"Even the best employers in the best companies can see infections because they can't control what people do outside of work," she said. "I have seen countless numbers of businesses which have employees bringing Covid into the workplace due to those individuals engaging in risky behaviors outside of work. Employers cannot control what employees to outside of work on their own time."
Workers at many colleges are protesting campus reopening plans without union protection and relying on support from faculty and students to raise concerns to administrators. Colleges will have to deal with health and safety as part of mandatory bargaining with workers, whether or not they have a collective bargaining agreement. "The employer has a duty to bargain" in these circumstances, Duff said.
Robert Hughes, a dining hall worker at Indiana University–Purdue University Indianapolis, said UNITE HERE, the union for campus workers, would make health and safety a priority in forthcoming bargaining with the university and the subcontractor that manages campus food services.
"Safety issues will be front and center when we go back to the negotiating table," said Hughes, a union chapter steward at the college.
To contact the reporters on this story: Andrew Kreighbaum in Washington at akreighbaum@bgov.com; Fatima Hussein in Washington at fhussein@bloombergenvironment.com
To contact the editors responsible for this story: Paul Hendrie at phendrie@bgov.com; Robin Meszoly at rmeszoly@bgov.com
Stay informed with more news like this – from the largest team of reporters on Capitol Hill – subscribe to Bloomberg Government today. Learn more.