Californians Ain't Seen Nothing Yet : Ballots & Boundaries
Bloomberg Government subscribers get the stories like this first. Act now and gain unlimited access to everything you need to know. Learn more.

A perfect storm of campaign spending may be headed to a place that's used to seeing a lot of it.
As Greg Giroux points out in this morning's look at the 2024 US Senate landscape, there's a once-in-a-generation opportunity for ambitious politicians in California, a state that tends to keep the leaders it likes around for a long, long time.
Sen. Dianne Feinstein (D), whose plans are still unannounced, has been in office since 1992, for example, and voters kept ex-Sen. Barbara Boxer (D) in office for 24 years. Wannabe successors know they can't count on opportunity knocking again anytime soon.
Bloomberg's Laura Davison reports that Senate hopeful Rep. Adam Schiff (D), who has more than $20 million parked in a House campaign account, will be trying to raise at least $40 million to be competitive statewide. Multiply that times however many other candidates join him and Rep. Katie Porter (D) in the race. (Democratic strategist Mike Trujillo told NBC the winning candidate could end up spending $100 million.)
Then throw in the ad spending for statewide ballot questions. Already there's one being pushed by fast food restaurants that want to keep a grip on their hourly labor costs by convincing voters to take a new law off the books. That law could eventually lead to a $22-an-hour minimum wage.
The Save Local Restaurants committee, which succeeded in getting a measure certified for the 2024 ballot, has raised over $12.6 million to date, according to state campaign disclosure filings, with Starbucks Corp, Chipotle Mexican Grill Inc, and In-n-Out Burger each donating over $1.75 million.
Those totals have nowhere to go but up as the restaurants and the opposition Service Employees International Union make their cases. READ MORE from Tiffany Stecker about the effort to overturn that California law.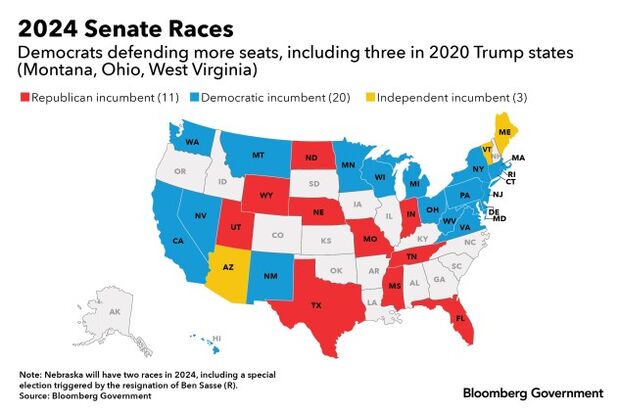 More on Senate '24
CALIFORNIA: Is Khanna In or Out?
One of the House members attracted to Feinstein's not-yet-open Senate seat is Silicon Valley's Ro Khanna, who has the same geographic base as another interested-in-running lawmaker, Barbara Lee.
Khanna told a Bloomberg editorial board that his entry into the contest would in part depend on how strong a bid is put together by his fellow northern Californian. Khanna said he'd want to see that Lee is in the race "with a strong team with a clear plan to win." — Maria Curi
INDIANA: Muscling Mitch
Watch Indiana's pre-primary Republican maneuvering for insight into the clash between the party's Ronald Reagan roots and its recent Donald Trump iteration.
Former Gov. Mitch Daniels (R) is exploring a run for the Senate seat opening up in 2024. Rep. Jim Banks (R) is already in the race and backed by Club for Growth. Dan Balz examined the fault lines for the Washington Post.
(Was this newsletter forwarded? SIGN UP for your own. It's free!)
Election Law
MICHIGAN: Two-Step's OK
If state lawmakers want to thwart the goals of a ballot question, they can, according to a Michigan Court of Appeals ruling.
A three-judge panel reversed a lower court that said lawmakers improperly used their "adopt and amend" process in order to keep proposed worker benefits referenda off the 2018 ballot.
That means lawmakers can continue killing referenda by adopting the changes proposed for the ballot and then enacting a second law to undo the parts they don't like.
Judge Michael J. Kelly, who agreed the court can't stop the legislative two-step, issued a separate opinion venting that lawmakers shouldn't just because they can.
"If the individuals responsible for this maneuver ever wonder why public opinion polls consistently cast politicians low when it comes to the virtue of trust, they need look no further than what they did here," he wrote. "It is a direct assault on one of the rights our founding fathers and the drafters of our state constitution held dear: the right of the citizens to petition their government." —Alex Ebert
ARIZONA: 180-Degree Turn
Arizona's new attorney general, Democrat Kris Mayes, is redirecting an election integrity unit her Republican predecessor created to focus on addressing voter suppression.
The unit will seek to defend vote-by-mail rules and "protect elections officials, election volunteers and poll workers against threats of violence and against interference in our elections," said Mayes. Neil Vigdor has the story for the New York Times.
Resources
Add Us to Your Inbox
SIGN UP for Ballots & Boundaries to keep up with congressional campaign trends, ballot initiatives, state voting laws, and the aftermath of redistricting.
To contact the reporters on this story: Greg Giroux in Washington at ggiroux@bgov.com; Alex Ebert in Madison, Wisconsin at aebert@bloomberglaw.com; Tiffany Stecker in Sacramento, Calif. at tstecker@bgov.com; Maria Curi in Washington at mcuri@bloombergindustry.com
To contact the editors responsible for this story: Katherine Rizzo at krizzo@bgov.com; Bennett Roth at broth@bgov.com
Stay informed with more news like this – from the largest team of reporters on Capitol Hill – subscribe to Bloomberg Government today. Learn more.