Bye-Bye Bipartisanship. Number of House Dealmakers Dwindling
Rep. Meijer became latest Problem Solvers Caucus primary loss
Many bipartisan members won't return or are at risk of losing
Rep. Peter Meijer's loss in his primary Tuesday night is the latest blow to dealmakers in the House known for reaching across the aisle and being willing to buck their party on votes when needed.
Meijer, a member of the bipartisan Problem Solvers Committee, is the latest of the 10 Republicans to vote for President Donald Trump's second impeachment to lose in a primary this year.
Meijer's loss in Michigan underscores a larger trend in the House. Half of the 54-member Problem Solvers Caucus and half of the 50 most bipartisan members as ranked by the Lugar Center-McCourt School Bipartisan Index are either retiring, lost their primaries, or are in a competitive district and at risk of not returning next year, according to the Cook Political Report.
Much of Congress's significant legislation the last few years was accomplished through bipartisan coalitions. House Democrats and Republicans worked together to help craft aspects of the $1 trillion infrastructure plan (Public Law 117-58) and the recent semiconductor funding bill (H.R. 4346). In a Congress where Democrats can only lose a handful of their own members on any given vote, GOP crossover votes helped both the infrastructure package and the assault weapons ban (H.R.1808) to pass.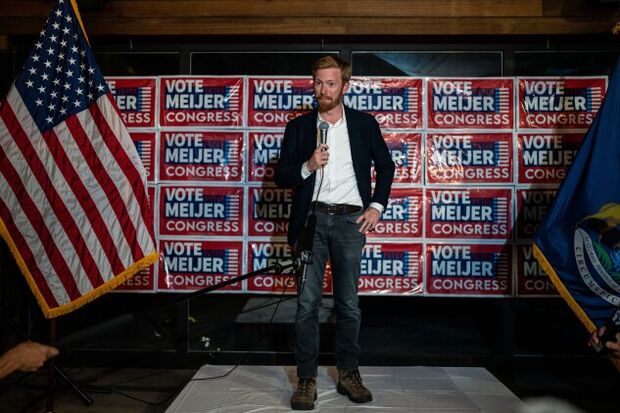 Problem Solvers Caucus member Rep. Dean Phillips (D-Minn.) said he is concerned about the dwindling number of Republicans in the group. He lashed out at his own party's campaign arm last week for dumping $425,000 into Meijer's primary to ensure his more extreme challenger won. On Wednesday, he said he was "not just disappointed, I'm heartbroken."
"I'm going to really miss Peter Meijer. He's a man of integrity and decency," Phillips said in a phone interview. "When those types of people are replaced with flame throwers and bridge destroyers, that doesn't serve any of us, Democrats, Republicans or the country."
Some Republican members are equally concerned about losing Democrats like Rep. Stephanie Murphy (D-Fla.), who is retiring, and Rep. Carolyn Bourdeaux (D-Ga.) who lost her primary.
Rep. David McKinley (R-W. Va.) lamented that Rep. Kurt Schrader (D-Ore.), who worked with him on legislation (H.R. 4153) to reduce emissions from the power sector would not return to Congress after losing his primary to a more progressive candidate.
Schrader may feel the same way – McKinley lost his own primary to Rep. Alex Mooney in May. One attack Mooney used to win was pointing out McKinley voted with Democrats for a bipartisan infrastructure bill last year that brought $6 billion to their state.
"There has to be a centrist part of this government to operate," McKinley said in a June interview . "If we're going to operate from the fringes, we're not going to get anything done."
Solid Lines
One factor working against moderates this year is fewer competitive seats as the result of redistricting. Safe districts not only give lawmakers less incentive to work with the other party, but members can face challenges from the far-right or far-left, Michael Thorning, director of the Bipartisan Policy Center's Structural Democracy Project said.
"It's harder to work across the aisle if you're worried about being accused in your primary about not being a loyal enough party member," he said.
Rep. Rodney Davis (R-Ill.) learned that the hard way. Years of building bipartisan coalitions and taking select votes with Democrats played well in his swing district. When redrawn lines put Davis in an solidly conservative district, he lost to Rep. Mary Miller (R-Ill.), who had Trump's backing.
Davis said in an interview that his record of bipartisanship had been "a positive" in his old district, but he "found out when you run in a district that's a lot more Republican, a lot more polarized, it can become a negative."
Getting it Done
Rep. Brian Fitzpatrick (R-Pa.), co-chair of the Problem Solvers Caucus, points to numerous bills where members of the bipartisan group played a role in passage: the bipartisan infrastructure plan, the recent semiconductor funding bill and legislation in June to address mass shootings (Public Law 117-159).
While Fitzpatrick says he's seen the number of centrist members "ebb and flow," a loss of caucus members could impede the passage of wider reaching bills.
"We're the ones who are actually providing the block of votes to get it done," he said. "That block shrinks, it's harder to get it done."
Rep. Abigail Spanberger (D-Va.) said it's already become harder to work across with Republicans since the Jan. 6 insurrection. Still she's found areas of bipartisanship. Last week, she stood next to Davis as the two of them praised each other for their work and leadership on Social Security legislation outside the Capitol. Inside the building, negotiations were underway on how to bring a police funding bill to the floor that she sponsored with Rep. Tom Rice (R-S.C.).
Like Davis, Rice won't return to Congress next year after he lost his primary to an opponent who based much of the campaign on Rice's vote to impeach Trump.
Spanberger, who faces her own tough race in November, said the loss of Republicans willing to work across the aisle is "a sad reality." She could work on 10 different things with Davis. Opportunities to work with other Republicans are "a lot more narrow."
Spanberger has found those opportunities. She and Rep. Chip Roy (R-Texas) have co-sponsored legislation (H.R. 336) that would ban members and their families from buying and selling stocks. She wrote an op-ed on war powers with Rep. Matt Gaetz(R-Fla.).
There's also hope that the next batch of lawmakers will include consensus builders. Rep. Don Bacon (R-Neb.) and Davis pointed to several Republican candidates – Wesley Hunt of Texas and Esther Joy King and Regan Deering of Illinois.
"They're going to make great members of Congress," Davis said. "They're going to be leaders and they're going to be bipartisan."
To contact the reporter on this story: Emily Wilkins in Washington at ewilkins@bgov.com
To contact the editors responsible for this story: Angela Greiling Keane at agreilingkeane@bloombergindustry.com; Bennett Roth at broth@bgov.com