Builder-in-Chief Wanted in White House as Lawmakers Await Speech
Trump's State of the Union speech could boost infrastructure
Congress hoping for follow-through after last year's flop
Lawmakers with jurisdiction over transportation want President Donald Trump to demonstrate during his State of the Union speech Tuesday that he will be a partner and leader on infrastructure legislation this Congress.
Trump pitched a $1.5 trillion infrastructure drive in his 2018 speech to a joint session of Congress and later put forth a "principles" document that lawmakers largely panned. Last year's plan relied heavily on public private partnerships and on increased investments by state and local governments to reach the monetary target.
"I hope he talks about it more meaningfully than he did last year when the number went from $1 [trillion] to $1.5 trillion, but there was no follow through," House Transportation and Infrastructure Committee Chairman Peter DeFazio (D-Ore.) said in an interview.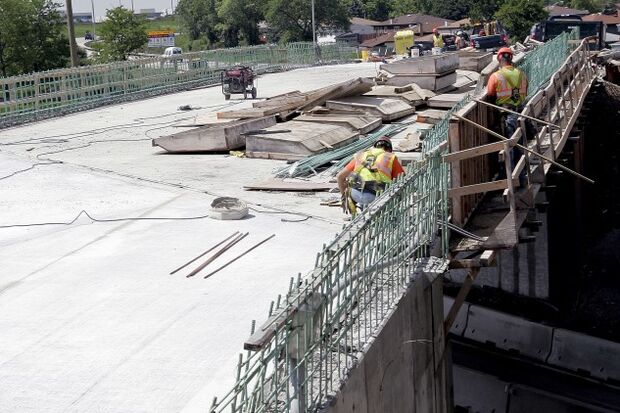 Infrastructure will be one of five key areas the president will highlight as having potential for bipartisan work with Congress, a senior administration official told reporters Friday. The president will talk broadly about rebuilding America and will ask Congress to produce a package that delivers substantial investments for vital national infrastructure projects, the official said.
Democrats including DeFazio and Rep. Earl Blumenauer (D-Ore.), a senior member of the tax-writing Ways and Means Committee, are looking to increasing federal levies on motor fuels as one of the avenues to pay for the country's infrastructure needs.
"The federal government really needs to be a partner, which means there's going to have to be some new federal revenues dedicated to transportation," DeFazio said. "Otherwise it's a phony promise."
Money Problems
The motor fuels tax is the primary revenue source for the Highway Trust Fund, which supports most federal spending on roads, bridges and transit. Congress hasn't increased the gasoline or diesel tax since 1993 and the revenue alone isn't sufficient to meet current funding needs.
"You can't do more with less. Less is just less and we're kind of at that critical mass point," Rachel Derby, vice president of government affairs for Portland Cement Association, said.
Infrastructure is bipartisan until it comes for paying for it, several transportation lawmakers said in interviews.
"It should be easy from the standpoint at least that everybody wants to do it, the hard part is going to come when we figure out how to fund it," Sam Graves (R-Mo.) said. Graves is the ranking member of the House Transportation and Infrastructure Committee.
Republicans, including Graves, are more inclined to support a switch to a mileage-based user fee, such as vehicle miles traveled, because drivers of electric vehicles don't pay the gas tax, but do use the roads. Many Democratic transportation leaders voice support for a vehicle miles traveled system, but say it would make sense to ease into it rather than abruptly shift away from the gas tax.
"Part of the near-term solution on funding includes restoring, at least for a while, the purchasing power of the user fees," Sen. Tom Carper (D-Del.) said. Carper is the ranking member of the Senate Environment and Public Works Committee. He sees a shift to a mileage-based fee happening over the next decade, he said.
The Chamber of Commerce backs increasing the gas tax in the near term to boost infrastructure spending.
"Infrastructure is broken, we need it fixed. We're for any kind of funding mechanism whether that be a gas tax, or a VMT, or some kind sort of combination of those," Derby said.
Faster!
"We need to do things in terms of funding, but also in terms of regulations," Senate Environment and Public Works Committee Chairman John Barrasso (R-Wyo.) said.
He wants to see Trump continue to emphasize changes to permitting to expedite project reviews. Delays tend to increase project costs.
"There should be a shot clock," Barrasso said.
Carper, however, cautioned that permitting changes from the 2015 surface transportation law are still being put into place.
"We need to find out what effect they're having, what is working, what is not," he said.
Can He Build It?
Presidential support for a pay-for would go a long way toward gaining congressional support, especially among Senate Republicans, DeFazio said.
"We need a partner" he said.
The speech Tuesday doesn't need to get into the weeds—the president just needs to let Congress and industry know that he's serious about working on infrastructure, Graves said.
"We need the support from the president or I just don't think it's going to happen," Graves said.
Washington should seize the opportunity to upgrade the nation's roads and bridges and demonstrate that government can get things done, Mike Ireland, the CEO of Portland Cement Association, said.
"This is a complete win-win, in a town that is looking for wins and for a president that is probably looking for wins," he said.
With assistance from Cheryl Bolen.
With assistance from Cheryl Bolen
To contact the reporter on this story: Shaun Courtney in Washington at scourtney@bgov.com
To contact the editors responsible for this story: Paul Hendrie at phendrie@bgov.com; Robin Meszoly at rmeszoly@bgov.com